No one held accountable for thousands of deaths, displacement, destruction of properties and businesses, activists say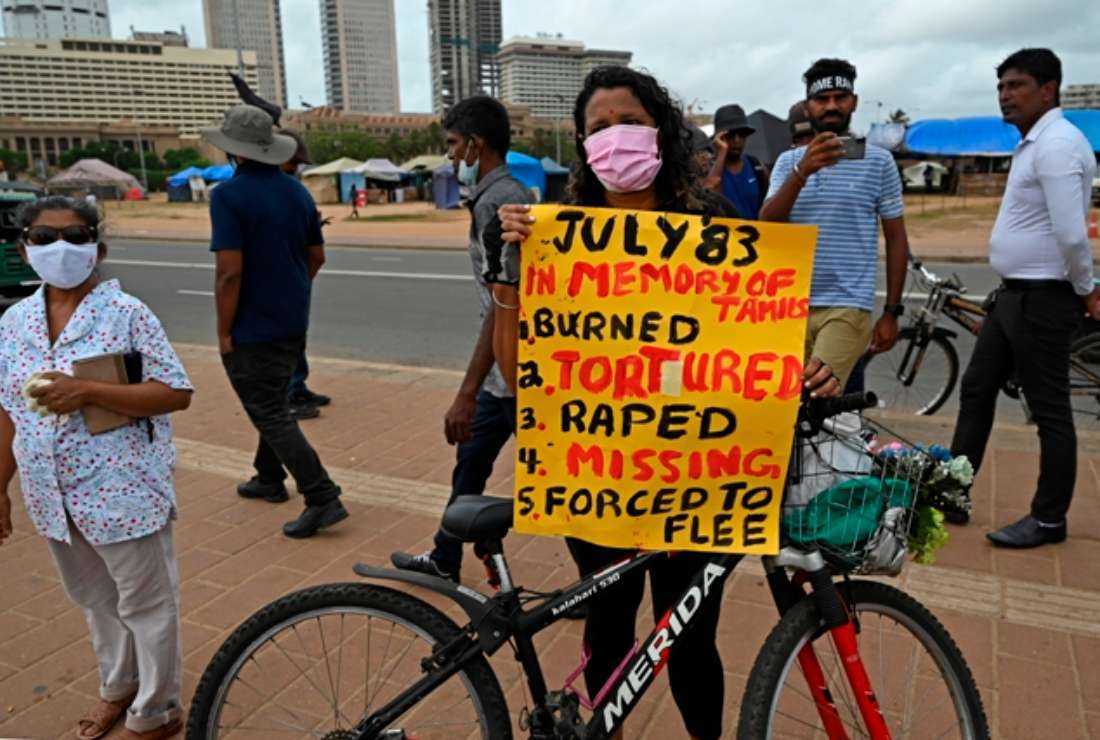 A demonstrator holds a placard during a protest to observe the anniversary of anti-Tamil rioting that started in the year 1983 also known as 'Black July' near the Presidential Secretariat in Colombo on July 24, 2022. (Photo: AFP)
Sri Lankan rights activists have urged justice for the Black July massacre on the occasion of the 40th anniversary of the ethno-majoritarian riots which later descended into a brutal 26-year armed conflict in the island nation.
Sriyan Mariathas, a human rights defender from the minority Tamil community said no one has been held accountable for the death of thousands of people and destruction of properties and businesses 40 years ago.
Up to now, no justice has been served and no compensation given, he said.
The participants were spotted with black flags in some places.
In 1983, innocent Tamil civilians were targeted by armed mobs who killed 3,000 people. The week-long massacre that started on July 24 injured 25,000 people, destroyed 5,000 shops and 18,000 homes, and uprooted 150,000 civilians.
The unrest reached the Welikada jail, the largest prison in Sri Lanka, and claimed 53 prisoners' lives.
The sectarian state-sponsored pogroms against the country's Tamil community by the majoritarian Sinhalese community later paved the way for a 26-year-old armed conflict, spearheaded by the Liberation Tigers of Tamil Eelam (LTTE), an armed pro-Tamil group.
The civil war killed more than 100,000 people, displaced 800,000, and set development back by decades in the 22 million import-oriented Indian Ocean nation.
The conflict ended in May 2009 when LTTE chief Velupillai Prabhakaran was killed by the Sri Lankan army.
The immediate trigger for the nationwide riots 40 years ago was the attack on an army jeep in Gurunagar, in Jaffna, an LTTE stronghold in the northern part of the country, on July 23 night. Thirteen army men lost their lives as they were fired upon by the LTTE.
In a show of strength, the government brought the dead bodies from the conflict-hit north to the south which made Sinhalese people angry towards Tamils.
"The week-long riots were state-sponsored against the minority Tamil community by the majoritarian Sinhalese," said Mariathas who lost his business and house in the riots.
"The massacre and the destruction were the result of political decisions of the country's leaders and the government's grand silence led to widespread violence, deaths, destruction, and the displacement of numerous Tamils," he said.
A Catholic priest from the Colombo archdiocese said no politicians, rulers, gangs, or civilians have been held accountable for the violence against Tamils and the heinous crimes.
The priest, who did not want to be named, recalled the role of Sister Mary Agneta from the Sisters of the Apostolic Carmel who was killed in Badulla diocese while protecting Tamil civilians and a priest.
"Because of giving protection to innocent Tamils at a dangerous time, the nun happened to sacrifice her life for others' safety," he said.