In an all-time low for the human rights and law and order matrix in the country, home minister, Madhya Pradesh, 'orders' arrest of author and publishers of a book, Collective Violence and Criminal Justice System; that too on the basis of a complaint by the ABVP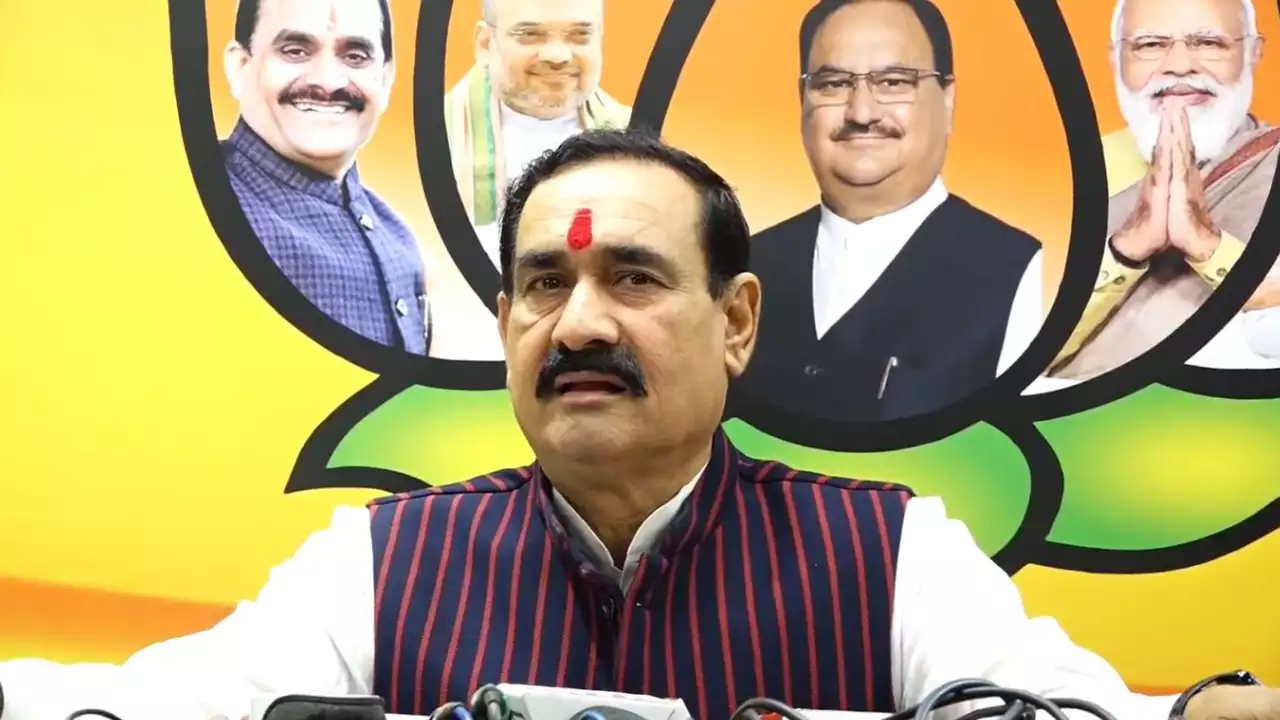 INDORE: In a new, all time low for the human rights and law and order matrix in the country, the Madhya Pradesh government on Tuesday moved against author Dr Farhat Khan, whose book on 'Collective Violence and Criminal Justice System' is the subject of a police investigation and she faces an FIR along with former principal of Government Law College Indore Inamur Rahman, professor Dr Mirza Mojij and the publisher of the book. All three are threatened with arrests, reports Times of India.
Home minister Narottam Mishra warned on Tuesday, December 7, that he would write to the department concerned to "revoke her PhD", and further threatened that swift action will be taken against those spreading religious extremism. Mishra openly said that he has issued instructions to police to arrest the accused in the case. "We have formed teams to arrest the accused. They will be nabbed soon," the home minister told reporters in Bhopal.
On amazon, the 2015 publication, shows as being co-authored by Dr Sheetal Kanwal and Dr Farhat Ali Khan, Amar Law Publication's Collective Violence and Criminal Justice System for LLM Students. It is not so far known what action has been 'ordered' against the co-author, Dr Sheetal Kanwal.
Meanwhile, all four –the publisher, Dr Farhat Ali Khan, former principal of the Government Law College, Indore, Inamur Rahman and Dr Mirza Mopjij — have been booked by Bhanwarkuan police in Indore on the basis of a complaint by ABVP leader Lucky Adiwal, who is pursuing an LLM degree at the same college. They are accused of promoting and distributing the book that 'encourages animosity between religions and promotes enmity between groups'. On December 7, the anticipatory bail pleas of principal Rahman and professor Mojij were rejected by sessions Judge Rakesh Kumar Goyal. ACP Dishesh Agrawal told TOI: "Soon, we will also announce a bounty on two of the accused.
According to an FIR copy, accessed by ANI news and reported by The Print, a case was registered against writer Farhat Khan, owner of Amar Law Publication, Hitesh Khetrapal, Law College principal Inam Ur Rehman and College Professor Mirza Mojiz under sections 153 A, 153B, 295A, 500, 504, 505, 505 (2) and 34 of the IPC.
Bhanwarkuan Police Station in charge Shashikant Chaurasia told the media, "ABVP (Akhil Bharatiya Vidyarthi Parishad) student union have lodged a complaint that the book contains much such content which hurt the religious sentiments of a community. It is likely to disturb the communal harmony between the two communities, it may lead to violence."
"Acting on the complaint, a case was registered against the accused and further investigation into the matter is underway," Chaurasia added. Notably, state home minister Narottam Mishra had also instructed Indore Commissioner to investigate the matter and registered FIR against the accused within 24 hours.
Earlier on December 3, the college principal Inam Ur Rehman had resigned following an uproar in the Law College for the last three days. He submitted his resignation to Additional Director Higher Education Kiran Saluja.
Principal Rehman had then told ANI, "I am very hurt by the ruckus created by outside students. I don't want to stay here anymore. I wanted to take this college to a higher level but I think it is not in my control. There was no bad environment of any kind here before but now they are spoiling the college environment so I am leaving."
Owner of the publication house, Hitesh Khetrapal reportedly told the media, "There was a controversy about this book two years ago. When the matter came to light, we had a discussion with the writer and changed the pages containing controversial content. Farhat also submitted a written apology that such incident will not occur again." (ANI)
The Madhya Pradesh Police are trying to "ascertain the role of principal and the accused professor" in this entire episode." Police have booked the accused under IPC for defamation, promoting enmity between different groups on grounds of religion, and making assertions prejudicial to national integration. In their bail applications, the two professors submitted that the book has been in the college library since 2014 while Dr Rahman was appointed principal in 2019, and Dr Mirza was appointed vice-principal after 2014. The book was not for issuance to students and has been placed separately in the library, they said.
The complainant, an ABVP member, however, searched for it in the library and got it issued though he is not a student of the course related to the subject, submitted the defence counsel.
The ABVP (Akhil Bharatiya Vidyarthi Parishad) is an affiliate of the Rashtriya Swayamesvak Sangh (RSS) and responsible for a series of conflict-driven incidents in various campuses of the country.
After the controversy broke last week, Dr Rahman formed a probe committee and removed the professors against whom allegations had been made off teaching duty, the counsel argued, adding that Dr Rahman and Dr Mojij only have supervisory roles in the college. Intervenor counsel Govind Singh Bais submitted that both the professors had recommended the book to students. "As many as four students have submitted an affidavit in court stating that the professors recommended the book for the syllabus," he said. Strangely, after hearing both sides, the court rejected the bail application.
Who is Narottam Mishra, MP's home minister?
In April 2022, like in over a dozen locations all over the country, Madhya Pradesh had seen violence break out after controversial slogans and even arms had accompanies the spate of Ram Navmi related Shobha Yatras. At the time, Mishra, occupying the home minister's chair had made the controversial remarks as reported by India Today. In a news item after live TV coverage, India Today had reported, under the heading  "Why violence in our festivals only? MP Home Minister defends bulldozer action on rioters– "The rioters will not allow communal harmony until they are cut to size," MP Home Minister Narottam Mishra said on live TV. "This is the only way."
"Ram Navami comes once every year but 12 places across the country reported violence. (Clashes) in JNU over eating non-vegetarian food on Ram Navami. All these happen during our festivals and never during theirs. Is that not correct?" Mishra told India Today TV as he responded to allegations that the BJP uses festivals like Ram Navami to spread communal hatred in society even as Prime Minister Narendra Modi speaks about "sabka saath, sabka vikas".
This had been preceded by unprecedented and unilateral bulldozing of homes of Muslims living in Khargone, MP.  The district administration had razed the properties allegedly of stone pelters with bulldozers, much like the administration in Uttar Pradesh under Yogi Adityanath. "The rioters will not allow communal harmony until they are cut to size," the minister said on live TV. "This is the only way."
Related:
Six Govt Law college teachers taken off duty after ABVP complaint: MP