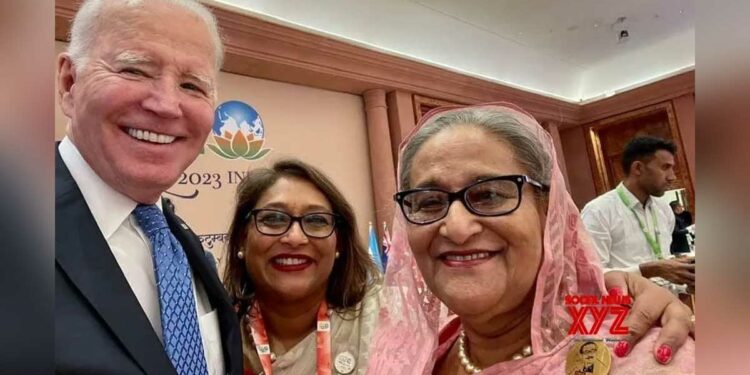 by SALEEM SAMAD      25 September 2023
Most political observers are curious to know, what's next after United States President Joe Biden and the world's longest-serving women Prime Minister of Bangladesh Sheikh Hasina, both posed for selfie shots in New Delhi recently.
The two leaders met during a break at the G-20 Summit in Delhi in early September. Bangladesh Foreign Minister Dr Abul Kalam Abdul Momen admitted to the media that he approached Biden and sought his consent that his prime minister wished to take a photo with the leader of a super-power.
In a candid confession to television media, Dr. Momen said Biden promptly agreed with a smile. Hasina accompanied by her only daughter Saima Wazed approached for a selfie spree with Biden.
A grin of excitement from Biden, Hasina and Saima were reflected in the shots.
The Prime Minister's Office (PMO) press wing made urgent requests on WhatsApp group of embedded journalists accompanying the PM's media entourage to publish the selfie photos. Within a few hours, the selfies were splashed on the online edition of major news organisations. Why this hullabaloo of selfies?
Hasina's ranting against the USA came to a grinding halt. The following day, the governing Awami League party general secretary Obaidul Quader shot an arrow toward the opposition Bangladesh Nationalist Party (BNP) and told cheering crowds that "BNP shocked seeing Biden taking selfie with Sheikh Hasina."
For months, Hasina's political rhetoric against America hit hard on its foreign policy towards third-world countries, especially Bangladesh and pressure on the issue of human rights records, labour rights and vote fraud which severely dented Bangladesh's image.
She once said that America proposed to establish a naval base at 8 Sq. Km of Saint Martin's island in the southwest of the country on the Bay of Bengal. Her denial of such a proposal has made Washington determined not to see her (Hasina) in power again.
She also went a step forward and said the USA has struck a deal with BNP to establish a military base at a 'critically endangered' coral island. The base was to keep watch over a huge swatch of the Bay of Bengal, which merges with the Indian Ocean to monitor merchant vessels and battleships of China, which indeed an absurd proposition, says the former Ambassador to Washington.
Meanwhile, intermittent visits of US officials, the European Union and the United Nations call on the government to hold free, fair, credible and inclusive elections in the upcoming January 2024 general elections and to respect human rights compliance.
On selfie diplomacy, when asked whether the USA relations with Bangladesh is likely to thaw. Humayun Kabir disagrees and said a tête-à-tête between two heads of government and photoshoots usually will not make any change in US foreign policy.
The policy is prepared by a team of think tanks, consisting of seasoned diplomats and international security experts, and then the US State Department draws a road map with individual countries and Bangladesh is no exception.
Earlier, Washington threatened to restrict the issuance of visas to travel to the USA of any official, judiciary, individual, as well as governing and opposition responsible for or complicit in undermining the democratic election process in Bangladesh.
Her government has reiterated that the next elections would be "free, fair and violence-free elections". The foreign dignitaries visiting Bangladesh and listening to stakeholders including opposition leaders are not convinced of the government's commitment to an inclusive election.
The crackdown on opposition and intimidation by henchmen of Awami League often pounce upon opposition rallies, while the police remain a silent spectator.
Several thousand opposition members were arrested and thousands are languishing in prison for months. The New York Times writes that the opposition was deliberately targeted to punish them for demanding a 'caretaker government' to oversee the elections as they have lost hope in Hasina's government to hold credible general elections.
On the other hand, she is visibly annoyed over 170 global leaders and Nobel laureates who have urged the government to suspend legal proceedings against Muhammad Yunus.
In an open letter dated 27 August, leaders, including former US President Barack Obama, former UN Secretary-General Ban Ki-moon and more than 100 Nobel laureates, said the case of Nobel Peace Prize laureate Prof. Muhammad Yunus. "We are alarmed that he has recently been targeted by what we believe to be continuous judicial harassment," the letter read.
The UN also voiced alarm at using legal proceedings in the South Asian country to intimidate and harass rights advocates and civil society leaders, including Yunus.
"While Yunus will have the opportunity to defend himself in court, we are concerned that smear campaigns against him, often emanating from the highest levels of government, risk undermining his right to a fair trial and due process in line with international standards, the letter said."
Angry Hasina said that such a statement challenges the integrity and credibility of the judiciary system of a country and remarked that the law should take its path in the case of Yunus.
Without naming Hillary Clinton, the former Foreign Minister of the USA, she invited her to come to Dhaka and defend Yunus against his "corruption" and robbing financial benefits of the staff of Grameen Telecom.
Law Minister Anisul Huq told Deutsche Welle of Germany that the lawsuits were not meant to harass the Nobel laureate. "Those who faced injustice sought remedy at the court. It's their right as citizens of Bangladesh. It will be decided at the court trial whether he committed any crime," Huq concluded.
Some say Hasina became infuriated when Yunus announced he would form a King's party in 2007 when a military-backed caretaker government took charge of the country.
However, the plan to formally float the King's party fell flat in a few weeks of its announcement. Since then Yunus never showed any interest in politics.
In yet another political development, a fresh global outcry was caused after sending two prominent human rights defenders Adilur Rahman Khan and ASM Nasiruddin Elan of Odhikar for two years.
They were accused 10 years ago of exaggerating the number of deaths during the police midnight crackdown on Islamist organisation Hefazat-e-Islam during a seize of downtown Dhaka on 5 & 6 May 2013.
Human Rights Watch reported at least 58 people killed in police action, Amnesty International said 44 died, government claims only 11, while Odhikar said 61 were killed.
Besides, nearly a hundred eminent citizens and several international rights organisations, Canada, the European Union, France, Germany, Switzerland, the United Kingdom, United Nations Human Rights and the United States called on the government to release the defenders, which the UN said: "Such reprisals also have a chilling effect and may deter others from reporting on human rights issues and cooperating with the UN, its representatives and mechanisms."
"Have you ever seen a regime so insecure that they feel more threatened for critiquing the government," political historian Mohiuddin Ahmad poses the question.
Whenever or whoever raises the issues of human rights abuse, or holding of free and fair elections, the government starts shaking and scores of pro-government cyber warrior launches misinformation and disinformation campaign, remarked Ahmad.
As China and the US jostle for influence in Asia, French President Emmanuel Macron offered an alternative to Bangladesh during a recent short visit to Dhaka.
While the United States and China compete for influence in the wider region, Macron has pushed France as an alternative partner for Bangladesh, writes Arafatul Islam of German Deutsche Welle.
Sadia Aktar Korobi, a researcher on international affairs and studying at the University of Dhaka writes in the Fair Observer that India sees Bangladesh as both an economic and strategic investment, other major powers have their own goals with Dhaka.
Obviously, the US has shown a keen interest in Bangladesh, but its policies are complicated by Washington's ever-consistent need to interfere in the internal matters of others, says the researcher Korobi.
On one hand, the US wants Bangladesh to join the Quadrilateral Security Dialogue (QUAD) to restrain China's growing influence in the Indo-Pacific. The growing frustration caused by incidents like this is pushing Bangladesh more towards China and India, the researcher concludes.
First published in nenews.in, 19 September 2023
Saleem Samad is an award-winning independent journalist based in Bangladesh. A media rights defender with the Reporters Without Borders (@RSF_inter). Recipient of Ashoka Fellowship and Hellman-Hammett Award. He could be reached at 

[email protected]

; Twitter: @saleemsamad