The Shanghai Cooperation Organisation is the only forum in which India is involved and Central Asian republics are members and partners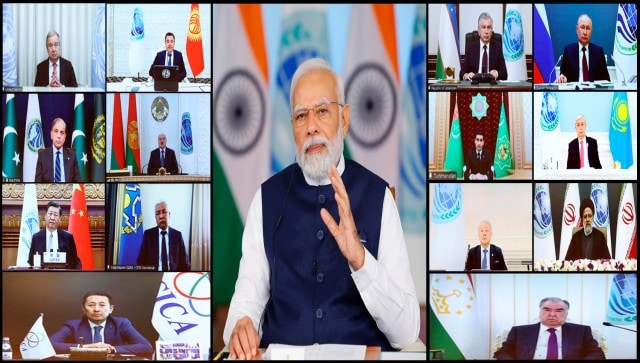 At commencement, India's simultaneous commencement of both the SCO and G20 were seen as a twin opportunity for the nation to provide direction, if not outright leadership, to the world that was still recovering from the Covid aftermath and yet got caught in the fallouts of the Ukraine War. Yet, halfway through the calendar year, New Delhi gave a quiet end to the former, that too with an online summit while preparing to receive most of those leaders and more at the G20 summit in the physical format.
It does not make sense for the apologists of the government to say that the SCO summit could have become controversial and an embarrassment as both China and Pakistan would 'gang up' against India. It was/is not an impossible situation, especially when India was chairing the session and Pakistan especially could do with some theatrics, to divert domestic attention from the nation's economic mess and worse.
Yet, both a China-Pakistan combo and India's chairing the summit in its turn wee both foregone conclusions when SCO admitted both India and Pakistan together as full-members, and at their request. That was some years after they had remained on board as 'Observers'.
Maybe, for India, it was a better time to catch Pakistan at its lowest, having expended its homilies at Prime Minister Narendra Modi's talks with US President Joe Biden in Washington weeks earlier. Anyway, the SCO, too, had sworn against terrorism, and reiterating past institutional commitments would not have made any difference to India-Pakistan strains or China-Pakistan equations.
On other hand, by choosing the online format of the summit, which should have been reserved only for Covid-like situations, or for overnight emergencies, which is mostly confined to the bilateral format than institutional mechanisms of the SCO kind, India may have sent out a wrong message.
This is especially so in the case of Iran, which in the interregnum was seen as having moved closer to China than earlier. Earlier this year, China had quietly played mediator to sort out years of tension between Shia Iran and Sunni Saudi Arabia, the two ends of the Islamic ulema at the global level.
India needs both Iran and Saudi Arabia, and has very good relations with both. In fact, Prime Minister Narendra Modi has built new bridges with both, over and above the traditional ones left behind by his predecessors, and very successfully so.
Both Tehran and Riyadh put bilateral relations on the top of other concerns, including those flowing from their strong religious ideology.
Playing cupid
It is anybody's guess, why India's mandarins did not think of the possibility of playing cupid between Iran and Saudi Arabia. Maybe, it was overwhelmed by the opportunities that greater and more frequent interactions with western nations offered.
In contrast, China, which the West had earlier boosted up to become the world's factory, felt becoming increasing sidelined and dumped by the West. Maybe, such dis-entitlements have their own tales to tell, their own ways to re-engineer a nation's vision.
Beginning with last year-end Saudi visit of President Xi Jinping, where he met with other Gulf-Arab nations and their collectives, China wanted an economic and diplomatic fall-back in case the strains with the West worsened, to a point of no-return. Then followed, the Saudi-Iran patch-up at Beijing and their decision to reopen their embassies in each other's capitals after a break.
Putting all eggs…
It can be argued that the two main SCO leaders, namely, Presidents Xi and Russia's Vladimir Putin, would be there at the G20 summit too, and that India would not have lost much. But it is about the extended region or at least one part of it, one side of it. SCO is the only organisation that India is involved in, where Central Asian republics are members and partners. They thus have their say. Now, with Iran too joining, SCO is getting a greater relevance and weight.
The question is if India has begun treating the SCO like the NAM before it? Yes, as the SCO chair, India did organise close to 150 events across the country, just as it has done as G20 chair for the year. But the former seldom got the kind of media coverage as the latter even within India. Obviously, the former was not as promoted as the latter – for reasons that are not clearly known.
Already, both history and geography have not been too kind to India. Geography has ensured that the nation is caught in a geo-strategically vulnerable location. History has given adversaries for neighbours. Even if bilateral issues between India and these countries are resolved overnight, mutual suspicions and fears would continue.
Flash-point India
This is more so in the case of China. Because India is even otherwise seen as tilting more towards the US and the rest of the West, and none of them have a shared border with China, the latter would always consider India a flash-point after or along with Taiwan.
There is a greater problem for India. Over the past decade or two, whenever the West's relations with China had cooled, India had become a critical factor in their calculations. When the other two had warmed up, no one bothers about India and its genuine concerns about China.
Maybe, for the West, keeping the India-China border dispute alive would serve its own cause, both separately viz India and China. It is thus that no western voice has arisen in the past many years about the need and urgency for the three nuclear powers in this part of the world having to sort out their bilateral differences, early.
It is only two decades after the shock and awe of 9/11 that the West, starting with the US, has begun acknowledging that India's cross-border terrorism issues are for real, and Pakistan needed to be ticked off. Even there, it is only a gentle pat on the knuckle. That is because the West does not want Pakistan to tilt towards China so very completely – not because they love India more.
It is in this background that India needs to evaluate the pluses and minuses flowing from its occasional habit of hunting with the hound and running with the hare – or, something coming close to that.