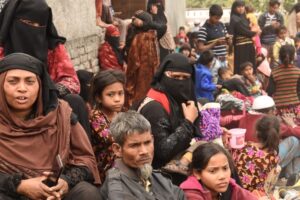 by Dr. Shakuntala Bhabani   22 June 2022
Myanmar has been widely criticized for human rights crimes since the crackdown and forced displacement of Rohingya Muslims. Despite signing various agreements in 2017, and 2018 respectively, Myanmar has remained hesitant to provide a suitable climate for the displaced Rohingya to return in a voluntary, safe, and dignified manner. Due to their narrowly defined geopolitical calculations, key regional powers such as China, Russia, and India are not interested in taking any action against Myanmar.
On the Rohingya crisis, India has merely remained mainly silent. To its credit, India has helped Bangladesh financially while caring for over a million Rohingya refugees. But it's a piece of good news that India urged the international community to increase financial and other aid to Bangladesh in order to help the country cope with the humanitarian crisis of hosting a million Rohingya refugees on June 14.
India also requested that the international community aid Bangladesh in addressing issues such as radicalization in Rohingya refugee camps and other security concerns.
Bangladesh has been seeking help from India and other countries in the region to repatriate Rohingya refugees to Myanmar from time to time. Ministers of Bangladesh seeks Indian help in this regard since the inception of the crisis. For more clarification, Bangladesh's foreign minister has already raised the issue on various platforms such as the inaugural session of the two-day Asian Confluence River Conclave, Natural Allies in Development and Interdependence 3 (NADI-3), in Guwahati in 2022, three-day trip to India to attend the India-Bangladesh Joint Consultative Commission (JCC) very recently.
Over one million Rohingya people left their homes in Myanmar to escape a harsh military campaign, and Bangladesh provided them asylum on humanitarian grounds. Armed attacks, bloodshed, and human rights violations drove thousands of Rohingya Muslims to escape Myanmar's Rakhine province and seek refuge in Bangladesh in August 2017.
The Rohingya people are a Muslim minority that has lived in predominately Buddhist Myanmar for generations but have been denied citizenship since 1982. According to the United Nations, Rohingyas are the world's "most persecuted minority.
In this regard, Bangladesh's seeking assistance is valid and relevant. It is India in the region which is an influential country between South and Southeast Asia. Dhaka expects New Delhi to do more in response to Bangladesh's request for assistance in the repatriation of Rohingya refugees to Myanmar. Bangladesh sought India's assistance" because of India's "excellent relationship" with Myanmar.
As a friend of both Bangladesh and Myanmar, improvements can be made if India "pushes them a little bit" and "put[s] a little effort into it.
Support from India in resolving the Rohingya situation can strengthen the bilateral ties more. It is said that Bangladesh is all-weather friend of India, Thus, India can prove that India is really all-weather friend of Bangladesh by standing with Bangladesh with its crisis moment. The Rohingya situation must be resolved quickly because it threatens regional stability. Rohingya refugees in Bangladesh may gravitate to terrorism.
For the past five years, they have been temporarily sheltered in Bangladesh, and they all wish to return to their homeland. We are afraid that such activities may create pockets of extremism and radicalism and may lead to uncertainty in the entire region, as a result, they must be repaired as soon as possible.
The growing humanitarian crisis and incidences of violence can lead to an influx of thousands of people from Myanmar through Indian borders and any instability in Bangladesh, Myanmar, immediately impacts India. The humanitarian situation in Rohingya camps in Bangladesh and Myanmar is most severely affecting women and children. Therefore, India should place the utmost priority on the restoration of peace, security, and stability. Stability in Bangladesh's CHT region and Cox's bazar and Myanmar's Rakhine, Chin state is very urgent for the stability for the Indian Northeastern region.
It is well established that Bangladesh Prime Minister Sheikh Hasina's "policy of zero-tolerance" for terrorism has brought "stability" and "development" to India especially Northeast India and all of South Asia. India must help Bangladesh PM in this regard. The whole regional stability may destabilize from the Rohingya refugee issue. Thus, a sustainable solution of Rohingya crisis is very urgent for India also.
India is able to conduct bilateral and diplomatic negotiations with Myanmar. It enjoys positive bilateral ties with Myanmar. To resolve the situation, India might cooperate with other states in the area.
Indian businessmen are capable of participating to some level. Because fostering trade and investment in the area depends heavily on regional stability.
Without a long-term solution to the Rohingya issue, India needs to understand what is at risk along Bangladesh-Myanmar-India border.
India has been a dependable development partner ever since Bangladesh gained its independence in 1971. it was India and the people of India who gave the people of Bangladesh shelter and accommodation and also helped them in gaining independence, with a population of 170 million, Bangladesh is one of the fastest-growing countries in the area and an important market for India.
Since the Rohingya problem emerged in the area, India must keep in mind that it has the potential to directly undermine the strategic and economic goals of the QUAD countries, which value the rule of law, democracy, human rights, and freedom. In order to solve important regional concerns like the Rohingya crisis for peace and stability, India must join with and exert influence over other important parties in the region.
It is a problem that affects the entire region. The entire region of South Asia and South East Asia could be volatile as a result of this issue. India bears some responsibilities as a South Asian country.
India  should understand how refugees can be a security threat for a country. Bangladesh has been dealing with the same issue. India might comprehend Bangladesh's pains in this regard as a well-wisher friend. As a result, India should take action in accordance with its capabilities.
Both Myanmar and Bangladesh have excellent connections with India. Improving bilateral relations could help ASEAN and SAARC countries strengthen their commercial and investment relations. This will open up the possibility of serving broader regional interests. If political and diplomatic solutions to the strained ties between Bangladesh and Myanmar can be found, Himalayan-South Asian connectivity can be restored. Bangladesh usually backs India in every major international forum. It is now India's turn to stand by Bangladesh in this time of distress.
South Asia will not benefit from India's quiet on the Rohingya catastrophe, which has reaped no rewards. Instead, this eerie silence will make an already dire situation worse.
In accordance with its own peace and religious-centric society, India must abandon its policies and take a firm stand for justice and human rights on all international platforms on matters like the Rohingya crisis. Martin Luther King Jr. once said, "Injustice anywhere is a threat to justice everywhere," and India needs to remember that. India must help Bangladesh solve Rohingya refugee crisis. Such a gesture will not go unnoticed in Dhaka. Such help will bolster the ties between the two neighbours.