28th March 2020 Group Captain (Retd) Sultan M Hali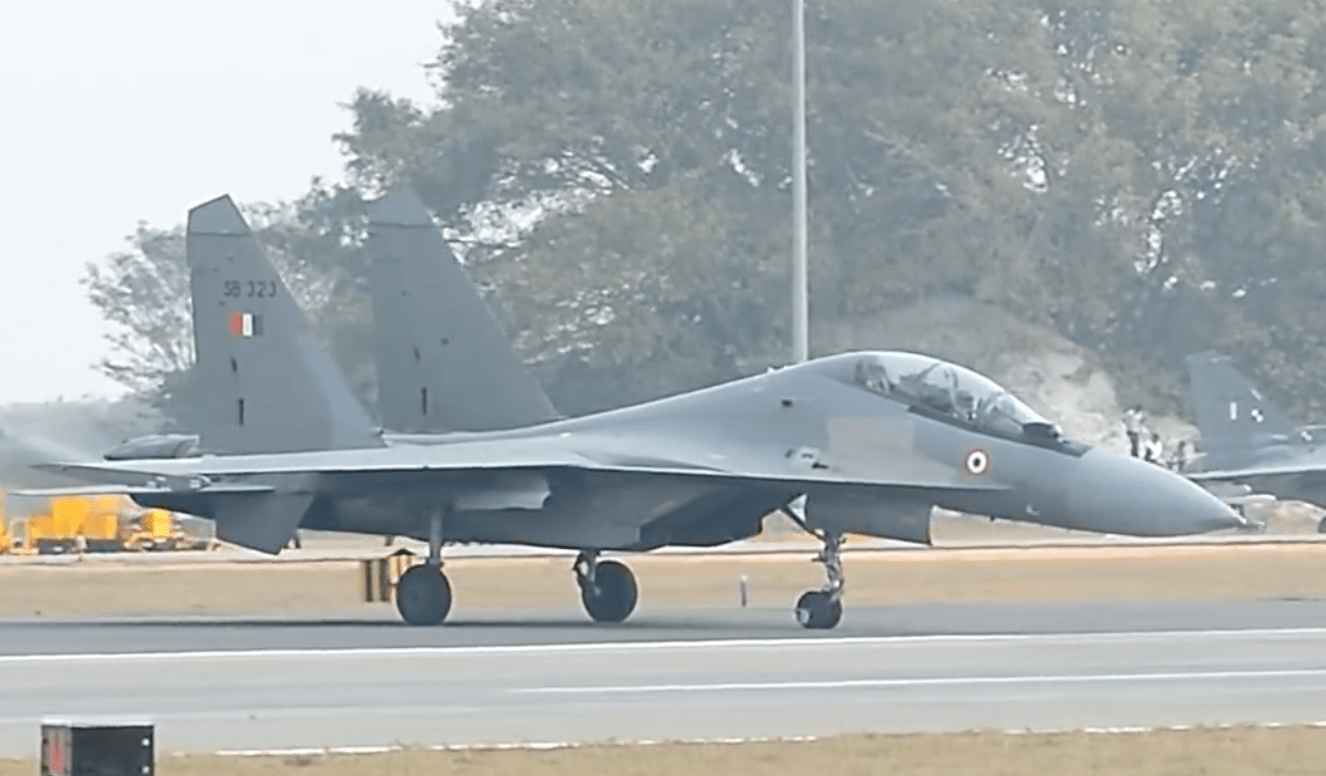 India has recently deployed Sukhoi-30MKI fighter aircraft equipped with BrahMos supersonic Cruise missiles at Thanjavur, Tamil Nadu as per threat analysis, says Indian Air Force Chief, Air Chief Marshal Bhadauria. Sukhoi Su-30MKI fighter aircraft armed with BrahMos air-launched supersonic cruise missiles were inducted into Indian Air Force's 222 Tigersharks Squadron at the Thanjavur Air Force Station in Tamil Nadu earlier this year. A water salute was given to the Sukhoi Su-30MKI fighter at the induction ceremony at Thanjavur.
At present, the Tigersharks Squadron has six Su-30MKI fighters, but it will have 18 combat aircraft by the end of 2020, making it a full-fledged IAF fighter squadron.
The Sukhoi-30MKI fighter aircraft with a combat radius of 1,500 kilometres equipped with BrahMos supersonic Cruise missile can hit targets at around 300 kilometres with precision. The air-launched version of BrahMos is about 500 kilograms lighter than its land and ship-launched cousins. Weighing almost 2,500 kgs, the BrahMos arming Su-30MKIs can destroy targets on sea flying at a speed of almost Mach 3 (over 3704 km/ hr). ACM Bhadauria claimed that the decision to deploy the Su-30MKI at Thanjavur was taken due to its strategic location. He elaborated that Su-30 with BrahMos is a lethal maritime combination that Indian Air Force (IAF) has in terms of weapon capability. For that Thanjavur is an ideal location because of the access to the IAF and ensuring its ability to patrol the Bay of Bengal, the Arabian Sea and vast areas of the Indian Ocean Region (IOR).
India's rationale for the strategic deployment appears to be based upon the perception that China is flexing its muscle in the IOR in the last few years, IAF's move to station the Tigersharks Squadron with Su-30 MKIs in Thanjavur will reportedly ensure that all China's moves are under scrutiny.
China's entry in the Indian Ocean region, through economic investments, political influence, and military presence along the Maritime Silk Road, an integral part of Chinese President Xi Jinping's Belt and Road Initiative (BRI) has significantly altered regional dynamics. China's ties with regional states have deepened, including the influx of Chinese capital into construction projects in Bangladesh, Myanmar, Pakistan, and Sri Lanka. It has spurred Sino-Indian rivalry, which overlaps with Sino-US competition. Japan, Australia and other regional actors are also increasingly concerned. India and the US believe China's acquisition of strategically located deepwater ports in Myanmar, Pakistan, Sri Lanka, and the Maldives could eventually serve a military purpose.
India and China continue to build up military capabilities in the ocean region. China continues to deploy greater numbers of naval forces in the western Indian Ocean and invests and build up the defence capabilities of India's neighbours by selling arms, including tanks, frigates, missiles, and radars, which has highly disturbed Indians.
More than the economic reasons, Sri Lanka's strategic location has inspired Beijing to develop a strategic relationship with Sri Lanka. China is also concerned with the growing US presence in the region and Indo-US naval cooperation in the Indian Ocean.
Prima facie, the Indian Ocean may be calm but, on the strategic front, it is a potential conflict zone. With the US seeking future control with its new Indo-Pacific strategy, China and India are not lagging. India has clearly displayed its regional hegemonic ambitions. Both China and India have acquired strategic assets across the ocean and hope to monitor and control movements in future.
Currently, the Su-30MKIs are the mainstay of IAF till the rather belated induction of French Rafale fighter aircraft, which were marred by kickbacks controversy is complete. Initially, the Indo-French deal was for the acquisition of 126 Rafales but owing to charges levelled by the Indian political opposition, the deal was scaled down to 36. The first batch of which has been delivered to India. As for the Su-30s, India had initially contracted with Russia for 272 Sukhoi, but that number has swelled up to 300.
With multiple squadrons of older MiG-21 interceptors and MiG-27 ground attack jets being retired in quick succession, the IAF fighter fleet is set to decline to a low of 32 squadrons – or around 576 aircraft. It is a pity that IAF has not been able to place confidence into the indigenously produced Light Combat Aircraft (LCA) Tejas, which became obsolete even before induction because of the delays in production and failures at various stages.
The much-touted Su-30MKIs of IAF are yet to achieve a kill against Pakistan or China apart from the Helium Filled Balloon which was shot down by Su-30MKI in 2016. The balloon strayed in from Pakistan and was detected and tracked by IAF Ground Radars on Republic Day, 2016. Due to security concerns, a Su-30MKI was deployed within a few seconds to shoot down the 'friendly' balloon with a 'Happy Birthday' slogan written on it. Since the payload was unknown and could be destructive, the Su-30MKI pounded some 97 rounds from its GSh-301 autocannon as per Standard Operating Procedure and brought down the target which was later inspected and was declared 'Harmless'.
In the melee with Pakistan Air Force (PAF) on 27 February 2019, following its failed surgical strike against an alleged terrorist training camp at Balakot in Pakistan on 26 February, a Su-30 of IAF was shot down by PAF along with an IAF MiG-21. The debris of the IAF Su-30 fell in Indian territory thus IAF never acknowledged the loss but PAF aired video clips confirming the kill and demise of the pilot. Wing Commander Abhinandan, the pilot of a MiG-21, which was also shot down in the same encounter, was captured alive. He was paraded on Pakistani TV Channels but returned to India in a gesture of goodwill.
IAF continues to rely heavily on the Su-30, describing it as an "air dominance fighter". Its marriage with the Indo-Russian Cruise missile BrahMos after modifications carried out by Hindustan Aeronautics Limited (HAL) to reduce the weight of the missile have made it a potent weapon. The lethality of the BrahMos can be gauged from the factor that it has the capability of cutting an enemy warship in two.
India's obsession with Pakistan developing the strategically located deep seaport of Gwadar with Chinese assistance has raised alarm bells in New Delhi. Gwadar overlooks the Arabian Sea from where the bulk of India's oil supply is transported. On 4 March 2019, an Indian Navy (IN) submarine attempted to enter the territorial waters of Pakistan. It was detected by the vigilant Pakistan Navy (PN) anti-submarine, maritime surveillance aircraft P-3C Orion, which localized and blocked the would-be intruder from entering Pakistan's maritime zone. The submarine could have been easily engaged and destroyed had it not been Pakistan's policy to exercise restraint in the face of Indian aggression and to give peace a chance to prevail. However, the submarine was kept under watch along with monitoring of other Indian Navy units.
Apparently, India had learnt no lessons from its previous misadventure on 14 November 2016. According to an official report, PN, ever alert and using its extreme professional skill, had prevented the Indian submarine from entering Pakistani waters. Reportedly, the unsuspecting submarine was detected, localized south of Pakistani coast and forced to flee. Seemingly, the IN sub was detected when it came up to the surface to recharge its batteries which may have become exhausted. Subs are required to rise to periscope depth to recharge their batteries.
It is no coincidence that the IN sub was caught lurking in Pakistani waters on the same date that the first cargo ships were setting sail from Gwadar, carrying a shipload, which had been brought in the shape of a convoy from Kashgar. Now India seems to have placed its reliance on the aerial platform of Su-30MKIs to look after its maritime interests.