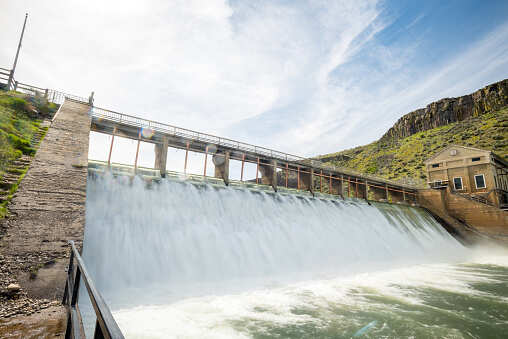 by Dr. Rajkumar Singh 20 May 2019
Very recently in February 2019, the Indian government has proposed the construction of Lower Arun Hydropower project in Nepal with a capacity of 400 megawatts. It was decided in a meeting with Minister for Energy, Water Resource and Irrigation Barshaman Pun at New Delhi on and, Indian Minister of State for Power Raj Kumar Singh who put forth a proposal that the new project can be developed adopting the same model of 900-MW Arun III project,". This proposal was made from the Indian side to establish the Lower Arun on the same model being adopted by the Indian company while constructing the Arun III. The Nepalese Minister Pun assured that Kathmandu would make a proper decision whether or not to award the construction of Lower Arun to India after seeing the progress in Arun III hydro project. The new said project is estimated to be an investment of over Rs 100 billion. Nepal Energy Ministry has determined that the project would be of around 1000 MW capacity if it is designed in a way to export power to India.
In total electricity generation capacity generated by hydropower plants, Nepal is heavily dependent on hydro resources to meet its energy demands. Hydropower plays a particularly important role in Nepal's economic future because of the scale of its potential. It is estimated that Nepal has the economically viable potential to put in place over 40,000 megawatts (M.W.) of hydro generation capacity. If such a possibility is realized, it could quickly meet Nepal's suppressed demand and create a surplus that could be exported to neighboring countries in South Asia. However, the lack of access to reliable, grid‐supplied electricity is a crucial constraint to economic growth and an obstacle to reducing poverty. Developing sustainable hydro generation will enable Nepal to balance its supply deficit in the dry season with the revenues made through exports during the wet season when river flows are high.
India-Nepal Growing Partnership
India is Nepal's largest trade partner and the significant source of foreign investments, besides providing transit for almost the entire third country trade of Nepal. India accounts for over two-thirds of Nepal's merchandise trade, about one-third of business in services, 46% of foreign direct investments, almost 100% of petroleum supplies and a significant share of inward remittance on account of pensioners and workers. Main items of exports from India to Nepal are petroleum products, motor vehicles, and spare parts, M.S. billets, machinery and spares, medicines, hot rolled sheets, wires, coal, cement, threads and chemicals. The main items of exports from Nepal to India are polyester yarn, textiles, jute goods, threads, zinc sheet, packaged juice, cardamom, G.I. pipe, copper wire, shoes and sandals, stones and sand. Also, Indian firms are the leading investors in Nepal, accounting for about 40% of the total approved foreign direct investments.
As on May 31 2017, Indian ventures lead foreign investment with FDI commitments was of Indian rupees 5159.86 crores whereas the total proposed F.D. commitments to Nepal from all countries amounts to Indian rupees 13178.15 crores. An additional investment of US$ 2.5 billion would come to Nepal from the Indian private sector and PSUs for development of two critical hydroelectric projects – Upper Karnali and Arun III, each 900 MWs. There are about 150 operating Indian ventures in Nepal engaged in manufacturing, services (banking, insurance, dry port, education, and telecom), power sector and tourism industries. Some large Indian investors include ITC, Dabur India, Hindustan Unilever, VSNL, TCIL, MTNL, State Bank of India, Punjab National Bank, Life Insurance Corporation of India, Asian Paints, CONCOR, GMR India, IL&FS, Manipal Group, MIT Group Holding, Nupur International, Transworld Group, Patel Engineering, Bhilwara Energy, Bhushan Group, Feedback Ventures, RJ Corp, KSK Energy, Berger Paints, Essel Infra Projects Limited and Tata power.
Agreements Signed in Water Energy
For cooperation in the field of energy and water resources a three–tier mechanism established in 2008, to discuss all bilateral issues relating to cooperation in water resources and hydropower. Regular meetings of the group are being conducted on and off site. In the area of river training and embankment construction, Government of India has been assisting Nepal for strengthening and extension of embankments along Lalbakeya, Bagmati and Kamala rivers. Started in 2008, with the immediate assistance, the total grant assistance already disbursed for dams construction along these rivers amounts to over Nepalese rupees 4.5 billion. A Development Authority was also set up in September 2014 to carry out the Pancheshwar Multipurpose project. A Power Development Agreement (PDA) for the 900 MW Arun-3 hydroelectric project between India's Satluj Jal Vidyut Nigam Limited and the Investment Board of Nepal (IBN) was concluded in November 2014. Also, a PDA for the 900 MW Upper Karnali hydroelectric project was completed between IBN and M/s GMR in September 2014. In February 2017, the Cabinet Committee on Economic Affairs approved the investment for generation component of Arun-3 HEP for an estimated cost of Rs. 5723.72 crore at 2015 price level. There are more than twenty 132 KV, 33KV and 11KV transmission interconnections which are used both for power exchange in the bordering areas and power trade. This first high capacity Dhalkebar (Nepal)-Muzaffarpur (India) cross-border power transmission line charged at 132 KV was jointly inaugurated by Prime Minister Narendra Modi and Nepali Prime Minister K.P. Sharma Oli, during the latter's visit to India in February 2016, through which 80 M.W. of electricity is being supplied to Nepal. The line is expected to be ready for operation at 400 KV by August 2019. The two 132 KVA lines between Kataiya-Kushaha and Raxaul-Parwanipur built with Indian grant assistance were inaugurated during Prime Minister Deuba's visit to India in August 2017, enabling import of an additional 100 MW of power. At the request of Nepal, to alleviate power shortages during winters, a supplemental 220/132k V, 100 MVA transformer was installed to supply additional 80 M.W. of power to Nepal from January 1, 2017, onwards from Muzzafarpur-Dhalkebar transmission line.
Currently, a total of about 350-370 MW of power is presently being supplied to Nepal through different transmission lines, and the majority of the power import is done through Dhalkebar-Muzaffarpur, Kataiya-Kusaha, Tanakpur-Mahendranagar, and Ramnagar-Gandak Transmission Lines. Nepal Electricity Authority and NTPC Vidyut Vyapar Nigam (NVVN) signed a supplementary Power Purchase Agreement in May 2017 for importing 160 MW of electricity through the Muzaffarpur-Dhalkebar Transmission Line, extended till December 31, 2017. An Agreement on "Electric Power Trade, Cross-border Transmission Interconnection and Grid Connectivity" was signed between GoN and GoI on October 21, 2014. Two mechanisms, Joint Working Group (JWG) and Joint Steering Committee (JSC) envisaged under the Agreement have been established and met in November 2014. A Joint Technical Team (JTT) has been formed for preparation of long-term integrated transmission plan covering projects upto 2035. On December 5, 2016, Ministry of Power, Government of India has issued guidelines on cross-border trade of electricity. The Fourth meeting of JWG/JSC was held in Kathmandu from 13-14 February 2017.
The next meeting is scheduled to be held in New Delhi. India's Development Assistance to Nepal Government of India provides development assistance to Nepal, focusing on the creation of infrastructure at the grass-root level, under which various projects have been implemented in the areas of infrastructure, health, water resources, education, and rural community development. In recent years, India has been supporting projects in Nepal for development of infrastructure through up-gradation of roads in the Terai areas; expansion of cross-border rail links at Jogbani–Biratnagar, Jaynagar-Bardibas, Nepalgunj Road-Nepalgunj, Nautanwa-Bhairhawa, and New Jalpaigudi-Kakarbhitta; and establishment of Integrated Check Posts at Raxaul-Birgunj, Sunauli-Bhairhawa, Jogbani-Biratnagar, and Nepalgunj Road-Nepalgunj. More than 551 large, intermediate, and small–scale projects at an estimated cost of N.R.s. 76 Billion have been implemented across Nepal under Indian financial support since 1951. The total economic assistance earmarked under 'Aid to Nepal' budget for Financial Year 2017-18 amounts to Rs. 375 crore. During the Financial Year 2017-18, a total of around 18 intermediate and large projects are under various stages of implementation in Nepal. These include the creation of a Nepal Bharat Maitri Dharamshala at Pashupati area at Kathmandu; construction of a Polytechnic at Hetauda, providing Indian faculty support to BP Koirala Institute of Health Sciences at Dharan, Installation of 2700 shallow tube wells in various districts across Nepal.
Till date, India has gifted 602 ambulances and 118 school buses to various institutions and health posts across Nepal's 75 districts. Seventeen fire tenders were gifted to the Ministry of Federal Affairs and Local Development in August 2016, for enhancing the fire-fighting capacity of municipal administration in different parts of Nepal. Besides this, Government of India supported the Election Commission of Nepal in May 2017 with vehicles and other logistical materials for smooth conduct of local elections in Nepal. Apart from grant assistance, Government of India has also extended four lines of credit to the Government of Nepal for US$ 100 million, US$ 250 mn, US$ 550 mn and US$ 750 mn for the execution of infrastructure development projects and post-earthquake re-construction projects as prioritized by Government of Nepal.
To meet the growing electricity demand, imports from India have increased over the last 15 years. In 2014-15, power imports from India accounted for 27% of total energy supply in Nepal. Therefore, investments in hydropower can help the country address its crippling power shortage problem and can be best addressed by the private sector in the immediate and medium-term future.