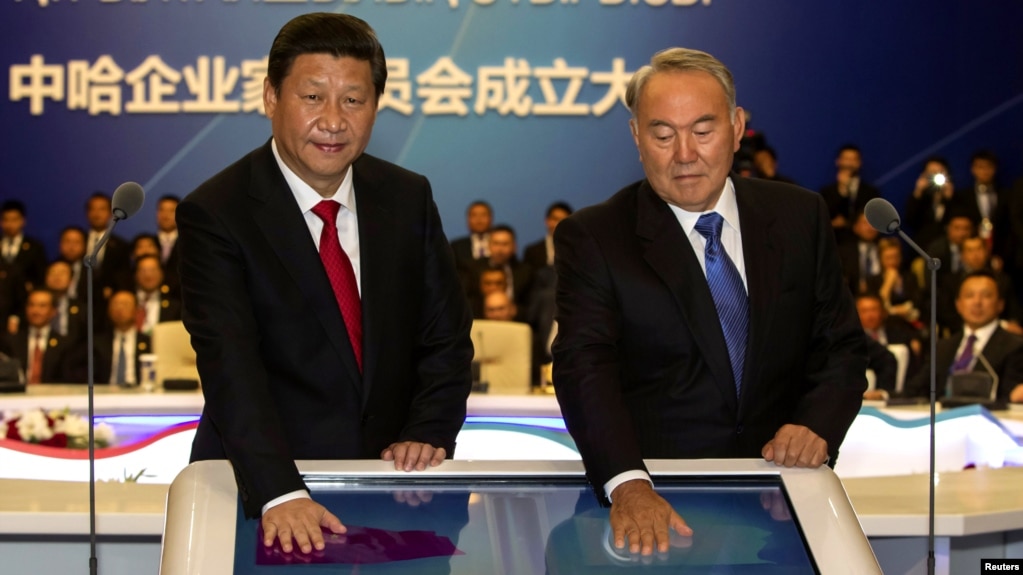 I'm RFE/RL correspondent Reid Standish and here's what I'm following right now.
The Talking China In Eurasia podcast is back on September 13. Tune in on Apple, Spotify, or Google.
The Belt And Road Turns 10
It's been 10 years since the Belt and Road Initiative (BRI), Chinese leader Xi Jinping's signature foreign-policy venture that has seen hundreds of billions of dollars invested into infrastructure around the world, was unveiled as part of a major push to build global influence.
But where does it stand after a decade?
Finding Perspective: It was September 6, 2013, when Xi touched down in Astana, the capital of Kazakhstan, and was warmly greeted by then-President Nursultan Nazarbaev. The next day, he gave a speech where he evoked imagery of camel caravans as he announced that he wanted to create a contemporary version of the ancient Silk Road.
A lot has changed since then. The initiative has been rebranded and renamed over the years and it has shifted from being seen as a rising economic tide that could lift all boats to the tip of the spear of a wider geopolitical contest for influence.
This evolution has seen BRI go a long way from its early days and has since become far more than just financing and building infrastructure. Today, there's no denying that it's an integral part of Chinese foreign policy and the Chinese Communist Party's global ambitions.
But what future does it hold?
In 10 years, it's grappled with scandals over corruption, environmental degradation, and saddling host countries with debt. The pandemic, by the Chinese Foreign Ministry's own accounting, has impacted up to 40 percent of BRI projects, while 20 percent have been severely impacted with delays or even canceled.
The flip side is that countless roads, railways, and other vital infrastructure have been built in the last decade that might not have otherwise been built — filling a massive global need and providing a springboard for other Chinese initiatives to follow.
Why It Matters: The BRI has always been something of an ink-blot test that leaves things up for interpretation, but there's no denying that it has been undergoing some massive changes.
A series of projects across low- and middle-income countries have been sidelined or canceled in recent years over sustainability concerns in evidence of buyer's remorse from host governments. Italy, which recently announced that it plans to leave the BRI, is the latest example.
Elsewhere, it's clear that the BRI has slowed down, with fewer projects being funded amid concerns of an overseas debt crisis from the high-octane lending of the project's early days.
But data shows that while China's outbound lending has been in decline since 2016, the project is far from fading away. Rather, Beijing is learning from its mistakes. It's selecting projects and partners more carefully and research shows that it's prioritizing green initiatives and energy deals that are seen as more likely to bring a return on investment.
This makes October's Belt and Road summit in Beijing an important litmus test that raises plenty of questions: Which world leaders will be in attendance? Which countries will snub the event? How will Xi set up the next 10 years? And what new projects might be announced on the sidelines?
Podcast Corner: We're Back On September 13!
The Talking China In Eurasia podcast is back starting Wednesday, September 13!
It's been a while since you last heard from me on the podcast front, but I'm pleased to let you know that we have a brand new season.
I've been working with Katie Toth, who is a very talented producer, and we've redone the podcast. We'll be using a completely new format that's going to allow us to dig even deeper into stories about China's rising influence from Eastern Europe to Central Asia.
Tune in as I'll be joined by fellow journalists and expert guests to unpack exclusive investigations about China and Russia's growing ties, report on the ground from Georgia on Chinese infrastructure projects, and revisit the long and complicated history between Beijing and the Taliban — and that's just a few of them!
For regular newsletter readers, this section is now rebranded as "podcast corner" and it will be where I'll unpack each episode.
Don't forget to subscribe on Spotify, Apple, Google or wherever else you like to listen so you don't miss an episode and stay tuned next week.
Three More Stories From Eurasia
1. The Taliban Looks To Build A Surveillance Camera Network In Kabul
Is the Taliban creating a surveillance state in Afghanistan? That's a question that my colleague Abubakar Siddique looked into after the Taliban's Interior Ministry announced on August 30 that it plans to install around 62,000 security cameras in Kabul.
The Details: There's still a lot of ambiguity about what's happening on the ground beyond the Taliban's announcement, but Bloomberg reported that the Taliban is working with Chinese tech giant Huawei to set up the surveillance camera network. Huawei denied this, although Bloomberg also reported that representatives from the company held meetings in Afghanistan in August.
The Taliban did not reveal how it obtained the cameras or if it has received assistance to install and operate them, but they have said that the system will improve security and help combat crime.
Such a network — especially if it is indeed as sophisticated as those made by Huawei — is a significant development. As Amnesty International warned, such a surveillance system would provide new ways to stifle dissent and enforce its repressive policies, including restrictions on Afghans' appearances, freedom of movement, and access to uncensored information.
For Beijing, a surveillance network in Afghanistan would be a significant step in calming its long-held security concerns in the country, especially over it becoming a safe haven for militants looking to attack China.
2. No More Illusions In Brussels About China?
I recently sat down with Reinhard Buetikofer, a leading member of the European Parliament, who warned that Europe will need to learn some tough lessons from its past national security failings with Russia if it is to successfully navigate ties with Beijing in the future.
Read the full interview here.
What You Need To Know: Buetikofer chairs the European Parliament's delegation on China and has become one of the EU's most hawkish voices when it comes to dealing with Beijing.
In a wide-ranging interview, he took aim at Beijing's equivocation for the Kremlin over the war in Ukraine and said the EU needed to apply the hard lessons learned from its dependence on Russian energy to the bloc's current ones on the Chinese market and its influence over vital supply chains for strategic industries.
"I think it is fair to say that this experience with Russia has taught us a lesson that should also be applied to our China relations," Buetikofer told me. "China is supporting Russia and does not want Russia to lose in any meaningful way. I certainly do not see them as anywhere near a neutral position. They are trying to take advantage of the war in Ukraine."
There's been lots of movement in the last few years from Brussels to how it sees China and Buetikofer has been a key part in moving that needle. Check out the interview for more.
3. The Prospective Heir Goes To Beijing
Rustam Emomali, the son of authoritarian Tajik President Emomali Rahmon, traveled to Beijing on August 23, where he met with Chinese Deputy Prime Minister He Lifeng and signed deals worth $400 million, RFE/RL's Tajik Service reported.
What It Means: Rustam Emomali is the mayor of Dushanbe, the Tajik capital, the chairman of the Tajik parliament's upper chamber, and is widely seen as his father's likely successor.
This makes the trip to China interesting for a host of reasons. While Moscow is still influential across Central Asia, Beijing's influence continues to grow, especially in Tajikistan, which is relying on Chinese companies for investment to keep its economy running.
Should Rustam Emomali live up to his heir-apparent status, this trip would be seen as a crucial visit to build rapport with a vital ally for the future.
In another noteworthy development from the visit, the Chinese and Tajik sides agreed to create a joint venture to produce some 1,500 electric vehicles annually. The project involves Tajikistan's Avesto Group company, which is linked to Rustam Emomali personally.
Across The Supercontinent
A Kyrgyz TikTok Ban?: From targeting independent media outlets like Kloop to now going after TikTok, freedom of speech is finding itself under pressure in Kyrgyzstan, my colleague Chris Rickleton reports.
The New BRICS: Last month's BRICS summit saw the group expand with a series of six new members and increased momentum toward a joint currency to reduce the dominance of the U.S. dollar.
But how feasible is that plan? My colleague Todd Prince explores.
G20 Snub?: Xi — who has never missed the annual G20 gathering since taking power in 2012 — will miss this week's event in India and Premier Li Qiang will instead represent China. There's a host of possible explanations, ranging from tensions between Beijing and New Delhi to Xi not wanting to be out of the country for too long amid instability among the Communist Party's top brass.
Eye On Xinjiang: Beijing has changed its approach, but a recent report from Human Rights Watch shows how repressive policies and the forced assimilation of Turkic minorities in Xinjiang in western China — such as Uyghurs, Kazakhs, and Kyrgyz — is still under way.
One Thing To Watch
After years of tense bilateral ties with Beijing, the United Kingdom is looking to strike a new balancing act with China.
British Foreign Secretary James Cleverly visited the country last week, the first to do so in almost five years, and met with China's top diplomat, Wang Yi, and Vice President Han Zheng.
Cleverly came under fire at home for the trip, but he told the BBC a lack of in-person meetings can result in misunderstanding.
China's public reputation in much of the West has been in decline and policy with the country is becoming deeply intertwined with domestic politics in many capitals, especially Washington and London. It will be a tough tightrope to walk for many officials to keep reaching out and navigating the practicalities of foreign policy while also embracing hardening rhetoric toward China at home.
That's all from me for now. Don't forget to send me any questions, comments, or tips that you might have.
Until next time,
Reid Standish
If you enjoyed this briefing and don't want to miss the next edition, subscribe here. It will be sent to your inbox every other Wednesday.