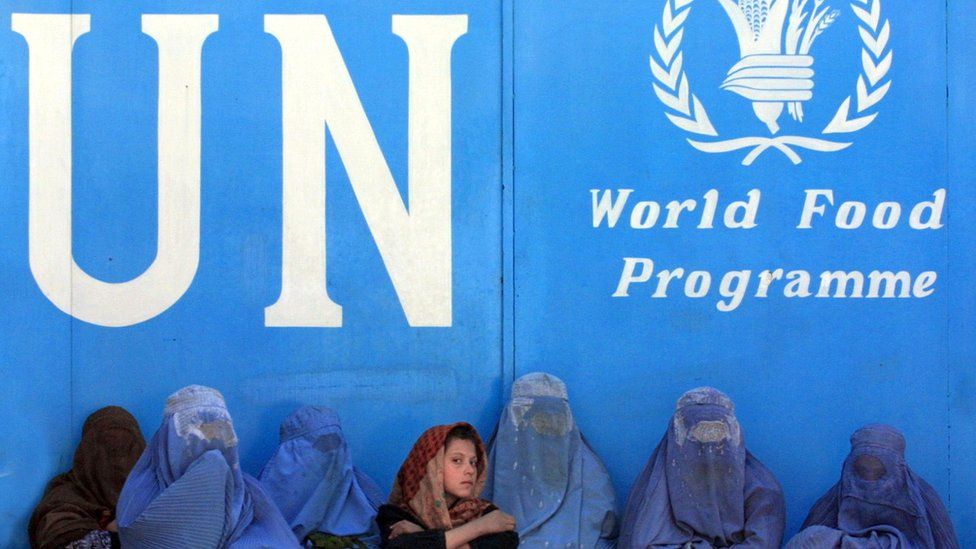 A Taliban order has barred Afghan women from working for the United Nations, the organisation has said.
The UN said the Taliban had informed them verbally but there had not yet been written communication of the move.
The UN has told its Afghan staff – men and women – not to report to work for 48 hours, until it has clarity on the matter in meetings with the Taliban.
There has been an increasing clampdown on women's freedoms since the Taliban seized power in Afghanistan in 2021.
"This is the latest in a disturbing trend undermining the ability of aid organisations to reach those most in need," a UN spokesman said, adding that it "cannot operate and deliver life-saving assistance without female staff".
The UN has called the Taliban order "unacceptable and frankly inconceivable".
Female workers play a vital role in on-the-ground aid operations, particularly in identifying other women in need. The UN has been working to bring humanitarian aid to 23 million people in Afghanistan, which is reeling from a severe economic and humanitarian crisis.
Foreign female workers are exempt from the ban. But if implemented, this would be the most significant test of the future of UN operations in Afghanistan, and the relationship between the organisation and the Taliban government.
The UN has said that in eastern Nangarhar province, local Taliban authorities prevented Afghan women from going to work at UN facilities on Tuesday.
In response, Secretary General Antonio Guterres tweeted: "I strongly condemn the prohibition of our Afghan female colleagues from working in Afghanistan's Nangarhar province. If this measure is not reversed, it will inevitably undermine our ability to deliver life-saving aid to the people who need it."
Unless it is overturned, the order means the UN is no longer exempt from a ban on women working for all NGOs – save for those in the healthcare sector – implemented in December. Female workers in the health sector are expected to still be allowed to work, but only if they report directly to health facilities, not to offices.
Since the Taliban's return to power, teenage girls and women have been barred from schools, colleges and universities. Women are required to be dressed in a way that only reveals their eyes, and must be accompanied by a male relative if they are travelling more than 72km (48 miles).
And last November, women were banned from parks, gyms and swimming pools, stripping away the simplest of freedoms.
In February Professor Ismail Mashal, an outspoken critic of the Taliban government's ban on education for women, was also arrested in Kabul while handing out free books.