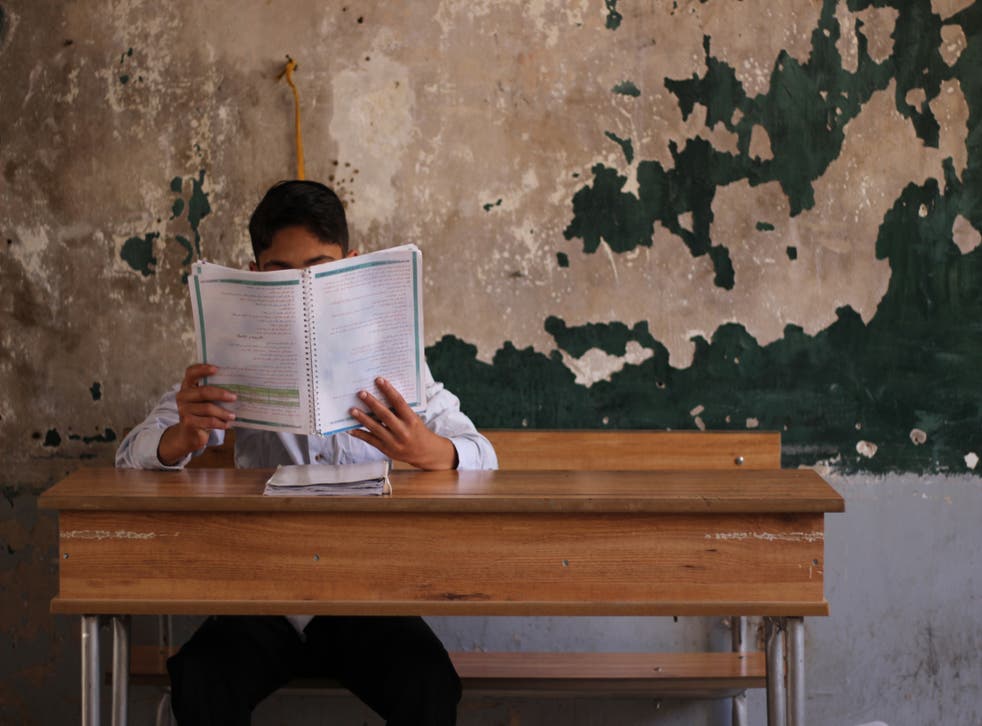 (Unicef/Al-Issa)
by Nawaz Sarif     13 October 2021
As of October 10, 2021, was commemorated as World Mental Health Day, so, let's take it as a catalyst juncture to raise awareness and understanding about mental health issues, including common medical illness to psychiatric disorders at both local and national stages. This year, the World Federation for Mental Health (WFMH), World Health Organization, and other WFMH member organizations amalgamated, purporting at expanding the cognizance of mental health and lowering the increased gaps in catering to the need of mental health issues across the countries.
The strewed COVID-19, as it is now has had a catastrophic impact, making over 320 million students stranded at home, while nearly 9.64 million teachers remained no longer in the physical classroom. For more than a year and half since institutions closed, they have been unable to drive their mental world at home isolation. The outbreak has refrained young minds from going to school, play with peers, and participate in social gatherings. High-screening on the computer and feeling lonely in the digital ecosystems is affecting their mental and emotional health. Feelings of fear and helplessness heighten their levels of anxiety and distress. It swells the burden of mental illness and wreaks havoc on millions of lives, propelling many of them to untimely demise by committing suicide.
Mental health, 'without which there can never be a true physical health' is an indispensable facet of complete health. It is a state of well-being in which individuals realize their abilities, cope up with the normal stress of life, can work productively, and is able to make a contribution to their communities. According to the World Health Organization (2001), mental health disorders are looming ahead, which account for nearly 12 per cent of the global burden of disease. India is one of the most demographically diverse countries, housing about 75.5 million young populations, aged 13-15 years (WHO, 2017). It was noticed that about 6.5 per cent of Indians across age groups are experiencing some sorts of mental as well as behavioral illness and disorders.
In the midst of Covid-19, we noticed a series of tragic deaths, including Devika Balakrishnan, a class 10th student who committed suicide, in the Malappuram district of Kerala, due to failure to attend online classes. Similarly, a 16-year-old class X student, Shibani Kumar Sau died by suicide after failing to attend online classes in Howrah's Nischinda. The suicide cases also spark in the part of North-East India. A 15-year-old class 10 class student committed suicide in Western Assam's Chirang district. In another case, a 17-year-old girl from Kotdharmu in the district of Mansa, Punjab has committed suicide as she could not attend the online classes.
At times, every single suicide that occurs in our society has become a personal tragedy, which prematurely takes away a person's life and has a continuing impact, which adversely affects the family and social life. Students are the most valuable human resources who are in a critical condition. More than one student commits suicide every hour in India, revealed in the report of NCRB, 2019. Also, it showed that the total number of student suicides in 2016 was 9,478 and continued to grow thereafter, rising to 9,905 in 2017, 10,159 in 2018, and 10,335 in 2019.
In a report, compiled by journalist Rachel Chitra, suicide has emerged as the second leading cause of death in India. In less than 25 years (1995-2019), our country has lost about 1.6 lakh students. A Lancet study found that India has one of the highest suicide rates in the world, with a large proportion of adult suicides occur between the ages of 15 and 29 years. Besides, the World Health Organization (WHO), in its new report revealed that India has the highest suicide rate in Southeast Asia.
Overall, a total of 1,39,123 suicides were reported in our country in the year of 2019, an increase of 3.4 per cent over the figure of 1,34,518 in 2016. The highest number of suicides was reported in Maharashtra (18,918), followed by Tamil Nadu (13,493), West Bengal (12,665), Madhya Pradesh (12,456), and Karnataka (11,228). Notwithstanding, a skyscraper of student suicides was found in Maharashtra (1,487), followed by Madhya Pradesh (927), Tamil Nadu (914), Karnataka (673), and Uttar Pradesh (603). These states account for 44 per cent of the total 10,335 student suicides reported in 2019 across the country.
Further, more than 24,000 students between the ages of 14 and 18 committed suicide between 2017 and 2019, as per the NCRB report. The main reason was a failure in exams, accounts over 4,000 suicides, and other reasons were unreasonable parental expectations, substance abuse, poverty, hero-worship, and unemployment. Again, amidst the Covid-19 crisis, most of the students' suicide reported in different states allegedly over the failure to attend online classes due to lack of a smartphone or television at home. Few cases have also been reported, where students committed suicide on account of their failure in exams and parental high expectations.
In this plight, parents, teachers, and friends make a special contribution as a remedy. Students who go through depression often show signs of distress and suffering. So, the home can be the primary center of identifying stress and depression symptoms. Parents must be aware of the problems of anxiety and depression in their children. Besides, they can be powerful catalysts in fostering sense of trust, positive emotions, and self-acceptance and –beliefs among children at home.
Further, feelings of solidarity and connection directly help students avoid risky behaviors and suicidal thoughts. Students will greatly benefit from caring, loving, and logical conversations. Stressed-out students need social groups or other platforms, where they coordinate themselves, develop understanding that they're not alone and not the first to go through, find alternative paths to their relief, and feel free to move on to the future.
Teachers who are recognized as our second parents, in many cases, can play an important role in keeping students physically and mentally healthy during this pandemic. Along with online learning, students should be encouraged to participate in various indoor and outdoor activities at home. For those, who are at risk of drug, tobacco, and alcohol abuse, institutions must provide virtual guidance and counseling. Besides, the focus must be reoriented to negating peer pressure, online bullying, trouble-focusing behaviors, and inferiority complex, while at the same time strengthening resilience factors, including family support, self-esteem, self-efficacy-beliefs, and mindfulness. Institutions must help students to introspect themselves and empower them with advanced skills in inter-personal understanding and in coping with different unfortunate events, which will directly evolve them in later family, social, and professional realms.
Furthermore, a strong coordination between governments, school authorities, and parents is essential to help school students. Mental health therapy and academic guidance must be provided to students at appropriate times. Besides, the state governments must release various stimulus micro-economic packages as an intervention. Like the governments of West Bengal and Delhi, other Indian states must provide free tabs to students to attend online classes. Besides, several multi-pronged strategies must be undertaken by state governments to alleviate the mental-health panic of the students at different levels. There is also an urgent need to raise public awareness about mental health through various campaigns. We must remember that 'mental illness is nothing to be ashamed of but stigma shames us all'.