March 28, 2020 | By: Afsan Chowdhury
As one of the most overpopulated, traffic-jammed, extremely polluted cities in the world, Dhaka offers no solace, relief or comfort to anyone. It is impossible to feel fine in such a city. And since last week or so, Dhaka has indeed been looking like a city that has been hit by a terrible disaster. The coronavirus epidemic has made a difference in more ways than one.
The streets are largely deserted, vehicles are mostly gone and people don't gather in crowds anymore. It is a city haunted by the fear of disease and death. At no time in their lives have the people felt so helpless. There appears to be no way out right now. Nobody really knows what will happen.
The unknown has caused panic. Initially, people thought that it was something happening only in China and then Europe, but then it arrived at their own doorsteps. The dead and the infected are both being counted now. And as it is apt to happen, people think that the government is hiding figures. And the government is being blamed for lack of preparation. That may be right, but going by the global scene, just about everyone seems to have been unprepared.
Read Also: Systemic weakness and democracy stand in the way of COVID-19 control
No one really knows what's going on and don't know what will happen next or soon. There are no brave faces in this town.
Khaleda Zia's release
The opposition Bangladesh Nationalist Party's Supremo, Khaleda Zia, was in jail for 25 months after being convicted for defalcation of funds of a charity set up in her husband the late President Ziaur Rahman's name. Her appeals were in fructuous. Her party, the BNP, significantly enfeebled by her absence and that of her son Tarek Zia, now in London in exile, could not mount any significant agitation that would lead to great public pressure on her behalf. The result was a futile cry and protests which were ineffective.
The ruling Awami League's (AL) position on this was that the judiciary was free and it was the judiciary's decision to keep her locked up. The BNP retorted that the government controlled the judiciary and that the entire trial process was unfair. This slanging match went on without yielding any result. Recently, the family of the ailing ex-Prime Minister Khaleda Zia also moved for her release. Thus on 24th March, Prime Minister Sheikh Hasina ordered suspension of her sentence by 6 months and released her from jail. She will be quarantined for the usual 14 days and then will have to stay at home. She can't go abroad for treatment. It seems, corona did what BNP couldn't.
Meanwhile, Awami League's Genera Secretary, Obaidul Quader, who had said before that releasing Khaleda was not in the hands of the Prime Minister, is now saying that it was PM Sheikh Hasina who was responsible for her release. That the two statements contradicted never struck the politician.
However, the social media got an opportunity to troll him. They produced funny memes. It was a comic relief that many enjoyed. Politics as a group activity has a long way to go. But what has made Quader a household laughing stock is his statement that "we are stronger than the virus." Jokes, abuse, and memes are coming his way. But he is unfazed.
Epidemic and the poor
Lockdowns, lock-ins, bans, stoppage of factories, particularly Ready Made Garment (RMG) factories, hit the poor the hardest. Daily wage laborers are the worst off. The media has carried several stories describing how many face hunger. It is the cruelest part of the epidemic, partly because no one knows how long this agony will last.
Read Also: Fast eroding faith in Bangladesh's financial sector
The economic hit will not be limited to the slum dwellers and the lowest income groups but the middle classes as well. For the moment, some talk is on about economic support, But as the epidemic is largely a health issue, infection rates and death counts are dominating thought and action, not economic stimuli or relief measures.
Dhaka University academic Prof. R. A. Titumir has said that the government needs to provide a basic income grant to the most vulnerable through banks. This is what many others also think must be done, but the government is silent, as expected. It is however planning to provide free meals to the poorest as declared by the Prime Minister in her national address as Bangladesh observed the 49th year of independence. Billions of Takas have been promised as relief to the industrial sector.
The global crisis has already hit the economy as most RMG orders have been cancelled leading to a loss of billions of Takas. Economies, from which remittances come, in the Middle East, Europe etc. are massively suffering. Most infected persons were migrant workers from Italy. A major transition, mostly painful, covering all aspects of life, is on.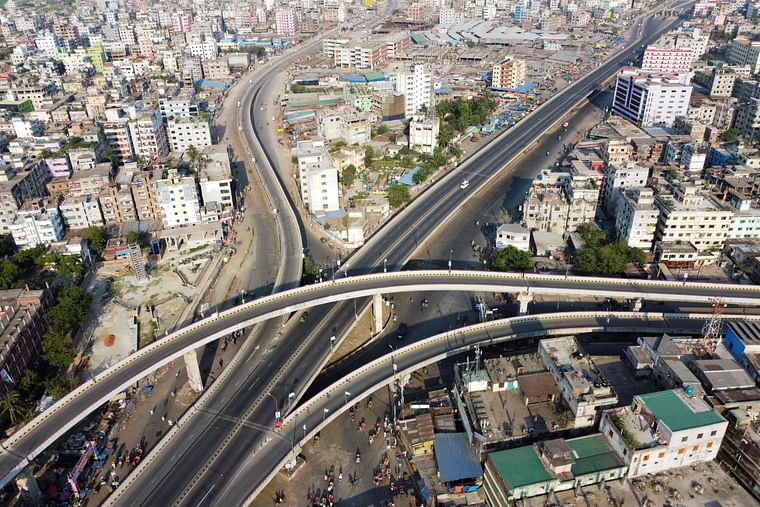 A deserted independence day
Meanwhile, in a deserted Dhaka, an occasion which should have been a day of noisy celebrations (independence day) was marked by eerie silence. The authorities have finally started to take the lockdown seriously and troops will patrol the streets to enforce it. Police have been instructed to act against violators and more actions are planned. Meanwhile, everyone is feeling that God is the only resort.