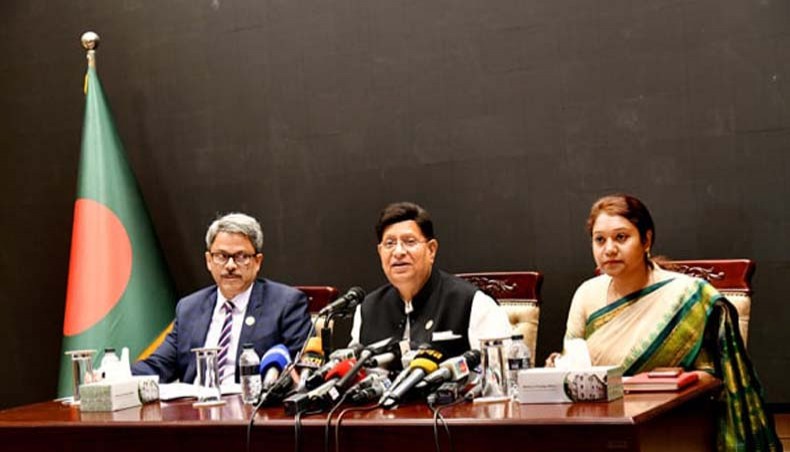 by John Rozario    25 April 2023
Indo-Pacific politics has garnered a lot of interest lately. This was noticeable during consecutive US officials' visits to Bangladesh in recent months. The publication of the US Indo-Pacific Strategy in early 2022, followed by Canada's and South Korea's IPS later that year, provided a better understanding, along with previously adopted policies and outlooks of Japan, Australia, India, Germany, France, the UK, the EU, ASEAN and The Indian Ocean Rim Association (IORA). As a resident country of the Indo-Pacific, Bangladesh, too, has formulated its own outlook and determine its engagement with the region.
Bangladesh's Sheikh Hasina Wajed government has set an outlook for peace in the Indo-Pacific through dialogue and understanding.  The foreign ministry published the guidelines and objectives for the region at a press conference on Monday ahead of Prime Minister Hasina's key visit to Japan, the US and the UK.
Bangladesh maintained neutrality when the West and its allies tried to win its support in the region. The government said it would support economic efforts but was not interested in defence cooperation.
At the press conference to publish the outlook, State Minister for Foreign Affairs Shahriar Alam said Bangladesh considers stability and prosperity in the Indo-Pacific to be crucial in building a modern, knowledge-based, developed country by 2041, as planned by the current regime.
"The Indo-Pacific area's collective share in global GDP, preponderance in international trade, enhanced climate action and growing technological dynamism can be key determinants for ensuring Bangladesh's long-term resilience and prosperity," the government said in the outlook.
"Bangladesh, therefore, envisions a free, open, peaceful, secure, and inclusive Indo-Pacific for the shared prosperity for all." He said that as a coastal country on the Bay of Bengal, Bangladesh considers the stability and prosperity of the Indo-Pacific region as an important determinant in the implementation of its 'Vision-2041' and becoming a modern, knowledge-based, developed country by 2041. The Indo-Pacific region's overall share in global GDP, leading position in international trade, overall action to combat climate change and dynamic development in the technology sector can play a far-reaching role in ensuring Bangladesh's long-term sustainable economy and prosperity. Bangladesh therefore attaches importance to realizing the vision of a free, open, peaceful, secure and inclusive Indo-Pacific for the prosperity of all concerned in the region.
The outlook has four guiding principles and 15 objectives. Four principles are mentioned in the outline. The first of these is 'friendship with all, enmity with none'. The principles emphasize constructive regional and international cooperation for sustainable development, international peace and security, humanitarian action and upholding fundamental rights and freedoms.
It has 15 objectives. One of them is to maintain mutual trust and respect with a view to maintaining peace, prosperity, security and stability for all in the Indo-Pacific region. Expanding areas of partnership and cooperation and emphasizing dialogue and understanding. To contribute meaningfully and of international value to international disarmament, peacekeeping, peacebuilding and counter-terrorism activities in collaboration with relevant partners in the Indo-Pacific region.
To some analysts, the Indo-Pacific Strategy makes it difficult for Bangladesh to maintain the balance of power with the world powers. Bangladesh faces the dilemma that it cannot put less importance in its relationship with the US, at the same time, joining the IPS might put its relationship with China at stake.
However, Bangladesh shows a clear message of focusing largely on increasing the life standards of its people. The IPS is, literally, a military security capability building alliance in the Bay of Bengal. The "Indo-Pacific Outlook" of Bangladesh is clearly focusing on infrastructure and economic development — not security.
Bangladesh has been transcending towards a developing country from a Least Developed Country (LDC) status through building its economic developmental strategies. The country is an economic success and all its development partners are very eager to take part in the development trajectory.
The historic foreign policy strategy, formulated by Bangabandhu Sheikh Mujibur Rahman, which is "friendship for all and malice to none," continues to serve as the philosophical foundation of Bangladesh's peaceful foreign policy. The country's constitution further states that in article 25 (1). From the above discussion, it appears that Bangladesh is so far following the "avoiding" strategy to find a win-win outcome. To come to the best possible outcome from the proposals under the Indo-Pacific scheme, it is recommended that it should follow the "collaborative" strategy and analyze the cost-benefit and comparative-competitive advantage analysis of IPS.
Similarly, it is important for Bangladesh to develop a mental mapping of the Indo-Pacific based on its interest areas. It can start with the immediate Bay of Bengal and cover the countries, trade routes and flashpoints that have significance for Bangladesh's foreign policy and security. This tailored approach would help Bangladesh sharpen its focus in areas important to the country and avoid being dragged into geopolitical vicissitudes in areas where it does not have a stake.
The sectors of engagement are also important. Most documents emphasise securing global trade, exploring economic opportunities, developing connectivity, supporting technological development, and addressing climate change. The US introduced the Indo-Pacific Economic Framework for Prosperity (IPEF) as part of this process, and Japan has its Bay of Bengal Industrial Growth Belt initiative (BIG-B). The US and Bangladesh are already cooperating in areas like climate change, counter-terrorism, maritime security, military training and UN peacekeeping. Bangladesh, Japan have already decided to work together.
Bangladesh has been open to expanding cooperation in non-traditional security areas, as many of these issues cannot be addressed without international cooperation. However, when it comes to traditional security cooperation, Bangladesh has always maintained a cautious position. Publishing Bangladesh's outlook for the Indo-Pacific has given clarity to international partners regarding this.
Clarity regarding the position on China is also important. The conceptualisation of Indo-Pacific policies has commonly been seen as an effort targeted against China. The documents of the US, France and Canada view China as an assertive actor. However, other countries and organisations avoid adopting such views. For example, South Korea calls for inclusiveness. It sees China as a key partner for achieving prosperity and peace in the Indo-Pacific region. The EU also states that its view is inclusive of all partners wishing to cooperate with it. ASEAN calls for inclusiveness in terms of ideas and proposals. This shows that not all stakeholders view the Indo-Pacific through the lens of great power competition; some prefer a cooperative approach like Bangladesh.
The Indo-Pacific has undoubtedly become a core area of global politics and its importance is only going to grow. Publicizing a holistic outlook on the Indo-Pacific is a timely initiative to project Bangladesh as an active, interested and responsible stakeholder of the region. This will provide clarity and prevent misinterpretation, which is very important in the current context of global politics.
Bangladesh has decided to work with all stakeholders for peacekeeping, peace building and counter-terrorism initiatives in the region.
Why Bangladesh assumes significance?
The announcement on Dhaka's Indo-Pacific priorities was made for the first time in a document titled "Bangladesher Indo-Pacific Ruprekha" (Indo-Pacific outlook).
This announcement is the first time that Bangladesh has spelt out its clear goals on the Indo-Pacific region and has adopted several conceptual parameters that are part of the thinking championed by India, U.S., Japan and Australia. 
The document also announced that Bangladesh will uphold the United Nations Convention on the Law of the Sea (UNCLOS) that establishes rights and responsibilities of the UN member states while using the oceans of the world.
As Bangladesh is a significant player in the Indo-Pacific region since its participation both in the Indian Ocean Rim Association (IORA) and the Bay of Bengal Initiative for Multi-Sectoral Technical and Economic Cooperation (BIMSTEC), geostrategic location, regional integration, social and economic development has made it important to Indo-Pacific region.
Consequently, the overarching goal of Bangladesh's Indo-Pacific Outlook is to enhance country's ties with the USA and West, engagement in this region, accelerates economic growth, and addresses common issues shared by the other nations. Despite Indo-Pacific Strategy's widespread support, some countries have claimed that it's only likely to serve to escalate regional instability, slow China's growth and Bangladesh's lean towards the US. Bangladesh is hesitant to take any sides in the conflict between the US and its allied countries and China. For instance, the Ministry of Foreign Affairs of Bangladesh had announced a fresh Indo-Pacific Outlook to highlight Bangladesh's geopolitical standpoint on the region as well as its objectives to move forward as a nonalignment foreign policy.
In other words, Bangladesh will likely to clarify on its own stance in the Indo-Pacific region through Indo-Pacific Outlook to take the position of regional leader, rather joining any political bloc.
In this way, US-Bangladesh relations would reach a new level. Bangladesh could gain trust from the Indian government because India is an active member of the Indo-Pacific alliance. Bangladesh, on the other hand, can handle the Chinese predicament intelligently because its goal is to engage structurally rather than militarily.  Bangladesh essentially sets an example for the other littoral nations by outlining its Indo-Pacific orientation. Bangladesh-like nations can adopt the method because it is so well-balanced.  It aims to strengthening regional economic cooperation, guaranteeing the security of maritime commerce, combating climate change, investment opportunities and introducing new strategic alliances with other countries. Through upholding norms of international order, the freedom of trade and commerce, prosperity and the sovereign equality of all countries, their outlook aims to help advance the goal of an open, free and fair Indo-Pacific region. In addition, Bangladesh aspires to boost economy through increasing investment and trade; particularly in the areas of public investment and technological networking.