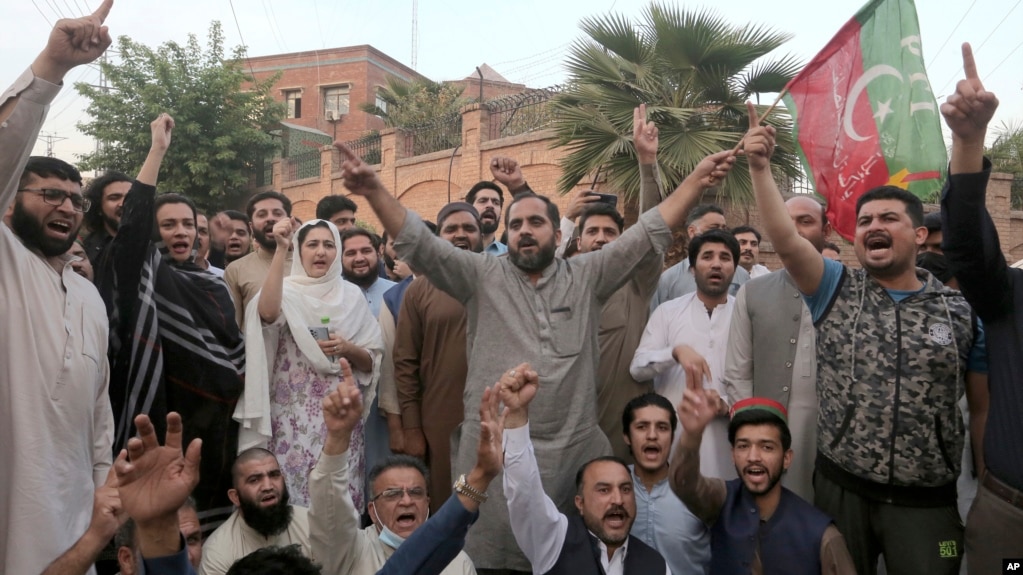 Followers of Pakistan's main political party, Pakistan Tehrik-e Insaf (PTI), clashed with police on March 14 outside the residence of party chairman and former Prime Minister Imran Khan in eastern Lahore after police arrived to arrest Khan.
Several people were wounded on both sides, according to a government spokesman and witnesses quoted by Reuters.
Video images released by PTI showed police hitting Khan supporters with batons and lobbing tear-gas canisters, some of which landed on the lawn of Khan's house, while Khan's supporters hurled rocks and bricks at the officers.
The clashes occurred after a heavy contingent of police arrived to arrest Khan in a case involving state gifts. The so-called Tosha Khana case is the only one remaining in which his arrest warrant has not been suspended.
Interior Minister Rana Sanaullah told a rally broadcast live on local TV that police would arrest Khan and present him in court, but an aide to Khan, Shah Mehmood Qureshi, told reporters that the former prime minister had secured "protective bail" from a court and therefore police could not arrest him.
Two courts in Islamabad on March 13 issued arrest warrants for Khan over his failure to appear before judges in the graft case and in a terrorism case.
A district and sessions court restored nonbailable arrest warrants for Khan in the Tosha Khana case and instructed police to arrest him and present him in court by March 18.
Khan has skipped indictment hearings three times in the case in which he is accused of concealing details of the gifts in his asset declarations. The term Tosha Khana refers to a repository where gifts presented to government officials from foreign officials are kept.
The Islamabad High Court (IHC) on March 7 suspended the nonbailable arrest warrants for Khan issued by a local court in the Tosha Khana case. But the court directed Khan to appear before the lower court on March 13. Khan requested an exemption to the order, but it was rejected by the court.
In a separate case pertaining to using threatening language against a female judge and senior police officers, civil Judge Rana Mujahid Rahim ordered the police to produce Khan before the court by March 29. However, an Islamabad district and sessions court on March 14 suspended nonbailable arrest warrants until March 16 in that case.
Since his ouster last April in a no-confidence vote in parliament, Khan has routinely ignored arrest warrants and court summonses in a string of cases against him, claiming they are a plot by the government led by his successor, Prime Minister Shehbaz Sharif.
Sharif told Pakistan's Geo television on March 14 that Khan's arrest was ordered by a court and was not political.
With reporting by Reuters and AP