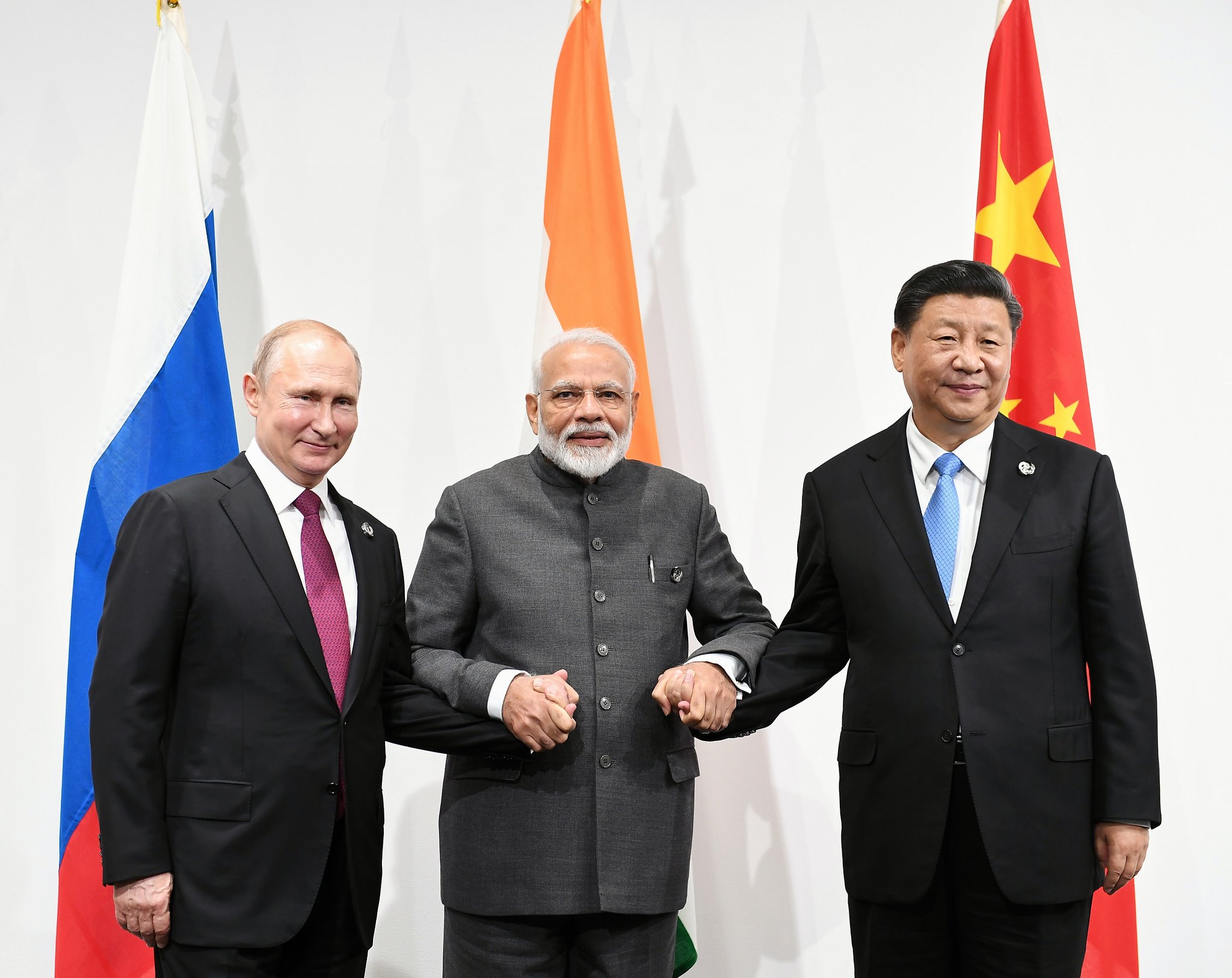 The Russia-India-China trilateral meeting between (from left) Russian President Vladimir Putin, Indian Prime Minister Narendra Modi, and Chinese President Xi Jinping on the sidelines of G-20 Summit 2019 in Osaka, Japan, June 28, 2019.
Credit: Indian Ministry of External Affairs
by Sanchita Chatterjee     7 July 2020
The India-China military stand-off in Ladakh has led to a review of India's foreign policy amid political mud-slinging, military- and diplomatic-level negotiations, and highly-armed, tense stance on the field. During the last few days, India has briefed on the tensions with China through the Line of Actual Control (LAC) to representatives from most major countries, including EU leaders, Japan, the US, France and Germany. Russia played a small but useful role in reducing tensions between New Delhi and Beijing, leading to the release of the 10 Indian Army men captured on June 15 (when 20 Indian Army personnel were killed by the Chinese) ahead of the meeting of foreign ministers of Russia-India-China (RIC) on June 23, 2020. Since a short but intense war in 1962, the 2,167-mile China-India border, estimated by some to be the longest disputed border in the world, has witnessed continuing friction. As the perceived boundary is known, the Line of Actual Control (LAC) is far calmer than the one that separates Pakistan and India in Kashmir, where deadly artillery shelling and kidnappings occur regularly. The LAC alongside Ladakh is mostly barren and mountainous. It is the site of frequent Chinese border patrol violations, regular face-to-face meetings between patrol units, and confrontations that are sometimes violent or prolonged. The Indian Government reported 273 violations of the Chinese border in 2016, 426 in 2017 and 326 in 2018. Following the decline in 2018, some reports suggest a 50 percent increase in the number of Chinese transgressions in 2019. China makes no public reporting of Indian violations. To date, local commanders have resolved all of the incidents peacefully and tactfully. None sparked a wider diplomatic scuffle.
Border escalation between India and China
The faceoff in Ladakh on May 5th -6th 2020 started with a violent clash between Indian and Chinese patrol teams on the Pangong Tso's north bank. A further violent faceoff took place three days later at Naku La in Sikkim. 150 soldiers participated in the standoff between these two countries. It resulted in injuries on both sides where four Indian soldiers and seven Chinese soldiers were wounded. By 12th May 2020, the stress started to shift from Pangong Tso to the Galwan Valley. The Chinese were seen ramping up their presence in the area with troops and materials. For years the Galwan Valley had never been a region of clashes between the two countries. The problem escalated by May 19th 2020,when the military faceoff had also spread to the region's Hot Springs area, and the Chinese foreign ministry had become involved by accusing the Indians of "trespassing" in the LAC.
India strongly denied the Chinese's accusation of trespassing, stressing that all Indian soldiers' activities had been restricted to the (Line of Actual Control)LAC's Indian side. The Indian Ministry of External Affairs said China was preventing Indian soldiers from performing routine patrols in the buffer zone, which both sides patrolled for a long time. By the end of May, Army Chief General MM Naravane had paid a visit to Leh headquarters of the 14 Corps and Indian Minister of Defense Rajnath Singh claimed that India and China were engaged in military and diplomatic talks. Now the faceoff was blown full with attempts to defuse the military tension at the LAC beginning to catch up.
With India convinced that diplomacy might not be enough, it made an official acknowledgement on June 2nd 2020, with Indian Minister of Defense, Rajanath Singh saying the Indian Army matched China's People's Liberation Army (PLA) military moves. The escalation seemed unavoidable, with India not slowing down. Despite the Doklam incident only two years ago, China might have felt otherwise. The faceoff had taken place in Doklam over territory belonging to Bhutan, which has an agreement with India on border protection. The Chinese wanted to take control of the region, called Doklam, to get closer to what is known as the chicken 's neck or India's Siliguri Corridor which connects the northeast with the rest of the nation. It was practically an eyeball-to-eyeball standoff that ended in China 's view of hosting BRICS and India refusing to back down and a potential summit boycott. Diplomatic action ended the standoff.
Similarly in Ladakh, frenzied talks erupted at senior military-level officers for ending the standoff between the two. On 9th  June an agreement had been reached to disengage both sides. The Indian Army proceeded to declare that China had begun to withdraw its troops from the three faceoff sites-Pangong Tso, Galwan Valley and Hot Springs. Four days later, General Naravane declared that disengagement would be in a staggered manner that underlined the situation. But the Chinese did not follow the rules as agreed. The withdrawal halted and near one of the ridges in the Galwan Valley, the Indian side saw some Chinese structures come up again. A verification team headed by Colonel B Santosh Babu, prepared by the disengagement agreement of June 9, went to see why this delay had occurred. The Chinese had some intentional plans. They declined to back off.
When tents and an observation post were insisted on and destroyed by the Indian side to force an agreement on June 9, they were attacked with metal clubs spiked up with nails and other crude weapons. Stones were pelted and casualties occurred on both sides in the physical combat. The Indian side suffered twenty deaths including Colonel Babu. Despite agreeing that both sides suffered losses, the Chinese did not announce their victims. Amid the conflict, India was supported by many countries including the US, Japan and Australia, with China getting assistance only from Pakistan. Satellite photos showed clearly the false Chinese claim that the Indians crossed the LAC. With international opinion in Delhi 's favour, on June 30th  Indian Prime Minister Mr Modi made a surprise visit to Ladakh announcing from near quarters of the LAC that what China was trying to do now was the standard in the "period of expansionism" that is over as the "world moved into the era of development". The Visit followed some relaxation between the two powers.
Russia's silent Diplomacy
Normally, Russia was India's bulwark against intervention by a superpower or an opportunistic assault by a neighbour during a crisis. The August 1971 Indo-Soviet treaty allowed India to escape both later that year. The US would usually maintain a frosty silence through the years, while Russia made loud supportive proclamations. The opposite occurred in 2020, in the changed world order. A strong response emanated from U.S. Secretary of State Mike Pompeo, who branded Ladakh 's Chinese actions as "rogue behaviour" and blame Beijing for violent activities. In comparison, Russia has been cautious, calling on both countries to address the crisis using "dedicated specific mechanisms and tools…"
For its part, Russia has assured to step up cooperation by saying that it was not interested in acting as a mediator in the border dispute. "I think that any involvement with such a sensitive problem as the border dispute is not only inappropriate but can also seriously harm the efforts of Beijing and New Delhi to find a way out of this situation," a senior Russian official said. At the same time, he underlined the willingness of India and China to find solutions without any third-party mediation. While tensions continued between India and China, Moscow had initiated a Russia-India-China (RIC) Trilateral meeting of foreign ministers. Continuing this dual-track approach, on July 2nd, 2020 Russia commenced a virtual meeting of sherpas from the five BRICS countries — Brazil, Russia, India, China and South Africa attended by the Indian Ministry of External Affairs Secretary Sanjay Bhattacharya. Russia was ideally positioned to play the role of an ice-breaker, as it has mutually exclusive defence and energy relations with both China and India. The efforts included reducing tensions between India and China following the Galwan Valley incident on 15 June 2020 and supporting dialogue and talks leading to the release of 10 Indian soldiers captured by Chinese PLA. The capturing of the men of the army had cast a pall on the meeting of the RIC, with India finding it difficult to attend the meeting in those circumstances. Moscow used its good offices in various capitals to send a message to China showing efforts to alleviate tensions. Based on Russia's ties with India and China, it sought to establish a condition that does not disrupt the meeting of the RIC. Yet the intention was not to get embroiled in a bilateral conflict, but rather to use quiet diplomacy.
The RIC meeting considered a confidence-building measure (CBM), which allowed Indians and Chinese to remain engaged without which relations may have touched a further low. The RIC was accompanied by senior officials from BRICS meeting as part of a larger outreach between the five member states. India has briefed Russia allegedly on the current situation at the LAC. Russia's Deputy Foreign Minister Igor Morgulov and India's Envoy to Russia Bala Venkatesh Varma addressed the matter in Moscow with India's FS Harsh Shringla briefing the Russian Envoy in Delhi on the subject. Moscow is a similar New Delhi partner and has seen a host of high-level commitments between the two over the last few weeks.
With its links with India, Moscow has to walk a fine line, with its developing military and political relations with China as they stand against Western democracies at one. Unlike US President Donald Trump, who agreed to mediate the crisis, Russian Foreign Minister Sergei Lavrov said that India and China need no assistance to overcome their differences. Neither Moscow nor New Delhi will want to let go of a partnership which in the past has yielded significant dividends. There are few bilateral discords between the two countries, with relations based on government cooperation, with little participation by the private sector. The diplomatic balance and trust between the two countries are also exemplary. There's a convergence on global problems, combined with Indian reliance on Russian technology like support in building India's nuclear power plants to supplying much of Indian military hardware. There's a bigger explanation of why India wants help from Russia. Focusing on a major upgrade of its military capabilities, India is betting on Russia for fighter jet supplies and the much-vaunted anti-aircraft missile system S400. In the past, Russia had declined to sell security equipment to Pakistan as India's strategic partner. Just as India is now importing products from the US, Israel, and others, so Moscow has opened up to Islamabad, selling it weaponry, and carrying out military drills with it.
As adherents of some diplomatic realpolitik, both countries know that by continuing to cultivate relations with others, they achieve strategic scope. A platform like the RIC will assume greater significance in this context. It will provide a forum for daily meetings and channels of communication, which are vital for conflict management.