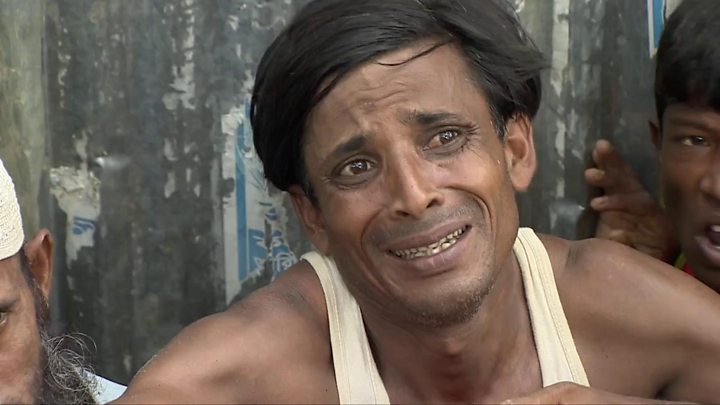 The security operation targeting Rohingya Muslims in Myanmar "seems a textbook example of ethnic cleansing", the UN human rights chief says.
Zeid Raad Al Hussein urged Myanmar to end the "cruel military operation" in Rakhine state.
More than 300,000 Rohingya Muslims have fled to Bangladesh since violence erupted there late last month.
The military says it is responding to attacks by Rohingya militants and denies it is targeting civilians.
The violence began on 25 August when the Rohingya militants attacked police posts in northern Rakhine, killing 12 security personnel.
Rohingyas who have fled Myanmar since then say the military responded with a brutal campaign, burning villages and attacking civilians in a bid to drive them out.
The Rohingya, a stateless mostly Muslim minority in Buddhist-majority Rakhine, have long experienced persecution in Myanmar, which says they are illegal immigrants.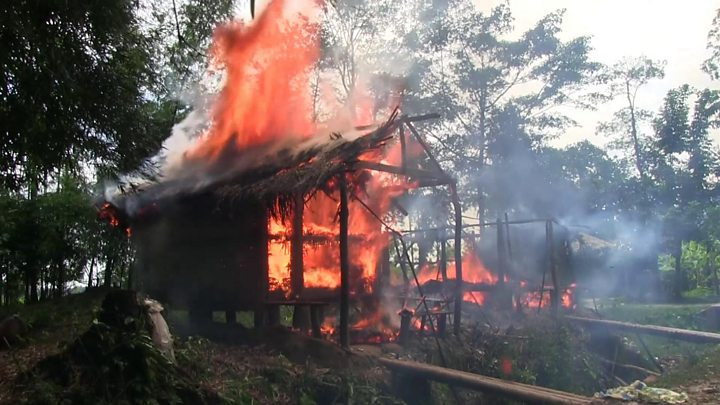 Mr Zeid, the United Nations High Commissioner for Human Rights, said the current operation in Rakhine was "clearly disproportionate".
He noted that the situation could not be fully assessed because Myanmar had refused access to human rights investigators, but said the UN had received "multiple reports and satellite imagery of security forces and local militia burning Rohingya villages, and consistent accounts of extrajudicial killings, including shooting fleeing civilians".
"I call on the government to end its current cruel military operation, with accountability for all violations that have occurred and to reverse the pattern of severe and widespread discrimination against the Rohingya population," he said.
Latest reports put the number of those who have fled to Bangladesh at 313,000. Aid agencies say they are in desperate need of food, shelter and medical aid, and that current resources are inadequate.
Bangladesh is already host to hundreds of thousands of Rohingya who have fled previous outbreaks of violence in Rakhine. Existing refugee camps are full and the new arrivals are sleeping rough in whatever space they can find, reports say.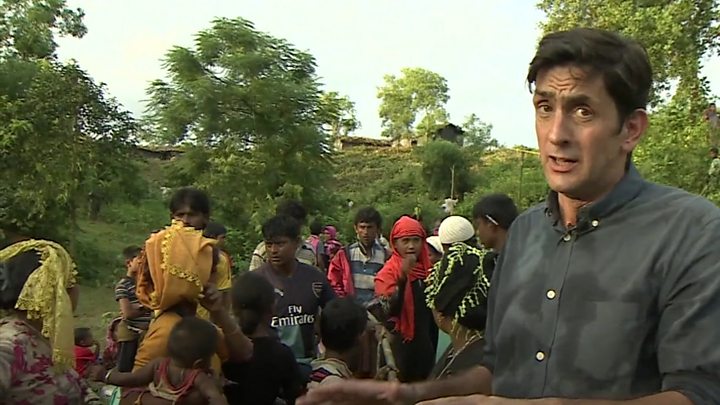 The authorities have, however, started to register the new arrivals. Previously only those in two official camps were being documented, but government teams are now collecting fingerprints and details from all newcomers, including those in makeshift shelters.
Analysts say that, until now, the government has refused to register those outside camps for fear of legitimising them. But the current move may help the government as it engages in a diplomatic battle about the Rohingyas' future, the BBC's Sanjoy Majumder reports.
On Sunday, the Rohingya militant group behind the 25 August attacks declared a one-month unilateral ceasefire to allow aid agencies in, but the Myanmar government rejected it, saying it would not negotiate with "terrorists".
It maintains that it is the militants who are burning Rohingya villages and targeting civilians, but a BBC correspondent on an official visit to Rakhine came across a Muslim village apparently burned by Rakhine Buddhists, contradicting the official narrative.
Aung San Suu Kyi, Myanmar's de facto leader, is facing mounting criticism for failing to protect the Rohingya, and on Monday exiled Tibetan Buddhist leader the Dalai Lama added his voice, urging her "to reach out to all sections of society to try to restore friendly relations".
But the Rohingya are extremely unpopular inside Myanmar. On Sunday, police fired rubber bullets to break up a mob attacking the home of a Muslim butcher in Magway region in central Myanmar. One protester was quoted by AFP news agency saying it was a response to events in Rakhine.