By Adnan Aamir, Marwaan Macan-Markar, Shaun Turton and Cissy Zhou
AUGUST 10, 2022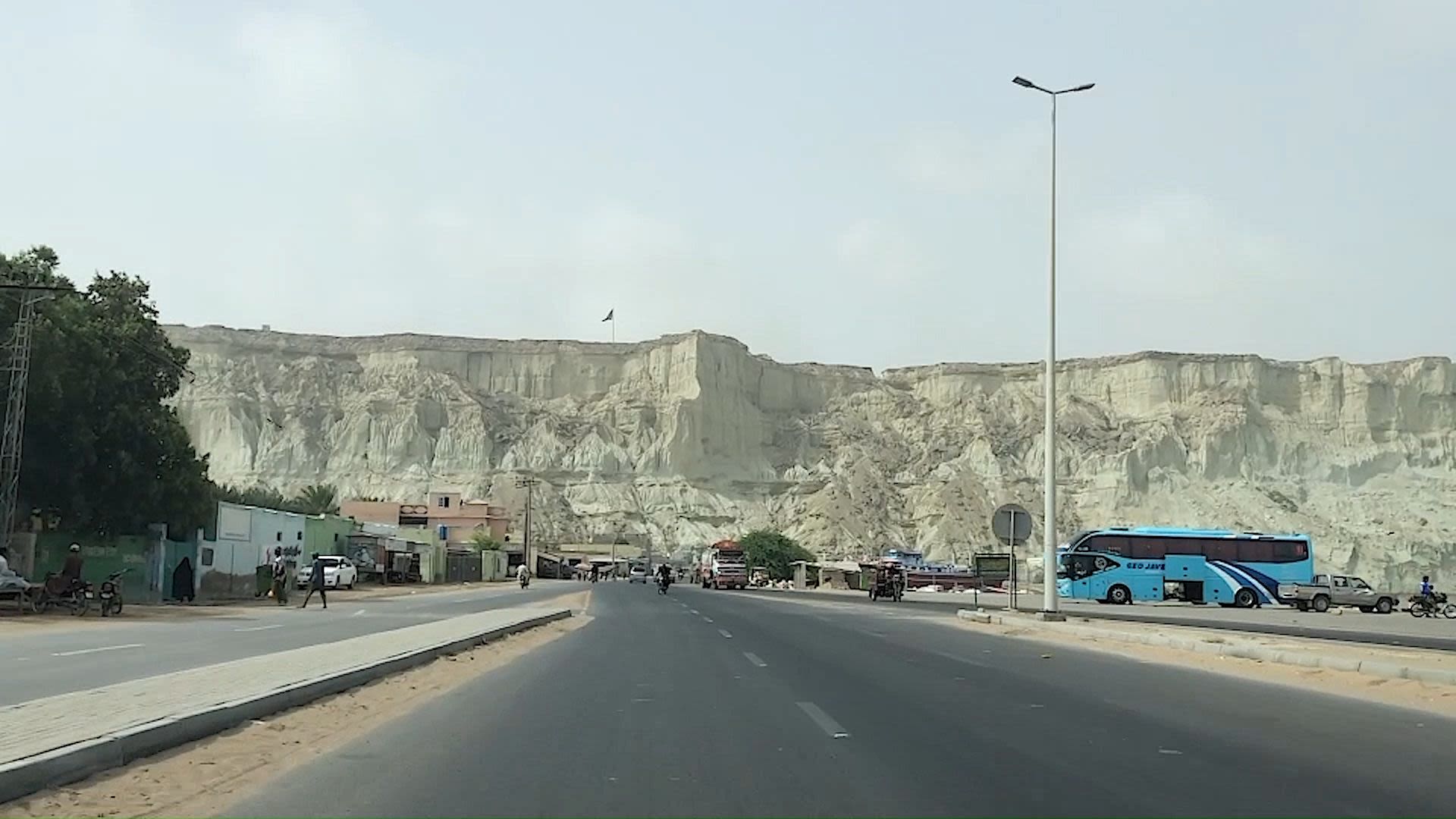 The drive to Pakistan's port of Gwadar takes seven and a half hours from Karachi via the Makran coastal highway. Much of the 600-km route is deserted, with no restaurants, restrooms or even fuel stations. On a recent journey, around 200 vehicles in total could be counted during the entire drive.
Arriving in the city on Pakistan's Indian Ocean coast, Chinese and Pakistani flags are ubiquitous, and Chinese-financed construction projects loom, but the city is spookily devoid of economic activity. Near the seafront, broad avenues are curiously empty of vehicles. Inside the city center, the roads are narrow, congested and covered with foul smelling drain water, with few multistory buildings aside from the Chinese-built port compound.
It is hard to visualize Gwadar as the launch pad of a new global paradigm, but that is what Beijing would have the world believe.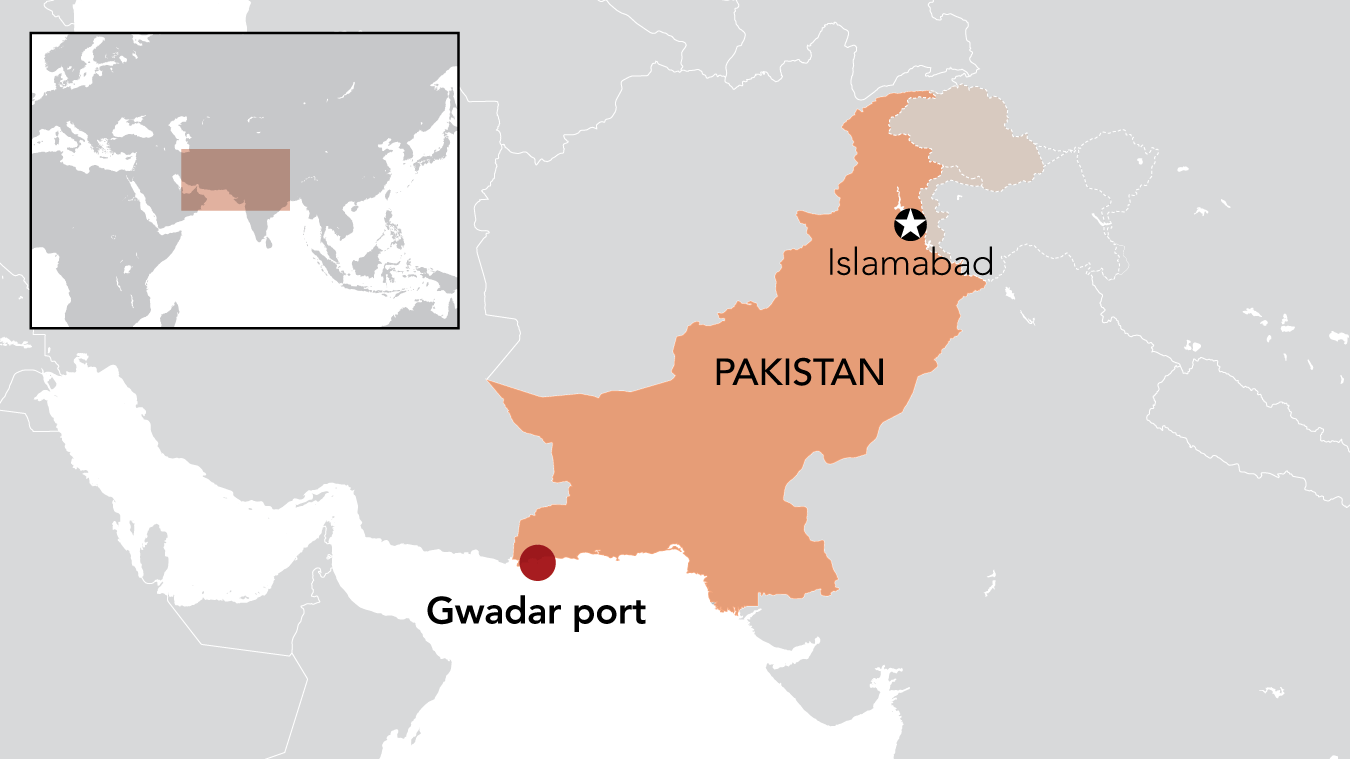 Nine years ago it was plucked out of obscurity —  a backwater in Pakistan's restive Balochistan region — and presented as China's commercial window onto the Indian Ocean, a hub for regional integration under the Belt and Road Initiative, which was to harness the juggernaut of the Chinese economy to the goal of Asian economic development.
The BRI is an audacious program of lending, aid and infrastructure contracts totaling over $880 billion, according to the American Enterprise Institute.
The initiative, which includes pledges to 149 countries, aims to promote Chinese-led regional integration — and sew economic dependence on Beijing.
First announced in a speech by Chinese President Xi Jinping in 2013 as the "Silk Road," the BRI was fleshed out in April 2015 with the announcement of the China-Pakistan Economic Corridor (CPEC), stretching from Gwadar to the Chinese city of Kashgar, in Xinjiang. The CPEC showcased the China-Pakistan "all-weather friendship" with $46 billion in pledged funds that has since grown to $50 billion. It was to be the backbone of the now renamed Belt and Road Initiative.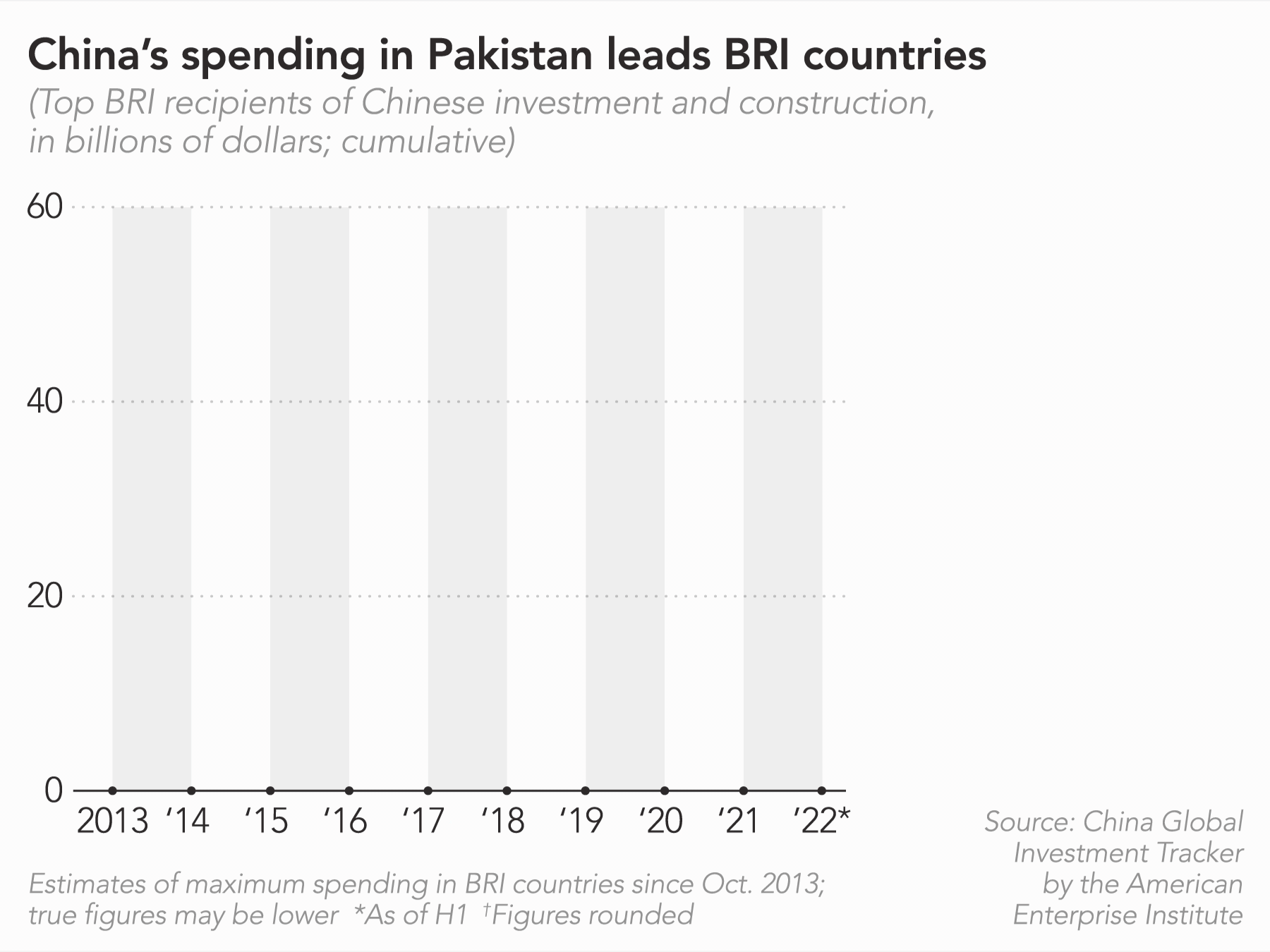 When the CPEC agreements were signed, Pakistan's government called Gwadar "the economic future of Pakistan," an alternative to Dubai that would turn around the country's economic fortunes.
The government also claimed that Gwadar's gross domestic product would increase from an estimated $430 million in 2017 to $30 billion by 2050, and produce 1.2 million jobs for a population that currently stands at 90,000.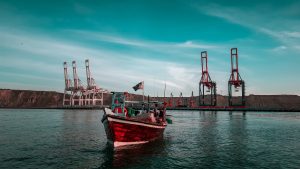 Fishing boats at Gwadar port in Pakistan. 
But today, with just a couple of months until the 20th Chinese Communist Party Congress in Beijing, the CPEC is on the verge of crisis, as is the BRI itself.  Many headline projects have either failed to get off the ground or produced mixed to poor results.
This week, Nikkei Asia begins a three-part series, a comprehensive effort to take stock of the BRI nearly a decade after it began. Today, the project's initial optimism has been replaced by disappointment over mismanagement, debt crises and corruption that have left many projects unfinished or incapable of fulfilling their promised potential.
Nikkei Asia journalists have traveled to focal points of BRI investment over the last decade – from Gwadar to Sihanoukville and Colombo to Kuala Lumpur. Their reporting illustrates the already mature legacy of China's far-reaching efforts to increase its global influence.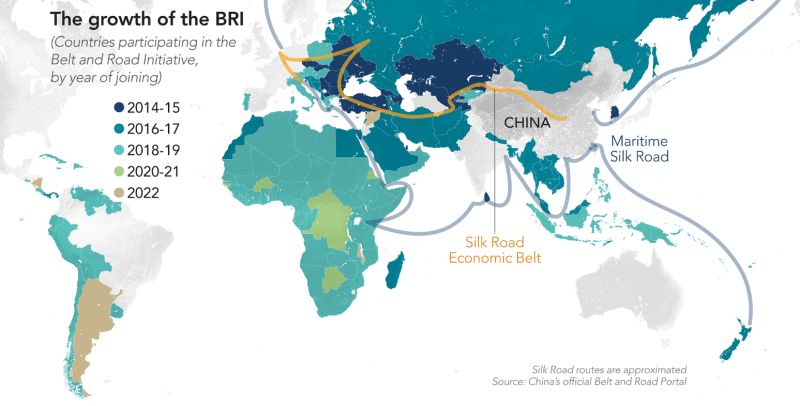 Unmet promises
The lack of discernible economic activity in Gwadar underlines a tough reality: Nearly eight years after China announced a breathtaking list of development projects in the city — a new airport, the Gwadar Free Zone, a 300-megawatt coal power plant and a water desalination plant — none of these have been completed and what investment there has done little to create growth or an economy.
Instead, stringent security measures strangle the local fishing industry, which once accounted for 70% of the local economy.
The same security measures also sharply curtailed lucrative informal trading with nearby Iran. Despite these security concerns, however, the city continues to import electricity from its neighbor, which regularly shuts down the supply under different pretexts of maintenance.
A 300-MW power plant was to be built in Gwadar but so far the work has not started. The power shortage is arguably the biggest stumbling block for any meaningful development there.
Adding to this is a chronic water shortage that creates unrest every summer as the government trucks in water for residents. There is a small desalination plant, but it is run only for the benefit of the Chinese workers.
Most construction projects in and around Gwadar port remain unfinished.
Seen through a strategic lens, Gwadar is of seismic importance to China as a window into the Indian Ocean. Western experts have said they believe it could eventually become a Chinese naval base, something both countries heatedly deny.
But this top-down logic of the Gwadar project has clearly neglected the bottom — increasingly dissatisfied locals. The port is derelict owing to power cuts and other shortages. Protests broke out in December over fishing rights, and at least one major Chinese investor has reportedly exited.
Michael Kugelman, deputy director of the Asia program at the Wilson Center in Washington, says Gwadar is a victim of outsized expectations. "There was an assumption that new infusions of Chinese capital and technology would magically develop Gwadar into a world-class port, even though previous efforts to achieve similar goals had fallen far short," he said.
GWADAR, PAKISTAN
Gwadar's location as a window into the Indian Ocean — with easy access to the Strait of Hormuz to the west — makes it a pillar of the China-Pakistan Economic Corridor. Satellite images reveal the extent of Chinese construction on the peninsula.
Location sources: Mapping Global China by NYU Shanghai, Nikkei Asia research
Satellite photo by Planet Labs PBC, June 21, 2022
Gwadar port
The Gwadar port compound was built with Chinese investment during 2002-2006. Since the signing of the CPEC agreement in 2015, a variety of buildings have popped up in the 200-acre compound, including a small power generation plant and a business center with luxury accommodation for Chinese visitors.
Planned berthing channels for fishing vessels
Dredging to make way for new berthing channels near Gwadar's deep sea port is in the pipeline. The project is estimated to cost around $27 million, according to the CPEC Authority. Local fishermen worry that Chinese vessels will steal their business, which accounted for 70% of Gwadar's economy in the pre-BRI era.
Eastbay Expressway
Chinese-funded construction on this 17 km-long highway began in 2017 and was completed in June this year. The project cost around $180 million, according to the CPEC Authority. Local fishermen complain that the road blocks their access to Gwadar's East Bay.
Among other projects under construction are Gwadar International Airport, a coal-fired power plant, a hospital and two new water desalination plants.
Grand strategy
When it launched the BRI in 2013, Beijing's main motivations were domestic, according to Gong Chen, founder of Beijing-based think tank Anbound, who advised the central government about BRI in the early days.
Chen told Nikkei that, when the concept was first presented to policymakers, its primary drivers were China's severely aging population, the difficulty of recruiting workers in the Pearl River Delta, China's desire to expand its market scale and an overhang of excess capacity in many economic sectors.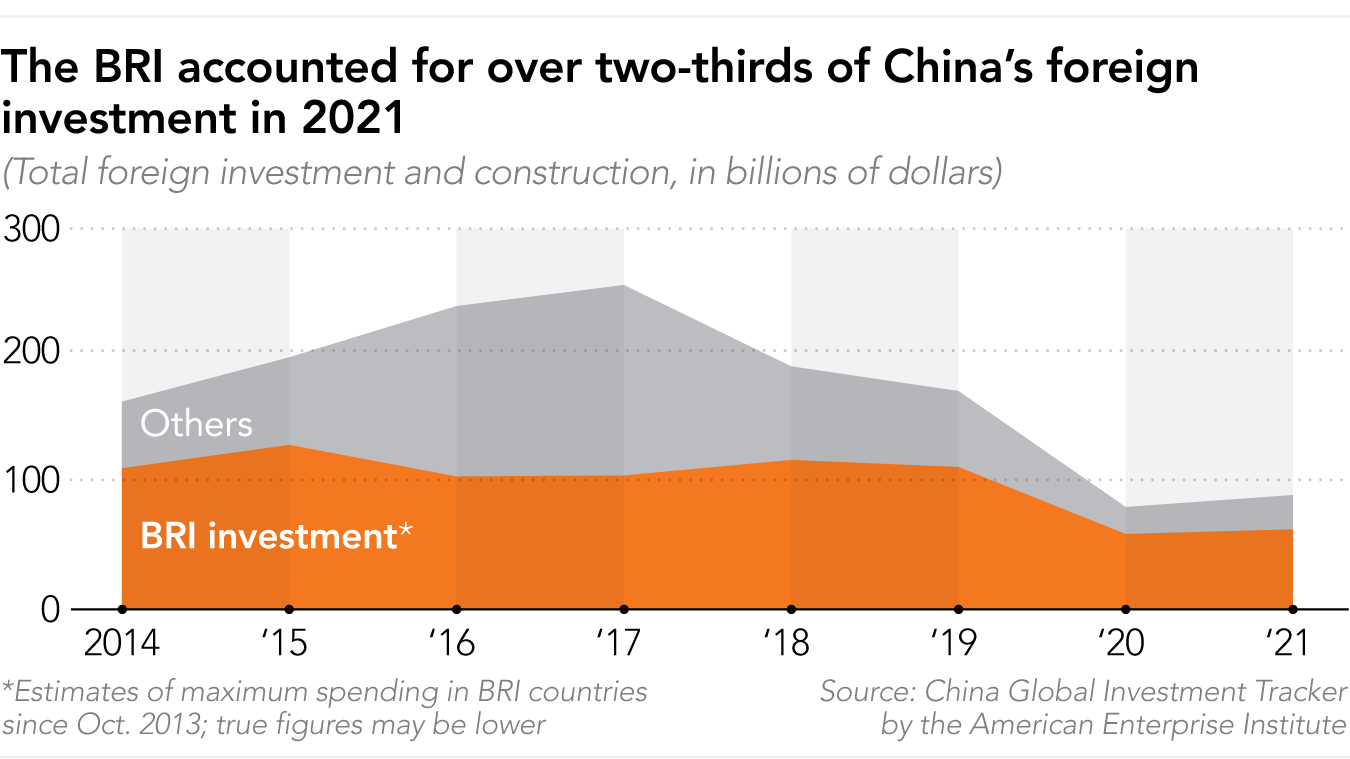 But the BRI could not help but be seen as the beginning of a new Chinese-led geopolitical order in Asia, just as the Marshall Plan heralded the arrival of the U.S.-led Atlantic project in Europe. Now it is an open question whether the BRI is a net economic benefit — or even, in many cases, a liability for its chief recipients.
Part of the problem is that, while BRI investment is portrayed as aid, it is most often not. The initiative is intended to make money for Chinese banks and infrastructure companies — funded mainly by loans and energy supply agreements that in many cases have outrun their recipients' ability to pay.
Millions of Pakistanis, for example, are subject to electricity blackouts every day due to a dispute over fees from Chinese coal-fired power stations.
Chinese power producers shut down plants after the Pakistani government failed to pay its dues.
Street vendors in Karachi resorted to using battery-powered lights for their stalls when Pakistan was hit by power cuts in June. (Photo by Getty Images)
In Sri Lanka, another focal point of the BRI, Chinese loans triggered an infrastructure boom but also a debt overhang that arguably helped push the country into its first debt default in May and drove former President Gotabaya Rajapaksa from power.
Many Sri Lankans resent what they see as China's role in using its largesse to prop up a corrupt elite around Rajapaksa. They are demanding an end to the corruption and mismanagement that has left millions of people facing acute shortages of food, fuel and medicine.
In Cambodia, while Beijing-backed loans have flowed to infrastructure like roads, bridges and power plants, a shadow stream of speculative investment from private Chinese  investors has poured in and driven unsustainable development that has displaced communities.
A large amount of the investment surrounded an online gambling industry that was later banned by Cambodian Prime Minister Hun Sen, who acknowledged the sector's ties to criminality.
Meanwhile in China, the state banks that are lending to the BRI are increasingly troubled by bad debts.
$52 billion worth of loans from Chinese institutions had to be renegotiated in 2020 and 2021.
According to data collected by Rhodium Group, a New York-based economic research company, the total value of loans from Chinese institutions that had to be renegotiated in 2020 and 2021 rose by $36 billion from the previous two years, surging to $52 billion.
That may be just the tip of a submerged iceberg of debt. Research published last year by AidData, an international development research lab based at the College of William & Mary in Virginia, suggested scores of BRI countries together might have $385 billion in "hidden debts" or undisclosed liabilities that governments might be obliged to pay.
Chen of think tank Anbound says recipient countries are refusing to repay debt and that this is "the most worrying" challenge facing the grand undertaking.
"Widespread debt evasion and avoidance would have a significant impact on China's financial stability," he said, "and we are concerned that some countries may try to avoid paying back their debt by utilizing geopolitics and the ideological competition between East and West."
Life in a bubble
Power and water shortages in Gwadar have fed local discontent. But perhaps the worst problem associated with the Chinese construction boom is, oddly, joblessness. While the CPEC aimed ambitiously to create 1.2 million jobs, the city of 90,000 has not seen many of these materialize. Indeed, much of the labor for the Chinese-led projects is imported from China.
Chinese workers are forbidden from mixing with locals and restricted to a small compound, where everything is imported, and local merchants have not benefited from the new arrivals.
"Chinese even bring their tissue papers from China and do not buy anything from the local markets of Gwadar," said Adam Qadir, a local dealer of automobile oil.
"The presence of [the] Chinese is not contributing to the local economy of Gwadar."
The local fishing industry, which had accounted for 70% of the economy, has been devastated by Chinese trawlers fishing in the waters off Gwadar and taking their catches to Karachi. Younis Anwar Baloch, general secretary of the Gwadar Fishermen Alliance, told Nikkei Asia that a new highway has blocked the entry of fishermen into the East Bay, making it difficult for local fishermen to get their boats out. They are also prevented by security regulations from fishing near the port.
As a result, eight out of 42 fish-processing factories in Gwadar have closed down, according to interviews with fishermen and Bahram Baloch, a local journalist covering economic issues.
Tensions over fishing boiled over in November and December after an Islamist religious cleric organized a monthlong sit-in outside the main gate of Gwadar port. Protestors demanded an end to deep sea fish trawling, a reduction in the number of security checkpoints, that local men be allowed to fish near the port and that informal trade with Iran be restarted.
The cleric's protest completely paralyzed port activity in the town, and the government eventually accepted many of his demands.
Locals mostly resent the Chinese because of what are seen as excessive security arrangements – and not just in the fishing industry.
"We are made to wait for hours due to road closures for security reasons, whenever there is a high-profile visit."
"The government had decided to fence Gwadar with barbed wire for security, and this would have separated people living in different parts of Gwadar," a resident of Gwadar told Nikkei.
Then there are the protests over water. Although the water problem has been resolved this summer, locals say the solution is temporary, with the government relying on nearby dams for water. If it rains less than expected next year, protesters will again be on the streets, locals interviewed by Nikkei say.
Moreover, Baloch separatist militants (a 2017 census found the Baloch to represent 56% of the population of Balochistan) recently have mounted many attacks on Chinese interests in the region. As a consequence, Gwadar is considered insecure and thus heavily militarized.
To top it off, Gwadar port is not fully functional as it still lacks basic infrastructure such as water and power, which remain at least two years away, locals say. As a result, the movement of cargo is limited.
The absence of these services — not to mention the lack of a railway connecting to the rest of the country — limits the scope for investment. The attacks by Baloch insurgents have further discouraged investment.
Pakistan's new government under Prime Minister Shehbaz Sharif is making a concerted effort to revive the CPEC.
Mohammad Aslam Bhootani, who is one of Sharif's principal advisers on Gwadar, said the government has controlled the security situation to a greater extent and things are moving in the right direction.
"[The prime minister] has called meetings in Gwadar and reprimanded officials for the slow pace of work in Gwadar, which will change the things now," Bhootani told Nikkei.
But it might be too late. One apparent casualty is HK Sun Corp., the first Chinese company to set up shop in Gwadar. It handled recycling work at the port. According to a number of locals as well as several news reports, it has left Gwadar due to economic unviability.
The Twitter account of the China Overseas Ports Holding Company (COPHC), denied the news that HK Sun Corp. has wound up operations in Gwadar.
Jeremy Garlick, an associate professor of international relations and China studies at Prague University of Economics and Business, believes that the Chinese have realized Gwadar is not viable as a commercial port and not worth developing.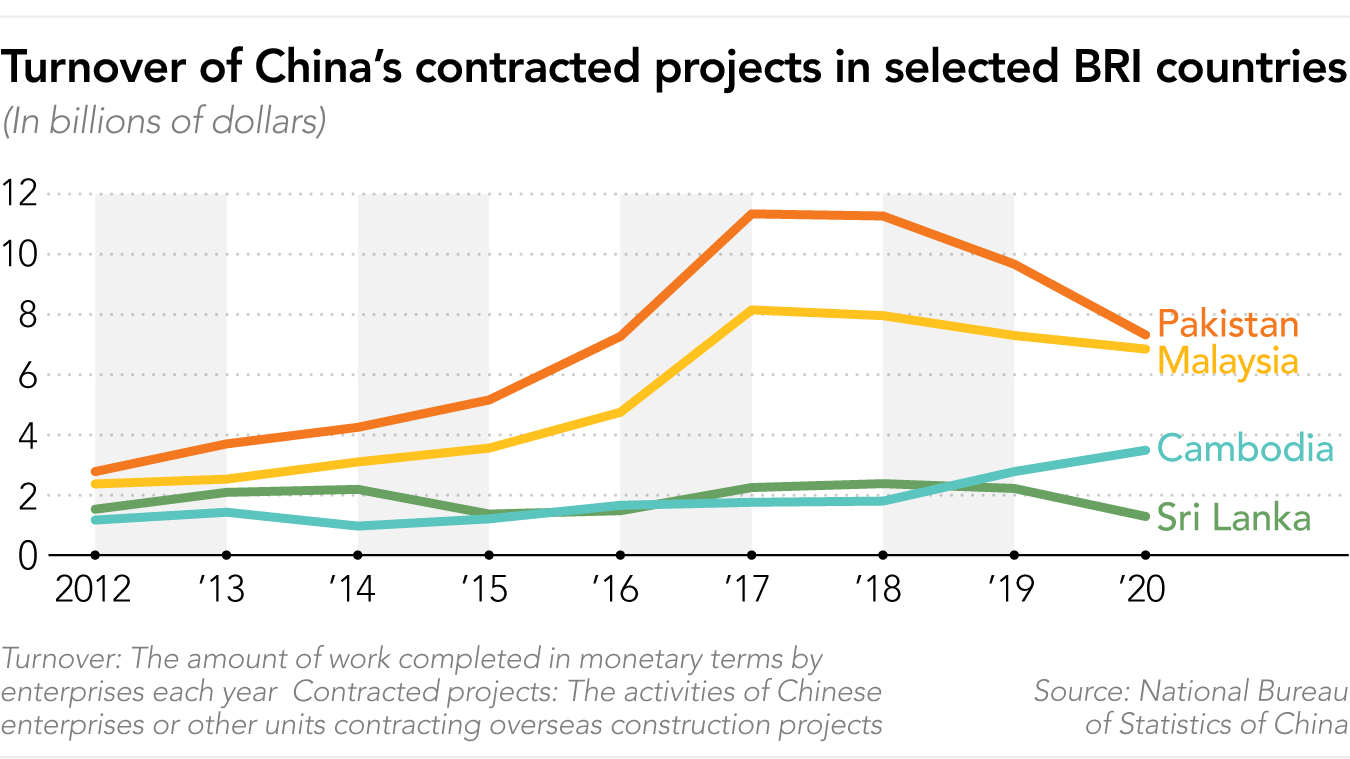 "Due to lack of commercial viability and local resistance, the Chinese have been reluctant to invest as much — or as quickly — in Gwadar as was expected," Garlick told Nikkei.
However, Garlick says Chinese interest will continue to be driven by strategy. "[Gwadar] port may be of use to [Beijing] in the long run due to its relatively strategic position near the Strait of Hormuz," he said. "So far the Chinese have no specific use for Gwadar, and it is not used by Chinese military vessels as far as we know."
Garlick added that in the future competition for resources could heat up, and a day might come when Gwadar will serve a purpose as a Chinese base of some kind.
"This is why the Chinese are not likely to withdraw [from Gwadar]," Garlick said.
Know when to fold 'em
BRI projects are also struggling in Cambodia — one of China's key allies in Southeast Asia. The coastal city of Sihanoukville starkly highlights the woes of Chinese investment in the country. Official and illicit funds from the giant neighbor to the north have mixed destructively with Phnom Penh's corrupt ruling elite.
On the city's outskirts sits one of three officially identified "key" Belt and Road projects: the Sihanoukville Special Economic Zone.
Spanning more than 11 sq. km, it houses more than 170 factories reportedly employing some 30,000 people, largely focused on textiles and apparel, luggage, leather goods, and wood products. Still under development, the joint venture is intended to accommodate up to 300 factories and between 80,000 to 100,000 workers when completed.
Power is drawn from nearby China-funded coal plants, and soon another BRI project — a $2 billion expressway — will link the area with the capital, Phnom Penh.
Sihanoukville demonstrates the extent to which money from China has transformed Cambodia during the past 15 years.
China is Cambodia's largest source of foreign direct investment, and its largest trading partner.
Billions of dollars in loans from state banks have been funneled into much-needed roads, bridges, irrigation works, agricultural projects and power plants, with China-bankrolled hydro, coal and solar accounting for 66% of the energy generated in the country.
Such infrastructure underpins Cambodia's most successful industry: its $10 billion apparel and footwear export sector.
Cambodia's clothing industry is dominated by Chinese-owned factories that import materials from China, assemble them, then ship finished products, mostly to Europe and the United States.
It is not the manufacturing industry, however, that transformed Sihanoukville.
Chinese online gambling companies began setting up in Cambodia's Sihanoukville around 2016.
Alongside state-backed spending, a parallel flow of loosely regulated private, often illicit, capital has boomed, leading to the uncontrolled and rapid development of areas associated with online gambling and criminal gangs who use trafficked labor to perpetrate international web-based scams.
China's gambling companies brought billions of dollars and hundreds of thousands of workers to what had historically been a popular seaside travel destination.
The ensuing construction boom burst in 2019 when Prime Minister Hun Sen banned online gambling, pointing to the sector's ties to scams and criminality. Hun Sen's move was widely seen as the result of pressure from Beijing, which is actively cracking down on illicit capital outflows including those linked to gambling.
To this day, more than 1,000 unfinished buildings sprawl throughout Sihanoukville, many abandoned.
This collapse was compounded by the COVID-19 pandemic. Many sites in the city are now hot spots for criminal gangs running online scams, creating an environment where Chinese investors now worry about their security.
Researcher Ivan Franceschini, who has studied the transformation of Sihanoukville, says the city's development highlights the interplay between Chinese state-backed projects and private capital from Chinese investors.
"The two categories are not entirely separate: First, state-backed investment in infrastructure has facilitated and encouraged the inflow of private investment; second, some private projects have subcontracted construction to Chinese state-owned companies," said Franceschini, a postdoctoral fellow at the Australian National University.
"However, while these overlaps should not be ignored, it is important not to lose perspective and subsume all Chinese investment in the city, including the shadiest gambling and scamming operations that have made headlines in the past few years, under one single agenda linked to the Chinese party-state."
White elephants
Out on the Indian Ocean, the BRI has played another unwanted role. In Sri Lanka, President Gotabaya Rajapaksa fled the country in July after demonstrators angry at a deepening economic crisis stormed his official residence. While there were bigger facets to this than the BRI, the events severely damaged the island's image as a poster child for Chinese investment.
Sri Lanka's Mattala Rajapaksa International Airport opened to much fanfare in 2013 but has barely been used since. "The World's Emptiest International Airport," as it was once dubbed, has other problems: Suren Ratwatte, former chief executive officer of SriLankan Airlines, told Nikkei that the airport was built on a traditional elephant migration route.
"The airport has a serious problem with elephants, wild boar, peacocks … all of which can seriously damage an aircraft."
A financial problem also persists as Sri Lanka struggles to settle the $190 million loan from China Exim Bank for the airport. The loan forms a large chunk of the debt that the country effectively defaulted on in May.
Chinese loans triggered an infrastructure boom in Sri Lanka during the final years of the South Asian nation's nearly 30-year ethnic conflict between the government and Tamil separatist rebels. After the war ended, in May 2009, the debt from China Exim Bank loomed large.
Mattala Rajapaksa International:
"The world's emptiest airport"
Mattala Rajapaksa International Airport in Sri Lanka has been largely unused since it was opened in 2013. (Photo by Getty Images)
Muscular, modern buildings rose out of a remote landscape along the island's southern coast, with thick, shrub forests where wild elephants, boar and monkeys roamed. There was little mystery to why Chinese money was transforming this rural outpost — it was the home turf of then-President Mahinda Rajapaksa, who had emerged as the country's most popular politician on the back of winning the war.
These projects included the new airport at Mattala and a new port at Hambantota, both of which have been added to the wider portfolio of China's debt-funded BRI projects across Sri Lanka.
Two Sri Lankan economists who have crunched the numbers estimate that Beijing's total public and publicly guaranteed (PPG) debt through the China Exim Bank and China Development Bank between 2001 and 2021 to be close to $9.95 billion, with debt service repayments of $4.5 billion in the same period.
BRI projects are now under increased scrutiny after Sri Lanka declared itself officially bankrupt in July.
That month, the island failed for the first time to service a foreign debt, paying $78.13 million in interest for a $1.25 billion international sovereign bond. By then, the $81 billion economy was saddled with a staggering $51 billion in outstanding external debt.
Sri Lankan defenders of the BRI dismiss the view of Chinese debt sinking the island's economy as barbs leveled with geopolitical motives.
"The West and India see China's lending practices as 'debt-trap diplomacy,'" said Maya Majueran, director of BRI Sri Lanka, an independent business consultancy.
"There is no evidence to prove that China aims to deliberately push poor countries into debt."
A similar controversy once swirled around the $1.5 billion Hambantota port, built with five China Exim Bank loans over two phases. It was as empty as the Mattala Airport during its first seven years, seeing only 170 cargo ships drop anchor, despite straddling one of the busiest shipping lanes in the Indian Ocean.
Sri Lanka's Hambantota International Port, built using Chinese funding, first opened in 2010. (Photo by Getty Images)
But its economic fortunes changed by 2018, after the Sri Lankan government ditched the national port operator and offered the port on a 99-year-lease in a $1.1 billion public-private partnership deal, giving China Merchants Port Holdings an 85% stake.
The China Merchants Port deal became a geopolitical lightning rod, with Western governments, led by the U.S., pointing at the port as an example of a debt-for-equity swap.
Hambantota International Port has come to represent China's "debt diplomacy."
Yet recent revelations by a Sri Lankan parliamentary committee suggest otherwise, indicating that Sri Lanka is still paying off this debt. Last year, the HIP handled 2.3 million metric tons of cargo, a 38% jump from the previous year, according to the port's records.
The weight of Chinese debt, which funded controversial BRI projects, has placed Beijing's premier lending banks in the crosshairs.
Thilina Panduwawala, head of economic research at Frontier Research, a Colombo-based consultancy said domestic political considerations have driven most of this infrastructure growth, and "the country is paying a price for (this) political rush."
Professor Zhu Jianrong, a Chinese political scholar at Tokyo's Toyo Gakuen University, rejected the notion that China went in with the intent of entrapping the country with debt, noting that it was the Sri Lankan government that first approached China for the development. He also pointed to a clause in the contract between the two nations that states that military use of the port is banned.
Etsuyo Arai, director of the South Asian Studies Group at JETRO's Institute of Developing Economies, said that while Sri Lanka's large debt to China triggered the current crisis, the biggest chunk of Sri Lanka's repayment obligations were to international sovereign bonds and not to China. "Sri Lanka's woes are more about the country's economic mismanagement rather than because of China," she said.
Chen of Beijing-based think tank Anbound said China has already started to be more cautious about new BRI projects. If a project is too risky, he said, China's attitude will immediately tend to be conservative.
Chen told Nikkei: "State-owned companies are mentioning less and less about financial expansion along BRI, and what they are mentioning more now is, will you get your money back for this project?"
 "The primary issue now is stability, not growth."
Although the overall development environment around the BRI has worsened, one cannot expect the Chinese government to come out and announce it won't stay the course, Chen told Nikkei. The BRI, after all, has been a top priority for China, he noted.
Whether it remains so can only be determined after the 20th Party Congress scheduled for this fall.
"It is inevitable that the BRI will be adjusted," Chen said. "And it may shrink from a strategic vision of economic cooperation across land and sea to a regional multilateral cooperation initiative, or completely abandoned on a gradual basis — again depending on the top leader's will."