Last Updated: November 29, 2017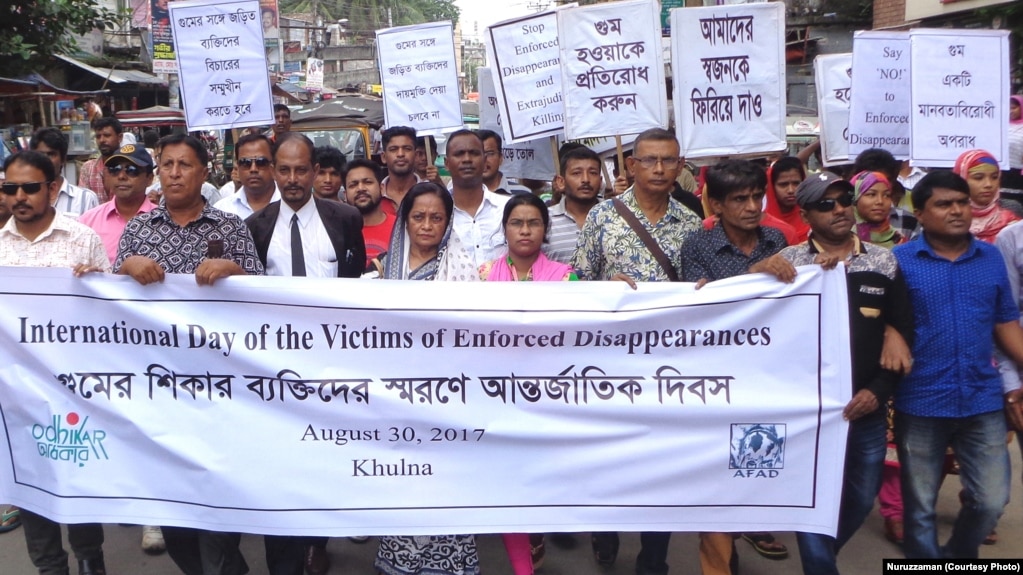 Bangladeshi human rights group Odhikar activists and volunteers demonstrating against enforced disappearances in the country on the International Day of the Victims of Enforced Disappearances in Khulna, Bangladesh Aug. 30, 2017.
Hazera Khatun says she has spent every day for the last four years praying for the safe return of her son, Sajedul Islam Sumon, a well-known leader of the opposition Bangladesh Nationalist Party (BNP), who disappeared in Dhaka, along with his five friends in December 2013.
"In front of 20 or 25 witnesses from two or three vans, on which RAB (Rapid Action Battalion) was written, some men got down and picked up my son and his party co-workers. The men were in RAB uniform. Soon, we went to the headquarters of RAB, but they said my son was not in their custody," Khatun, who is now 71 years old, told VOA.
"Police did not let us file any complaint. They said they would not accept any complaint if we blamed the (elite paramilitary force) RAB for the disappearance."
Khatun filed a petition to the High Court seeking action.
"But the case is also not at all moving in the court. I cannot make out where I will go now? Who will help me find out my son?" she said.
Sajedul Islam Sumon was 37 years old when he disappeared.
Hundreds disappeared
The disappearance of Sumon and his friends in that 2013 incident is not an isolated case in Bangladesh. In recent years, hundreds of people have disappeared in Bangladesh and the country's security agencies are alleged to have been behind most of the cases.
Some were found dead, others were later formally arrested and some were allowed to return home. Many others remain missing.
According to the Bangladeshi human rights group Odhikar, between January 2009 and October 2017, at least 402 persons became victims of enforced disappearances in Bangladesh. So far, the group said, some 81 people have been "disappeared" this year. The group documents only those cases where the witnesses alleged that the victims had been taken away by men who claimed or appeared to be from law enforcement agencies.
Among the 402 cases documented by Odhikar at the end of October, 52 were found dead, 198 were later shown arrested or freed alive, while 152 persons, including Sumon and his five friends, remain untraced.
According to Bangladesh Nationalist Party (BNP), the country's main opposition party, in about 80 percent of the cases of forced disappearances the victims were leaders, activists and supporters of the different parties in the opposition alliance.
In recent weeks, among 12 persons who disappeared in the country there is one university professor and a journalist.
Mubashar Hasan, a researcher on terrorism related issues who has been published in leading academic journals, disappeared from Dhaka on November 7 soon after he met some U.N. officials. In a report published by an Indian news portal, friends of Hasan said they suspected he was in the custody of a Bangladeshi security forces. However, Bangladeshi authorities denied the claim.
Dhaka-based human rights activist Nur Khan said human rights workers in Bangladesh investigating such disappearances have found that accusations against the security agencies to be true in many cases.
"The law enforcement agencies usually do not want to accept complaints in such cases if the complainants accuse the agencies for the disappearances. After people move the court seeking relief, the court orders the law enforcement agencies to investigate the cases. In such situation often there is a possibility of the investigations being biased or it becomes difficult to conduct the investigations independently," Khan told VOA.
"With the State apparently not taking any action, the incidences of disappearance is rising."
Government denials
The government insists it is not at fault.
Two weeks ago, Bangladesh police chief AKM Shahidul Haque said secret abductions had been taking place since the British colonial period.
"When people come to police to report such cases, we accept the complaints and we try to solve the cases. I know that we succeed to rescue around 75 percent of the victims (of disappearances)," Haque said.
Last week Bangladesh's Prime Minister Sheikh Hasina said Bangladesh was not the only country where citizens were vanishing and that people were disappearing also in developed countries.
"According to statistics of 2009, 275,000 British citizens disappeared. Among them, 20,000 have remained completely untraced. If you consider the case of America, the situation of disappearance is even worse," Hasina said in the Parliament.
"Compared to those countries the situation is much better in Bangladesh. We are taking action as soon as one disappears."
BNP senior joint secretary Ruhul Kabir Rizvi Ahmed said Hasina and her colleagues in the government were in the "habit" of providing misleading information to justify their wrongdoings and distract the international community.
"The situation of the human rights condition in Bangladesh is clearly reflected in the statement of the prime minister. She has virtually admitted that her government has been involved with the disappearances in the country," Rizvi told VOA.
Rights activists
Rights activists too have been critical of Hasina's statement on disappearances.
Phil Robertson, deputy Asia director of Human Rights Watch, said Hasina is comparing apples to oranges when she tries to compare her government's shoddy record on enforced disappearances to persons who have gone missing in the U.S. and Britain.
"The major difference is the role of Bangladesh law enforcers who enjoy near total impunity, ranging from ordinary police to the infamous, black garbed Rapid Action Battalion, who have a long record of enforced disappearances and extra-judicial killings," Robertson told VOA.
"Rather than casting around for excuses, Sheikh Hasina should ensure independent and impartial investigations into disappearance cases, and prosecute security officials in any instance where evidence is found that they have committed abuses," he said.
Hong Kong-based rights activist Mohammad Ashrafuzzaman said that inaccessibility to the justice mechanism in the cases is a key reason for which the enforced disappearances are continuing in Bangladesh.
"Records clearly show that Bangladesh's justice institution is incapable of upholding fair trial and administering justice in the cases of enforced disappearances. The state attorneys and judges have been insincere in guaranteeing judicial remedies to the victims," Ashrafuzzaman, liaison officer of Asian Legal Resource Centre (ALRC), told VOA.
"The head of the government's justification of enforced disappearances guarantees impunity to the perpetrators and transmits a chilling message to the victims that there is no end to such incidents in the country."
An earlier version of this story misspelled Hazera Khatun.