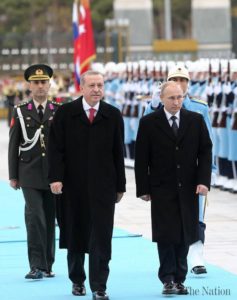 July 2017
-Dr. Abdul Ruff Colachal
Foreign policy of Turkey under President Erdogan has been both prudent and assertive, tactfully protecting all genuine national interest of the former Ottoman Empire by linking domestic with foreign policy in the background of an anti-Islamic environment across the world where the GST (Global State Terror) forces led by the USA, Israel, and India in the guise of fighting terrorism, are very active.  Turkey pursues fruitful policies even with anti-Islamic nations like USA and Israel.
It was now one full year when Turkey and its ruling AKP government faced the biggest challenge in recent times on July 15, 2016, to them from the foes of Islam and Turkey. The disastrous coup forced the Islamist government, President Erdogan, to change the Turkish policies both at home and abroad as in the aftermath of terrific 7/15 Turkey encountered new challenges that are increasing daily and hence found dangerous to keep its foreign policy that harmed the nation by allowing all anti-Turkey elements unchanged.
It appears entire anti-Islamic world is targeting Islam and Islamist government in Turkey. They have already removed Egypt's first ever elected President Mohammad Morsi of Brotherhood party and jailed him to formally murder him, thereby insulting democracy, and dismantled the party. This shows how cruelly dangerous the anti-Islamic moment across the globe.
The USA and its CIA plus global allies would not let Islamic world work for the welfare of humanity.  They have created all so-called Islamic terrorist groups to insult Islam and terrorize the Muslims and the world as a whole.
If earlier, the ruling AKP could not distinguish between true friends and real allies that resulted in the failed attempt of coup cum assassination of President Erdogan, the post coup era let the government identify its foes that work against the Islamist government and Islam.
In the past too, the country has witnessed several failed and successful coup attempts in its political history, but July 15 was different from the failed coup attempt in Turkey claimed the lives of 249 and injured 2,000 on July 15. The people's unprecedented stance against this bloody attempt is unforgettable, marking the first time in history that a coup was stopped by widespread anguish and resentment of Turks.
Syria was the first front in which Turkish foreign policy radically shifted. Turkey launched a military operation in Syria on Aug. 24, 2016, following a Daesh suicide attack that killed 59 civilians in the border city of Gaziantep on Aug. 20. The attack was the straw that broke the camel's back. Operation Euphrates Shield, aimed at driving Daesh and Kurdish fighters back from its border, was Turkey's biggest intervention in Syria since the war began.
Nobody expected such a major operation at a time when the strength of Turkey's army after the coup attempt was being questioned. Under the operation, which ended in March, Turkey took the border town of Jarablus, cleared Daesh from a roughly 100-km stretch of the frontier, then moved south to the strategic city of Al-Bab.
One of the positive outcomes of the coups is the greater ties between Turkey with Russia and the Arab world. The failed coup attempt has shaped not only domestic politics but also Turkey's foreign policy, including on Syria and relations with regional and global actors (particularly the US and Russia), the West, NATO and the EU.
The USA has been at work to delink Moscow from other big powers, including Turkey and China. While it achieved much in its objective, China and Turkey remained stubborn with their external policies. Astoundingly, Russian-Turkish relations had started normalizing before July 15 and were cemented after a phone call between the countries' presidents following the coup attempt. Putin and Erdogan decided to strengthen their ties against the will of Washington further.
Many thought the "arranged" assassination of Russia's ambassador Karlov to Turkey on Dec. 19 by a Turkish police officer would hamper normalization, but it brought Moscow and Ankara closer. Further, they and Tehran have been instrumental in the crucial Astana talks on Syria, and are in close contact regarding the war.
The coup attempt added new issues to strained Turkish-American relations, which were not majorly improved by a regime change in the USA in January with the arrival of Donald Trump. The most controversial issue is Turkey's vehement objections to the US decision to arm and equips the Kurdish People's Protection Units (YPG). The USA deliberately supports Kurdish movement to make Turkey dependent on the USA.
Israel also follows a similar strategy. In a bid to end six years of diplomatic impasse, months after the coup attempt Turkey and Israel sent their ambassadors to Tel Aviv and Ankara respectively as part of their reconciliation deal. Promisingly, Turkey's energy minister is set to visit Israel by the end of this year to conclude an agreement to build a natural gas pipeline from the Jewish state to Turkey.
Secretary of State Rex Tillerson recently said the Trump government is starting to repair ties with Turkey, yet Washington still pursues policies that have caused only tensions. The US intentions and rhetoric are of the variation.
President Recep Tayyip Erdogan recently said Turkey gives its ties with Russia and the US equal status. Amid these tensions, Ankara engaged in talks with Moscow without the White House's knowledge.
Turkish-EU relations were already suffering before the coup attempt, but European countries' belated condemnation of the attempt caused a profound crisis of confidence from Ankara's side. Relations worsened further after several European countries canceled rallies planned by Turkish officials to garner support from Turks living in Europe for a constitutional referendum that took place in April.
Moreover, last week the European Parliament advised the European Council to suspend membership negotiations with Ankara, and the recent failure of talks on Cyprus has further widened the Turkish-EU gap. But despite these problems, both sides seem to agree that they cannot do without one another in a politically fragile environment. Amid all this is the ongoing Gulf crisis.
Growing ties
Turkey has developed relationships with most countries of the world but focused mainly on western and advanced nations and their close allies. Israel, a close ally of USA had been an ally for many years until Israeli military attacked a Turkish aid ship trying to breach the  Gaza Strip under Israeli terror control.
In June, Russian President Vladimir Putin appointed Alexei Yerkhov, the former consul general in Istanbul, as Russia's ambassador to Turkey. Russia's newly appointed ambassador to Ankara said that Turkey is an important partner of Russia in solving the Syrian crisis and increasing the trade volume between two countries to $100 billion is a "possible goal."
The veteran Russian diplomat spoke to Turkish media outlets regarding his new duty and recent issues between the two countries. Indicating that many of Ankara and Moscow's interest were overlapping, Yerkhov said that Russia's cooperation with Turkey had reached the highest level "in all aspects and degrees." "Ankara has always held a special place in Moscow's foreign policy," he said, adding that he will work hard to improve the bilateral relations between the two countries during his time as ambassador.
The new ambassador said that the goal of increasing trade volume between the two countries to $100 billion, which was set by President Recep Tayyip Erdoğan and Russian President Vladimir Putin, is a "tough and assertive task but an achievable" goal.
Yerkhov indicated that all states have their priorities while developing their internal and foreign policies and said that it 's okay to have different opinions in Syria. However, he stressed, talks for a solution to the Syrian crisis will continue in Astana and negotiations for de-escalation zones, ceasefire agreements and the other main issues are also ongoing. "Turkey and Russia have similar interests in Syria," he said.
Russia emphasized the legal process of the assassination of former Russian ambassador Karlov to Turkey Andrey Karlov, adding that Turkish and Russian officials are in close contact regarding the issue. Karlov was killed last December following an attack by a gunman at the opening of an art exhibition in the Turkish capital. Mevlüt Mert Altıntaş, 22, an off-duty policeman, shot the ambassador nine times in the back while he was delivering a speech.
The assassination was meant to spoil any possible relations between Turkey and Russia came amid efforts to rejuvenate Turkish-Russian relations after the 2015 jet crisis and establishing a nationwide cease-fire in Syria.
There is also a strong indicator of the level of bilateral ties as 3 million Russians are expected to vacation in Turkey until the end of the year. The ambassador also said that he works hard to learn Turkish and that he will "overcome it sooner or later." Verbs are very hard to learn in Turkish. Now, I am working on it again. I will achieve it sooner or later," the diplomat said.
Credit for the success of Turkish foreign policy goes to the experience of Turkish president Erdogan and his ruling AKP party in dealing with foes within and abroad during his long tenure as Premier and President.
Having realized the undercurrents trying to destabilize their relations, both Russia and Turkey would move very cautiously to integrate their efforts for peace in Mideast.  Their rule in establishment of Palestine is very crucial as President Trump is seen trying  to get a credible Mideast peace deal in place as early as possible , and he is pulling strings in Tel Aviv which is now busy selling its terror goods to third world terror hungry nations including an innocence claiming India, continues to resist the US move for peace in Mideast.