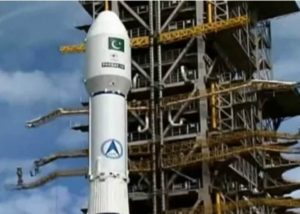 by Usman Ali Khan  20 July 2018
Dr. Abdus Salam conceived the idea of the country's first space research programme and national space agency in 1961 about Fifty years ago. It was on Dr. Salam's advice that a Space Sciences Research Wing of the Pakistan Atomic Energy Commission (PAEC) was established. This later became as Pakistan's Space and Upper Atmosphere Research Commission (SUPARCO) in 1964.
Nothing inspires like the achievement of a dream that has fuelled the imaginations of our predecessors. Escaping the bounds of the Earth and reaching the distances of space is one such dream, which was made true by Pakistan, where a satellite launch was carried out by Pakistan; an indigenously developed 285kg PakTES-1A observatory satellite.
The satellite mainly known as the Remote Sensing Satellite (RSS), can be used to study various features of Earth, determine mineral deposits, and depending on the kinds of sensors and gadgets fitted. Such technology can also help study impacts of climate change such as recession of melting glaciers, greenhouse gasses, detect forest fires and even solve problems related to agriculture as well as forestry, besides a whole range of passive and active tasks.
Why Space exploration?
It's because of the development in the Space explorations that has led us to know that how the moon formed, and it is the benefit of space exploration that how nuclear reactions work.
The more we explore we found that it's from space exploration technology, the development of thousands of products have progressed, such as digital cameras, cordless power-tools, memory foam, satellite and cable TV, UV-proof sunglasses, and even Google Earth.
Why Pakistan needs space technology?
Conversely, in this era of hyper-globalization with rising technological advancement in almost all aspects of life, it will be a fool's paradise for one to look the other way when the world is gradually preparing to shatter the shackles of gravity and move out of this planet.
Keeping in view the current developments in the technology and the way technology is heading its way, from electronics to human biology, that every new project propels forward not just the field of space research but all other sciences touched by it.
Historically, we have seen several discoveries in one field or another as offshoots of space programmes. One of the most important components of a space programme is RSS.
There are numerous benefits of RSS. Mapping few of them are:
Remote sensing allows coverage of very large areas which enables regional surveys on a variety of themes and identification of extremely large features.
Remote sensing allows repetitive coverage which comes in handy when collecting data on dynamic themes such as water, agricultural fields and so on.
It is easier to locate floods or forest fire that has spread over a large region which makes it easier to plan a rescue mission easily and fast.
Remote sensing is a relatively cheap and constructive method of reconstructing a base map in the absence of detailed land survey methods.
Policies and funding allocations in our federal budgets for space exploration need reconsideration. SUPARCO's budget should be augmented. It had potential in the past, and it still does! It is the Space exploration that also helps in shaping modern lifestyle by producing helpful applications for all walks of life.
SUPARCO can still take the lead in the regional space program if the government puts its attention towards it.
I am sure that if India has reached Mars in its first attempt, Pakistan will reach a new horizon too, keeping in mind the recent launch of PakTES-1A attempt.
The news of Pakistan's more vibrant and advanced space programme plan has sent shockwaves.
Let's keep the hope alive.