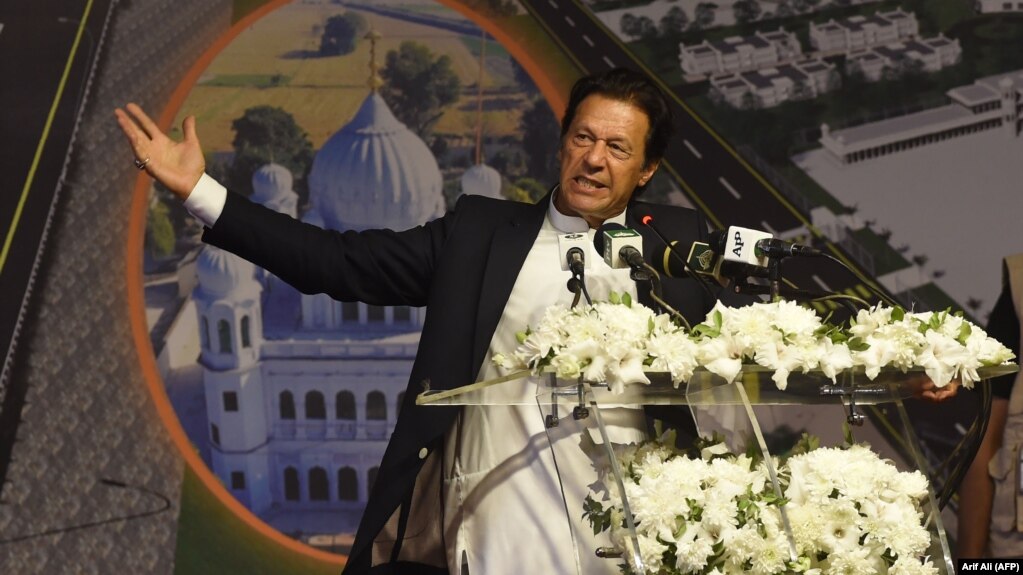 Pakistan said U.S. President Donald Trump has written a letter to Prime Minister Imran Khan to ask for help with Afghan peace talks.
Pakistani Information Minister Fawad Chaudhry said on December 3 that President Trump has "asked for Pakistan's cooperation to bring the Taliban into talks."
Chaudhry said Trump's letter asked Pakistan to play a role in peace talks seeking to end the 17-year war in Afghanistan.
There was no immediate confirmation from the White House about Trump writing such a letter, which would be the first direct communication between the two leaders since Imran Khan came into power in August.
The U.S. Embassy in Islamabad also would not comment on Chaudhry's announcement.
Trump has consistently criticized Pakistan since he launched his South Asia and Afghanistan strategy, despite attempts by the two governments to fix problems that have damaged their relations.
In November, Trump said in an interview that Pakistan doesn't "do a damn thing" for the United States, despite billions of dollars in U.S. aid.
He also charged that Pakistani officials knew of former Al-Qaeda leader Osama bin Laden's location in Abottabad, Pakistan, before he was killed there in 2011 during a raid by U.S. special forces.
The Taliban has refused to deal directly with Afghanistan's government, saying they would negotiate only with the United States.
The militants have also said NATO forces must withdraw from Afghanistan before negotiations can begin.
U.S. diplomats in the past week have called for the Taliban to seize a "moment of opportunity" to begin formal peace talks with the Western-backed Afghan government and negotiate a settlement to end the fighting.
Zalmay Khalilzad, an Afghan-born former U.S. ambassador to Kabul and Iraq, was appointed in September to the U.S. State Department team that is pushing for reconciliation efforts and peace talks with the Taliban.
Khalilzad, who has held several rounds of preliminary talks with Taliban officials in Qatar, told reporters in Kabul in November that he was optimistic a peace deal with the militants could be reached before Afghanistan's next presidential election in April 2019.
Although contacts have started between Khalilzad and Taliban representatives, there has been no pause in fighting.
Afghan President Ashraf Ghani said last week that his government had formed a 12-member team to negotiate peace with the Taliban. But he warned that implementation of any deal would take at least five years.
He also said any deal must meet certain conditions, including respecting the constitutional rights of women.
With reporting by Reuters, AP, Dawn.com, AFP, and dpa