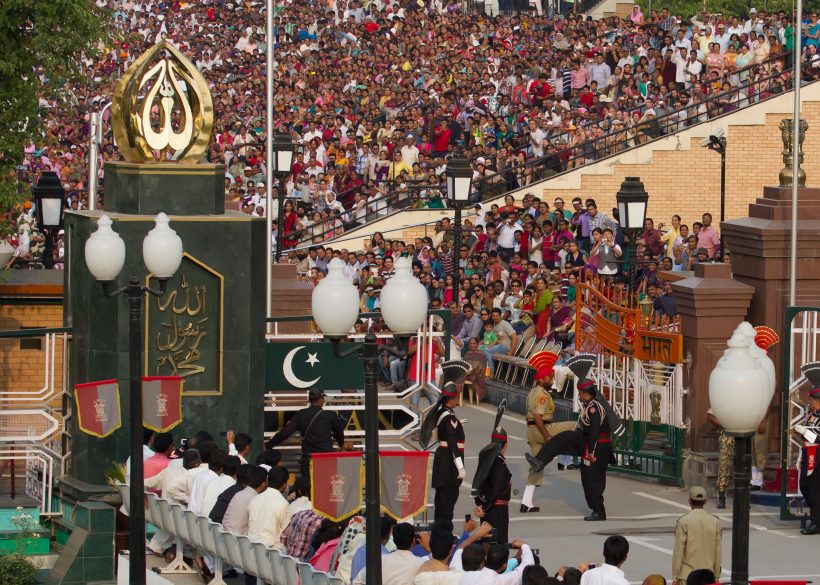 Bottom Line:   Pakistani citizens are heading to the polls next month in a public display of democracy and choice. Yet, with Pakistan's military continuing to play a leading role in the country's political affairs, it seems that the upcoming elections will once again amount to a stamp on an otherwise inevitable outcome.
The elections come on the heels of Pakistan's 20th anniversary of Youm-e-Takbeer, the day commemorating the country's first nuclear test. For Pakistan, Youm-e-Takbeer symbolizes the country's monumental achievement of becoming the first Muslim nation to obtain a nuclear weapon. The day also emphasized Pakistan's resolve for defense and solidarity.
"It's the day which reminds us that the national interests should be given priority for the motherland's progress, defense, and unity," said outgoing Pakistani Prime Minister Shahid Khaqan Abbasi in a Youm-e-Takbeer message. "The defense of Pakistan was made impregnable and the power of balance was maintained in the South Asia."
According to a statement released by the Pakistani Foreign Office, "Pakistan was forced to take that decision as a response, in self-defence, to the nuclear tests and accompanying hostile posturing by its neighbor [India]." However, the ministry added that "Pakistan has remained steadfast in its commitment to non-proliferation and global peace and strategic stability."
Daniel Markey, Academic Director of the Global Policy Program at the Johns Hopkins School of Advanced International Studies
"Let there be no doubt: 20 years after the tests many Pakistanis are very proud of their country's nuclear bomb. Some see it in security terms – as a guarantee against the existential threat posed by India – while many are more focused on the bomb as a token of status or prestige."
Just as Pakistan's military capabilities underwent a trajectory-altering transformation twenty years ago, Pakistani citizens currently face a critical juncture as the country prepares for its upcoming general election scheduled for July 25. The ruling Pakistan Muslim League party (PML-N) has faced an uphill battle since last July when Pakistan's Supreme Court disqualified former Prime Minister Nawaz Sharif from office on charges of corruption. Sharif's family finances were uncovered as part of the 2015 Panama Papers and led many opposition parties to call for an investigation into offshore accounts belonging to Sharif and his children. In February, the Supreme Court rejected appeals to reinstate Sharif as PML-N president.
Abbasi, who filled Sharif's seat in August and has since served as Pakistan's Prime Minister, urged the Pakistani people to uphold and protect democracy in the upcoming election.
"Pakistan's issues can only be resolved through a government which comes through the will of the people," Abbasi said in a televised speech to parliament on Thursday, which marked the final day of the parliament's five-year-term. "We did experiments in the past but a non-representative government can never solve the problems," he added.
Pakistan's government transferred its powers to a caretaker government last week, headed by former chief justice Nasir-ul-Mulk, to help ensure free and fair elections. PML-N has led Pakistan's government since 2013, but the party's main challengers in the upcoming election include former cricket player and opposition figure Imran Khan, chairman of the Pakistan Tehreek-e-Insaf (PTI) party, and Bilawal Bhutto Zardari, the chairman of the Pakistan People's Party (PPP).
Nonetheless, PML-N appears set to remain the heavy favorite unless the other two parties can muster up some sort of alliance in the lead-up to the election, which seems doubtful at the moment.
Daniel Markey, Academic Director of the Global Policy Program at Johns Hopkins School of Advanced International Studies
"PML-N is not assured a victory, but none of Pakistan's other parties has indicated that it can pull together a majority on its own, and the top opposition parties like PTI and PPP have also had trouble forging the sorts of electoral alliances that would give the PML-N a run for its money. So the thing to watch are these alliances, because the vote is tallied for each district, not at the national level, and a party like the PML-N can win a disproportionate share of seats if the opposition is split."
Another important factor in the country's looming elections is the potential role of the Pakistani military. Constitutionally, Pakistan boasts a democratic government where representatives are elected in accordance with a popular vote. Behind the scenes, however, the Pakistani military and its intelligence agency, known as the ISI, repeatedly pull the strings that dictate Pakistan's political direction.
This reality was on display last November when the army negotiated a truce with members of a religious party belonging to the Barelvi sect of Sunni Islam who had been demonstrating against a proposed change to the oath taken by incoming Pakistani lawmakers. By overstepping its traditional military responsibilities, the Pakistani army subverted the civilian government's ability to exercise political authority and reasserted its dominance over Pakistan's domestic affairs.
"Overall, violence in Pakistan is down, but if the military were to loosen its grip selectively, it could alter conditions and sway outcomes," asserts Markey. "Similarly, the media reporting is highly sensitive to military pressure, and it will be fascinating – possibly also quite troubling – to see whether and how the military chooses to crack down on traditional and social media, and how that could swing the vote."
If PML-N does indeed emerge victorious, it appears that Shehbaz Sharif, the brother for former Prime Minister Nawaz Sharif, would be in line to serve as the country's next Prime Minister. Shebaz was not permitted to immediately replace Nawaz Sharif last July since he was not a sitting member of parliament at the time, which led to Abbasi assuming the position. However, if Shehbaz is elected to parliament and PML-N emerges victorious, as predicted, it is presumed that Abbasi will step aside and Shehbaz would be clear to become Pakistan's Prime Minister.