Beijing accuses the spiritual leader of supporting separatism whereas he seeks 'greater autonomy' within China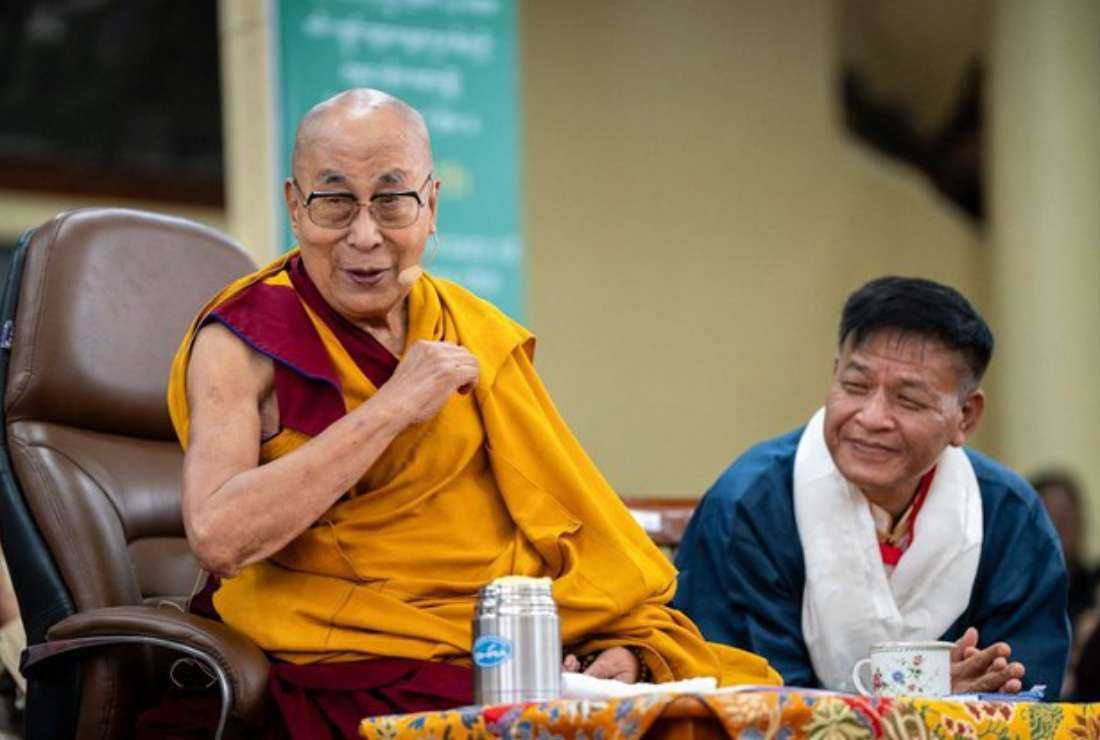 The Dalai Lama addresses the crowd during his birthday celebration at his residence in Dharamshala, India, on July 6. (Photo: Tenzin Choejor via RFA)
The Dalai Lama has no anger toward the Chinese leaders for their 'harsh attitude' to Tibet, the supreme spiritual leader of Tibetan Buddhism said on his 88th birthday.
"I've done whatever I could without losing hope or allowing my determination to flag. I'm angry with no one, not even those Chinese leaders who have adopted a harsh attitude towards Tibet," Dalai Lama said in a message, Radio Free Asia reported on July 6.
"Indeed, China has historically been a Buddhist country as witnessed by the many temples and monasteries I saw when I visited that land," he said in his remarks on his birthday on July 6.
The occasion was marked with song and dance performances at his residence in Dharamshala, a hilly city in the Indian state of Himachal Pradesh.
Dalai Lama declared that he was in good health and expects to live to be more than 100 years old.
"Today, you are celebrating my 88th birthday, but when I look in the mirror, I feel I look as if I'm still in my 50s," he told the crowd during the celebration, RFA reported.
"My face doesn't look old, it isn't wrinkled with age. What's more, I still have all my teeth so there's nothing I can't eat or chew."
"According to indications in my own dreams and other predictions, I expect to live to be more than 100 years old," said the 14th Dalai Lama, whose real name is Lhamo Thondup and is also known as Tenzin Gyatso.
"I've served others until now, and I'm determined to continue to do so. Please pray for my long life on that basis."
Among the birth celebrants were his relatives, members of the Tibetan government-in-exile, and Sukhvinder Singh, chief minister of Himachal Pradesh.
The birthday comes amid ongoing controversy about who holds the right to choose Dalai Lama's successor.
According to the tradition of Tibetan Buddhism, the Dalai Lama and Panchen Lama, the second supreme spiritual leader, are reincarnated as children when they die.
Tibetans, who believe in the Buddhist principle of rebirth, say Dalai Lama and Panchen Lama have the right to choose their successor.
They believe Dalai Lama chooses the body into which he is reincarnated, a process that has occurred 13 times since 1391 when the first Dalai Lama was born, RFA reported.
China invaded and annexed Tibet in 1950-51, saying the region has been always an integral part of the country. The communist regime brutally suppressed Tibetan resistance, forcing Dalai Lama and his supporters to flee to India.
Since then, China has made attempts to influence Tibetan affairs with repressive policies and actions, including efforts to choose spiritual leaders, to firm up its control of the autonomous, mountainous region.
China also sought to erase the Dalai Lama and his likeness from Tibet.
Beijing claims it has the right to select the next spiritual leader of Tibetan Buddhists, as stated in Chinese law.
Chinese authorities attempted to select the successor of the 10th Panchen Lama who died in 1989.
In 1995, the exiled Dalai Lama chose 6-year-old Gedhun Choekyi Nyima to be the 11th Panchen Lama, recognizing him as the reincarnation of his predecessor.
The Panchen Lama's responsibilities include leading a council of high lamas to find the reincarnation of the Dalai Lama after the current one dies.
Dalai Lama's recognition of the 11th Panchen Lama angered the Chinese authorities, who three days later took the boy and his family into custody. They have since disappeared.
Beijing then installed another boy, Gyaltsen Norbu, as their own candidate in his place.
Tibetans have rejected Gyaltsen Norbu as the Panchen Lama and view him as an imposter.
In 2022, some 27 years after the disappearance, a Chinese official said that Gedhun Choekyi Nyima, the 11th Panchen Lama chosen by the Dalai Lama is leading a "normal life" as a Chinese citizen.
Beijing accuses the Dalai Lama of supporting terrorism and trying to split Tibet from China.
However, the spiritual leader said he pursues a policy approach that he calls the "Middle Way" – greater autonomy for Tibet within China and protection of cultural and religious freedoms, including strengthened language rights, guaranteed for ethnic minorities under China's constitution.
"I was born in Tibet, and I bear this name Dalai Lama, but in addition to working for the cause of Tibet, I've been working for the welfare of all sentient beings," he also said in remarks to the crowd in Dharamsala.
"I've done whatever I could without losing hope or allowing my determination to flag," he added.
In Tibet, where China bans anything related to Dalai Lama, people secretly celebrated his birthday, RFA reported.
People shared poems and odes to the Dalai Lama online and circulated in various online messaging groups an image of a hat he wore as a child in a popular photograph, with the number "88" appearing below it.
"Tibetans are engaging in creative ways as well as performing religious activities to celebrate his holiness's birthday," said a Tibetan who lives in the region.