Publication: Terrorism Monitor Volume: 16 Issue: 12
By: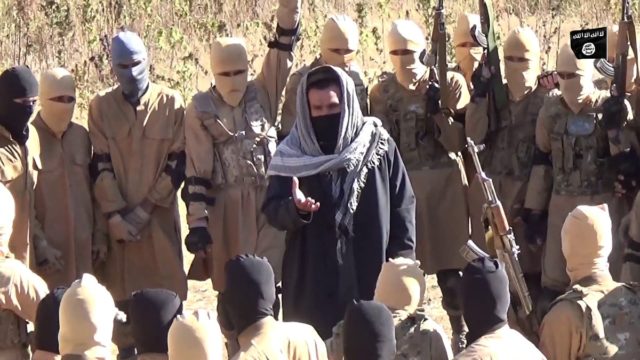 From its establishment in September 2014, Islamic State's arm in Afghanistan, its Khorasan province entity (IS-K), found itself the target of attacks by Afghan Taliban forces and strikes by the U.S. military in conjunction with the Afghan security forces. The group weathered significant losses and entrenched itself in the districts of eastern Afghanistan. In recent months, however, an improvement in relations with the Taliban has allowed it to focus on carrying out a series of bloody attacks.
Beginnings
Islamic State (IS) announced the establishment of its Khorasan wilayat (province)— covering the territories of Pakistan, Afghanistan and Central Asian Republics—in September 2014, amid the backdrop of its capture of the Iraqi city of Mosul in June that year (Dawn, November 13, 2014). The timing was fortuitous for the group, coming as factions of the Tehreek-e-Taliban Pakistan (TTP) were being squeezed into Afghanistan following the launch by the Pakistani military of its Zarb-e-Azb campaign. The operation targeted groups across the tribal areas of Pakistan, and many on-the-run Pakistani militants were more than happy to join hands with newly established IS-K in Afghanistan's eastern provinces.
At least three Pakistani Islamist terrorist organizations that had been previously aligned with al-Qaeda—namely Tehreek-e-Khilafat Pakistan, Jundullah and the TTP's Shahidullah faction—pledged allegiance to IS Caliph Abu Bakr al-Baghdadi (see: Terrorism Monitor, October 24, 2014). In addition to these three groups, a number of jihadist commanders of other Islamist organizations also defected to IS-K. The Islamic Movement of Uzbekistan (IMU), based in Afghanistan and previously affiliated to al-Qaeda, also joined the IS camp, pledging allegiance to al-Baghdadi (Gandhara, August 6, 2015). Chechen and Uighur Islamists followed suit.
This rapid development of IS-K shocked the high commands of Islamist militant organizations operating in Pakistan and Afghanistan, in particular those of the Afghan Taliban and al-Qaeda. So successful did IS-K appear, that al-Qaeda felt compelled to establish a new chapter—al-Qaeda in the Indian Subcontinent (AQIS)—in order to remain relevant in the region. The Afghan Taliban leadership also took action, engaging in a bloody campaign against those siding with IS-K.
Initial Setbacks
From early on, IS-K struggled to put in place the appropriate leadership. Islamic State's central operations initially chose Abdul Rahim Muslim Dost, a former Guantanamo inmate, but later replaced him with Abdul Rauf Khadim, who was subsequently killed by a U.S. drone strike in February 2015 (Express Tribune, October 19, 2015). The next IS-K emir, Hafiz Saeed Khan Orakzai, had equally little time to strengthen IS-K. He too was killed in a drone strike, along with other militants, in Afghanistan's Nangarhar province in July 2016 (Friday Times, August 19, 2016).
It took IS some time to appoint Abdul Haseeb Logari, a former Afghan Taliban commander, as new emir of IS-K. He survived until in April 2017, when he too was killed, this time in a spectacular raid by U.S. and Afghan special forces in the Achin district of Nangarhar province, in which two U.S. soldiers were also killed (Fortress, April 9, 2016).
While the U.S. strikes against IS-K in eastern Afghanistan have been intense and resulted in the killing of a number of IS-K commanders, as well as the overall leadership, the group has also come under attack from the Taliban. Unimpressed with the thought of losing ground to IS-K, the group began operations to reclaim areas in the eastern and southern districts of Afghanistan. The IMU was the initial target of the Taliban onslaught and was almost completely wiped out in an attack that also resulted in the freeing of Shahbaz Taseer, the kidnapped son of the governor of the Pakistani province of Punjab (Pak Tribune, May 17, 2016). Taseer had been kidnapped by Lashkar-e-Jhangvi in Lahore in 2011 and handed over to IMU in Afghanistan. [1] According to Taseer, the Afghan Taliban forces routed the IMU militants and chased them down, sparing no one (News International, March 12, 2016).
To an extent, IS-K had brought the Taliban actions on themselves as they had not only carved out territories from Taliban control, but also killed scores of Taliban fighters, inviting the wrath of a group that was local, better established and more experienced at carrying out insurgency operations in Afghanistan.
Leadership Change
Over time, however, the Taliban's relationship with IS-K has changed. Following the death of Taliban founder Mullah Mohammad Omar in 2015, the Taliban shura selected Mullah Akhter Mansoor as the movement's new leader (al Jazeera News, July 31, 2015). The loss of the legendary Mullah Omar in mysterious circumstances caused problems for the group, but Mansoor, a veteran Taliban leader, steered the movement into 2016, launching that year's spring offensive, Operation Omari.
Mansoor was unhappy with the emergence of IS-K in Afghanistan and waged a campaign against them. However, in October 2016, he was killed in a U.S. drone strike in Pakistan's Baluchistan province (Dawn, May 22, 2016). The Taliban's new leader was named as Mullah Haibatullah Akhundzada, a former judge in Taliban-ruled Afghanistan (1996-2001) who appears to have adopted a more conciliatory stance towards IS-K.
Since taking control of the Taliban insurgency, he has attempted to reach a détente with IS-K while focusing his fighters' energies on the Afghan security forces and urban centers. This has allowed IS-K to consolidate, and the group has been further boosted by the arrival of foreign fighters from Iraq and Syria, fleeing the fall of IS' so-called caliphate there to find safe havens in ungoverned (or poorly governed) territories in Afghanistan.
The change of leadership on both sides is the primary reason for the improved relationship between the Taliban and IS-K. After losing three of its leaders in drone strikes, IS-K has splintered into two factions. One faction is led by an Uzbek militant known as Mauvia, formerly of the IMU, who is based in the northern provinces of Afghanistan [2] The other, operating in southeastern provinces of Kunar, Paktika, Paktia, Logar, Khost and Nangarhar, is led by Aslam Farooqi, a former leader of the Pakistani Islamist terrorist organization Lashkar-e-Taiba (LeT). It is unclear whether Farooqi had relations with the Afghan Taliban leadership before joining IS-K. Since assuming command of his faction, however, he has shown himself willing and able to liaise with them.
For his part, Akhundzada has directed his Taliban fighters to refrain from attacking IS-K militants, resulting in a de facto ceasefire. Akhundzada appears to see the goals of both IS-K and the Afghan Taliban as aligned (Express Tribune, October 8, 2017). A series of agreements and peace accords have been signed over issues including the release of prisoners, taxation in respective areas of control and agreements to recognize each other's engagements with communities and businessmen. [3]
Although Mauvia's IS-K faction continues to attack the Taliban and the rift between the two is far from over, Akhundzada conciliatory approach has led to a pause in fighting between Taliban and IS-K militants in Afghanistan's southeastern provinces for the first time since the emergence of IS-K.
Gaining Momentum
IS-K's initial losses were considerable—it lost its first three emirs to U.S. drone strikes in just two years. However, the group was nevertheless able to maintain its rudimentary structure, and the eventual inflow of jihadists following the fall of the main IS operations in Iraq and Syria has paved the way for further development. A change in the leadership of the Afghan Taliban has allowed IS-K to consolidate, and Akhundzada, in the midst of this year's spring offensive, appears unwilling to risk rupturing relations with an entrenched IS-K and open up fighting on another front.
This presents a grave threat to an already embattled Afghanistan. The recent wave of Taliban terrorist attacks in urban centers across the country suggests a reinvigorated insurgency, with the Afghan government and security forces now also facing an onslaught from an emboldened IS-K.
NOTES
[1] Author discussions with a senior Islamabad based journalist (May 10, 2018).
[2] Antonio Giustozzi, "Taliban and Islamic State: Enemies or Brothers in Jihad?", Center for Research and Policy Analysis, December 15, 2017.
[3] Ibid