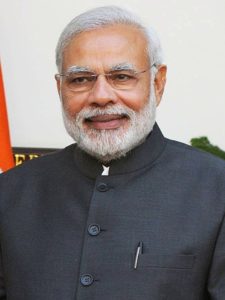 Three years back, when Mr. Modi got the mandate of the people and formed the government, most people expected that he would fulfill his promise to root out corruption in government machinery and public life before long.
In the last three years, every measure that Mr. Modi took to ensure transparency in governance and eradicate corruption received overwhelming support from the people. Mr. Modi was able to implement the daredevil steps such as demonetization, and this was only because people stood by him in spite of difficulties that they faced, as they believed that this was one of Mr. Modi's strategies to wipe out black money and expose the corrupt people.
Of course, Mr. Modi has taken several measures including anti benami law, but the people think that all such efforts have not borne fruit so far to the level of their expectations and they are disappointed that corrupt elements in the government and business remain undeterred.
Now, it is increasingly becoming evident that Indians have become impatient and want results in the anti-corruption drive so that they can see and feel the visible and positive impact of their day to day life. This is not happening.
Several raids have been conducted to unearth hidden wealth and tax evasion with huge publicity. But, no corrupt person has been punished so far to the satisfaction of the people.
Of course, one can blame the judiciary for coming to the rescue of the corrupt persons by taking unduly long time to give its verdict and on most occasions allowing the corrupt persons to drag the cases in the court under one excuse or the other. Many think that in the name of fair justice, the judiciary gives the benefit of doubt to the corrupt persons by allowing them to exploit the loopholes in the law. There are many corrupt persons whose nefarious dealings are well known to the public, but they are able to keep themselves out of prisons for several years and sometimes get a clean chit. People look with aghast at such scenario and wonder whether the corrupt persons will be punished at any time at all.
People think that Mr. Modi should find some way to catch and punish the corrupt and put the fear of law in the minds of everyone. They are not willing to accept any explanation blaming the judiciary, as it is in the power of Mr. Modi to set right things by initiating appropriate measures, People do not want to see Mr. Modi helpless in tackling such delays.
People say that certainly, Mr. Modi could have taken steps to ensure that the corruption cases before judiciary would be speeded up.
Today, people are feeling tired of hearing stories about corrupt persons being raided and nevertheless seeing them remaining unscathed.
The inability of Modi government to create the fear of law amongst the corrupt persons is becoming increasingly evident to the people and certainly there is a disappointment on this account.
It can be said in defense of the government that Mr.Modi's ministers have not indulged in corrupt practices and he has ensured transparency in all his dealings.
By way of explanation, it can even be said that most of the corruption is at the state level and not in the central government. But, this argument would not hold water, since people know that many state governments are now under Modi's party and there is no less corruption in these states also.
Today, people believe that Mr. Modi is the best person to root out corruption in the country and there is absolutely no doubt that he stands tall amongst all politicians in India.
In spite of such positive sentiments towards Mr. Modi, will people be patient enough to wait endlessly to see a corruption free India is a moot question?
As the next national election will be in 2019 and is not far away, Mr. Modi's performance appraisal amongst the people will be mainly centered on people's evaluation of the success or otherwise of Mr. Modi's anti-corruption drive.
It appears that Indians will still vote for Mr. Modi in 2019, but this may be a negative vote in his favor and not positive vote that he received in 2014.