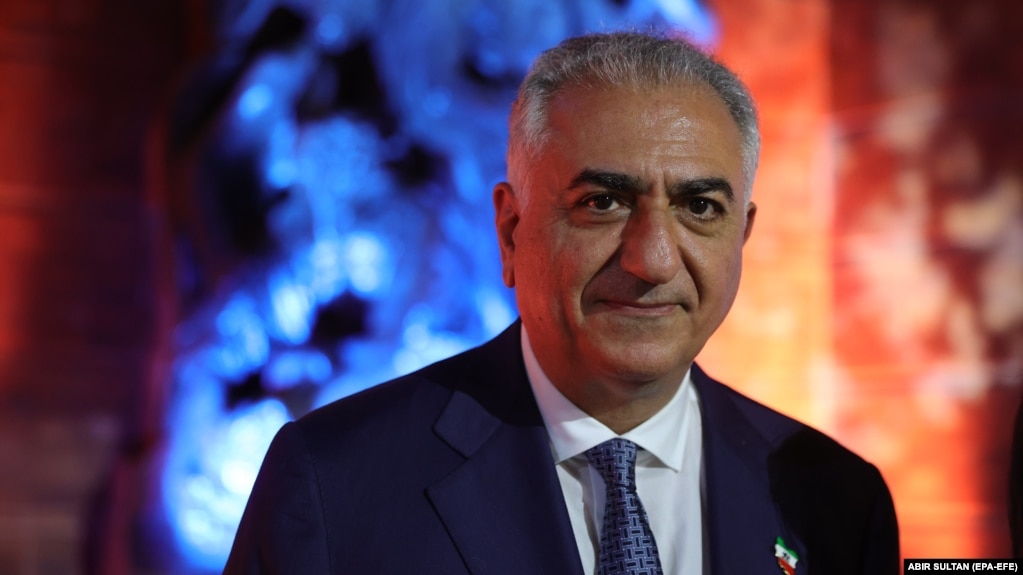 Iran's former crown prince, Reza Pahlavi, has stirred controversy after visiting Israel, Tehran's arch enemy.
Pahlavi, an exiled opposition figure who has lived in the United States for decades, arrived in Israel on April 17. He held talks with senior officials, met Israelis of Iranian descent, and participated in Israel's annual Holocaust memorial ceremony.
The 62-year-old Pahlavi described his visit to Israel as a chance to deliver a "message of friendship from the Iranian people."
But some Iranians blasted Pahlavi for visiting a country that has threatened to launch military strikes against Iran. The former royal was also criticized for his silence on the plight of Palestinians. Others questioned why he had met Israeli Prime Minister Benjamin Netanyahu, whose controversial attempts to overhaul the judiciary has led to mass street protests.
Since the Islamic Revolution in 1979, Iran's clerical establishment has refused to recognize Israel. Some senior leaders have called Israel a "cancerous tumor" that should be destroyed. Tehran has also been accused of providing material support to Hamas, the Palestinian militant group.
Israel, meanwhile, has been accused of carrying out sabotage and cyberattacks against Iranian nuclear and military sites and assassinating Iranian scientists, engineers, and military personnel in recent years.
'A Disgrace'
Tehran-based political activist Tirdad Bonakdar, a critic of the Islamic establishment, said Pahlavi was free to visit any country he wished but asked why he considered himself "to be the representative of the Iranian people."
Bonakdar also criticized Pahlavi for taking his "message of peace" to Israel, where Defense Minister Benny Gantz has previously threatened military action against the Islamic republic.
"Accepting an invitation by the most extremist government in the history of Israel, which is opposed by the majority of Israelis, is not an honor but a disgrace," said Ali Afshari, a U.S.-based former student leader who was jailed in Iran for his activism.
Pahlavi's wife, who was also in Israel, was criticized for suggesting in an Instagram post that female Israeli soldiers embodied the main slogan of Iran's protest movement, "Women, Life, and Freedom." The post is no longer available.
Human rights groups have accused Israeli security forces of beating, arbitrarily detaining, and unlawfully killing civilians in the Palestinian Occupied Territories.
"Nothing says 'we support freedom' like celebrating an army that has kept millions of Palestinians under occupation for decades. While leaders around the world shun Netanyahu as he takes Israel down the road to authoritarianism, the Pahlavis see an opportunity for a photo op," Alex Shams, a doctorate student of anthropology at the University of Chicago, said on Twitter.
Pahlavi's supporters described his visit as "historic," saying it proved that Israel had recognized the "national revolution" in Iran, a reference to the antiestablishment protests, and deemed the former crown prince as "its singular leader."
Israel also hailed Pahlavi's trip, saying he was the "most senior Iranian personality" to ever pay a public visit to the country.
Iranian Foreign Ministry spokesman Naser Kanaani attempted to downplay Pahlavi's visit. "Neither the person you've mentioned, nor his trip, nor the place he wants to travel to are worthy of a stance," he said during an April 17 press conference.
Nournews, affiliated with Iran's Supreme National Security Council, attempted to ridicule Pahlavi by claiming that Israel had not taken him seriously. The outlet noted that Pahlavi's meeting with Netanyahu on the sidelines of the Holocaust memorial ceremony had taken place in an unofficial setting where trash bins and water dispensers were visible.
Raising His Profile
Pahlavi, the eldest son of the former shah of Iran, Mohammad Reza Pahlavi, has long called for the overthrow of the Islamic republic.
But he has increased his political activities since nationwide antiestablishment protests erupted across Iran in September. The monthslong demonstrations were the biggest threat to the clerical establishment in decades.
In recent months, Pahlavi has visited a host of countries in Europe, lobbying officials to isolate the Islamic republic and support Iran's protest movement and the pro-democracy exiled opposition.
In March, Pahlavi and several other opposition figures, including Nobel Peace Prize winner Shirin Ebadi and anti-hijab activist Masih Alinejad, published a charter for the establishment of a democratic Iran.
But the charter has failed to garner widespread support among Iranians amid reports that it calls for the breakup of Iran.