The group, including three women and a teen, is being further investigated in western Maharashtra state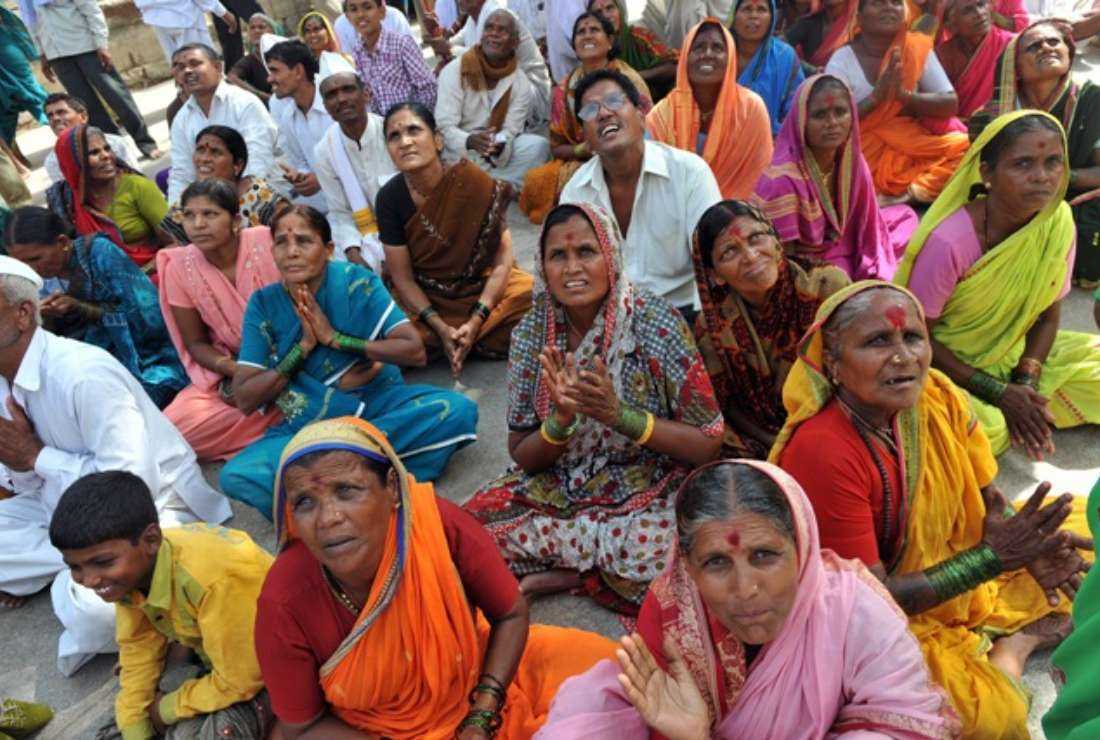 In this file photo Hindu pilgrims chant sacred verses as they await the start of an annual pilgrimage at the temple of Saint Dnyaneshwar at Alandi, near Pune in the western Indian state of Maharashtra, on June 23, 2011. (Photo: AFP)
Indian police arrested 14 Christians including a teenage boy for allegedly attempting to convert Hindus at a popular pilgrimage town in the western state of Maharashtra.
"We arrested all the 14 but they were released on bail. Our team is investigating the case," Senior Police Inspector Sunil Godse of Alandi Police Station in Pune district told UCA News on Jan. 18.
Those arrested included 10 men, three women and a 17-year-old boy.
They were charged with causing religious hatred and hurting Hindu sentiments by allegedly offering financial help to poor Hindus in an attempt to convert them to Christianity.
Godse said this was the second incident of its kind reported from rural areas in the vicinity of Alandi, a pilgrimage town known as the resting place of 13th-century saint-poet Dnyaneshwar who interpreted the sacred Hindu texts of Bhagwad Gita.
On Jan 15, two of the male suspects, Pradip Waghmare and Prashant Waghmare, "reached out to me and asked if I knew anything about Christianity and told me to read the Bible and convert to Christianity for a better life," complainant Prasad Salunkhe, a Hindu from Markal village, told the police.
His family was being harassed to convert to Christianity. The group also approached other villagers and tried to lure them by offering money for running their small business, Salunkhe said in his complaint registered at the police station on the same day.
He further claimed that the Christians said worshipping Hindu gods and reading the Hindu scriptures were of no use.
"Instead, they advised that I should go to church and worship Jesus," Salunkhe added in his complaint.
In another complaint registered at the same police station on Jan. 4, three people led by a pastor called Sudhakar Suryavanshi were accused of asking people to remove Hindu gods from their homes and offer prayers to "Yeshu" (Jesus).
Police said the complaint by Uddhav Kamble who resides in a slum in Alandi, stated the pastor and his associates, including a woman, entered their locality on Jan. 1 and offered them grape juice, claiming it was Christ's blood and would help solve their problems.
"You start worshipping Jesus. All your health problems will vanish. Leave the Hindu religion and accept Christianity," Suryavanshi allegedly told the Hindus, according to the complaint.
A video of the incident went viral on social media platforms damaging the peaceful atmosphere of the town. Both Hindu and Christian communities held protests in Alandi, police said.
Some Catholic priests told UCA News that the accused appear to belong to some self-styled evangelical group, which was not reachable for comment.
Significantly, Ajit Pawar, leader of the opposition in the state legislative assembly, in a letter to Devendra Fadnavis, the deputy chief minister, has demanded protection for Christian people, saying they were "unnecessarily being harassed."