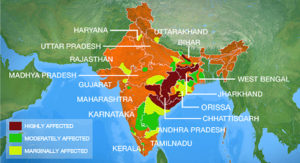 By Deepak Kumar Nayak*
On June 26, 2018, seven jawans of the Jharkhand Jaguar Force were reportedly killed and another four injured, when the cadres of the Communist Party of India-Maoist (CPI-Maoist) carried out a landmine blast and subsequently opened fire on the security personnel in the Chinjo area near a school in Khapri Mahua village under the Bhandariya Police Station in the Garhwa District of Jharkhand. While four security personnel were killed in the explosion, another two were killed in the exchange of fire that followed and still another subsequently succumbed to his injuries. Deputy Inspector General (DIG) of Police Vipul Shukla disclosed that joint teams of security personnel from the Central Reserve Police Force (CRPF), the State's elite Jharkhand Jaguar (JJ) force and the local Police were conducting an anti-Maoists' offensive when the incident occurred. The joint teams had launched an operation after they received information about the presence of some Maoists in the area. The Security Force (SF) personnel were returning from a Long Range Patrol (LRP) on foot, when the landmine was triggered by the Maoists, followed by the encounter. At least two INSAS (Indian Small Arms System) assault rifles have gone missing, indicating that the Maoists looted the weapons.
On May 20, 2018, seven SF personnel were killed and one critically injured in an Improvised Explosive Device (IED) blast triggered by CPI-Maoist cadres near Cholnar in the Dantewada District of Chhattisgarh. A joint team of the Chhattisgarh Armed Force (CAF) and the District Force (DF) were patrolling the Cholnar-Kirandul Road to provide security to trucks carrying construction material for road works between Kirandul and Palnar villages. CPI-Maoist cadres blew up a Police vehicle carrying the SF personnel with an IED, creating a 10-foot crater on the road, and tossing the Police vehicle into the air. Five SF personnel died on the spot, while two jawans succumbed to their injuries during treatment. CPI-Maoist cadres took away two INSAS assault rifles, two AK 47s and two SLRs from the slain Police personnel.
On March 13, 2018, at least nine CRPF personnel were killed and two were critically injured when CPI-Maoist cadres blew up a Mine Protected Vehicle (MPV) in the Kistaram jungle area in the Sukma District of Chhattisgarh. The personnel belonging to the 212th battalion of the CRPF were conducting an area domination operation in the area when their vehicle was blown up.
According to partial data collated by the South Asia Terrorism Portal (SATP), at least four major incidents (each involving three or more fatalities) initiated by the Maoists, have resulted in 27 SF fatalities in the current year so far (data till July 1, 2018). Since 2010, at least 81 such major incidents initiated by the Maoists have resulted in 76 civilians, 602 SF and 21 Maoists fatalities.
By comparison, in 12 such incidents initiated by SFs, a total of 83 Maoists have been killed (data till July 1, 2018). Since 2010, at least 125 such incidents have been initiated by SFs, resulting in 11 civilians, 12 SF and 674 Maoists fatalities.
Strikingly, most of the major SF successes have been followed by revenge attacks by the Maoists. For instance: in 2018, on May 29, 2018, a Special Police team killed three alleged Maoist cadres at Chandiya Dongari under Bortalav Police Station limits in Rajnandgaon District, Chhattisgarh. The Maoist loss was avenged in the June 26, 2018, attack, when the Maoists killed six Jharkhand Jaguar personnel. Earlier, SFs killed 48 Maoists (at least 40 Maoists were killed in the Gadchiroli District of Maharashtra in twin encounters on April 22-23, 2018; and at least eight Maoists were eliminated in the Bijapur District of Chhattisgarh on April 27, 2018); on May 20, 2018, the Maoists killed seven SF personnel and critically injured one in an IED blast triggered near Cholnar in Dantewada District of Chhattisgarh.
This pattern was confirmed through 2017. On June 18, 2017, three CPI-Maoist cadres were killed in an encounter with SFs at Aundhi in the Rajnandgaon District of Chhattisgarh; on June 24, 2017, the rebels killed three SF personnel and injured another four in an encounter in the Sukma District of Chhattisgarh. On March 18, 2017, six Maoists, including a senior woman cadre, and two Policemen were killed in a gun-battle in forests of the restive Dantewada District in the Bastar Division of Chhattisgarh; on April 24, 2017, the Left Wing Extremists (LWEs) responded by killing at least 25 CRPF personnel and injuring another six in an ambush at Kalapattar in the Burkapal area of the Sukma District of Chhattisgarh.
Major Fatality Incidents since 2010
Year
Major Attack on SFs
Major Attack on Maoists
Number of Attacks
Civilians
SFs
Maoists
Injuries
Number of Attacks
Civilians
SFs
Maoists
Injuries
2010
18
34
215
3
36
19
5
2
128
23
2011
14
2
81
6
60
18
0
1
83
9
2012
8
2
50
0
57
9
0
1
38
7
2013
16
31
75
5
69
12
2
2
82
0
2014
8
6
57
0
42
11
1
1
47
0
2015
5
1
22
2
23
8
0
0
35
0
2016
4
0
27
3
29
23
0
1
118
4
2017
4
0
48
2
17
13
0
3
60
4
2018
4
0
27
0
15
12
3
1
83
3
Total
81
76
602
21
348
125
11
12
674
50
Source: SATP, *Data till July 1, 2018
Nevertheless, a cursory look at data on major attacks indicates that attacks initiated by the Maoists on SFs have been on the decline since 2010. The highest number of 18 major LWE initiated incidents was registered in 2010, according to the SATP database, in which 215 SF personnel were killed, in addition to 34 civilians and three Maoists, and at least another 36 persons were injured (including both civilians and SFs). A low of four such attacks has been registered in each year since 2016. In 2016 fatalities in these incidents included 27 SF personnel and three Maoists; in 2017, 48 SF personnel and two Maoists; and in 2018, 27 SF personnel.
On the other hand, the attacks initiated by SFs against the Maoists have followed a cyclical trend. The highest number of 23 major incidents against the Maoists was recorded in 2016, in which 118 Maoists were killed, while 11 civilians and 12 SF personnel lost their lives and another 50 persons sustained injuries (including both civilians and SF personnel). Just eight major SF initiated incidents were registered in 2015, with 35 Maoist fatalities.
Since 2010 a comparison of the major incidents initiated by SFs and by the Maoists shows that SFs secured a marginally positive SF:Maoist kill ratio of 1:1.11 across India. SFs also secured a positive SF:Maoist kill ratio of 1:1.53, for overall fatalities across all theatres during this period. There have been a total of 4,143 fatalities across the country since 2010, including 1,722 civilians, 954 SF personnel and 1,467 Maoists (data till July 1, 2018).
The intensity of the Maoist conflict has been followed a broadly declining trend and, according to data released by the Union Ministry of Home Affairs (UMHA), while 2,213 Naxalism-linked incidents were recorded in 2010, the number rose to 2,258 in 2009. Thereafter, 1,760 were killed in 2011; 1,415 in 2012; 1,136 in 2013, 1,091 in 2014; 1,089 in 2015; 1,048 in 2016; 908 in 2017; and 354 in 2018, up to May 15, 2018.
Speaking on the occasion of the Central Reserve Police Force's (CRPFs) 79th Raising Day on March 24, 2018, Union Home Minister Rajnath Singh, thus stated:
Maoism has become a serious challenge… but because of the gallant and determined action of the CRPF and other Forces, these incidents have come down drastically. I can say that the LWE problem in the country has entered its last leg…
Unsurprisingly, the CPI-Maoist 'central committee (CC)', which met in February 2017 to review the progress of the 'revolutionary movement' in the country, had passed a resolution admitting that their movement was going through a 'difficult' stage all over the country.
Certainly the Maoists are losing their sway across the country, yet recurrent Maoist attacks suggest that they remain relentless in their efforts to regain lost ground, and this conflict is still far from over.
*Deepak Kumar Nayak
Research Assistant, Institute for Conflict Management