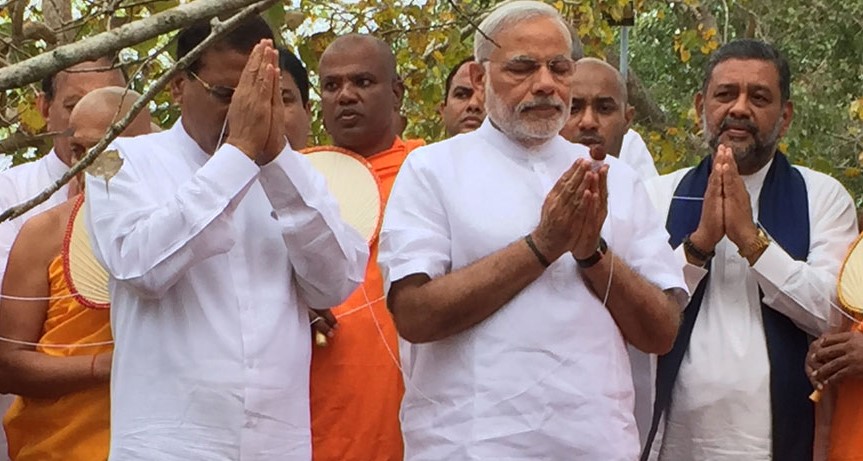 After 30 years of war with the Liberation Tigers of Tamil Eelam (LTTE), Sri Lanka is currently engaged in some postwar negotiations and is especially pushing for close political links with its "big brother", India. Due to the pro-China lobby operating in Sri Lanka during the decade-long tenure of former President Mahinda Rajapaksha, India's ability to act as Sri Lanka's largest trading and strategic partner has been widely ignored. Despite growing Sri Lanka-China relations, President Mithripala Sirisena's election victory in January 2015 indicates that Sri Lanka is now pivoting back towards India.  To a large extent, all the following concerns of the Modi government are of little interest far from receiving criticisms on the domestic front in Sri Lanka. And hopefully, it seems that the Sirisena government concurs with Narendra Modi that Sri Lanka should work more closely with India, thereby showing a significant foreign policy shift.
It has become critical to India's interests at the domestic level to care for the Tamil minority living in Sri Lanka and India. The question of humanitarian assistance for and human rights protection of, the Tamil-speaking minority population did attract little attention in Indo-Sri Lanka relations until the last few months of the war against the LTTE. Much of this new attention is consistent with Modi's need that the Tamil Nadu politicians should not be allowed to dictate Indo-Sri Lanka relations; that they should not be a force in dismantling Delhi's political stability; and that they should stop radicalizing LTTE sympathizers around the world. The Modi government is more ambitious in that it has formed a strong parliament (without the support of pro-LTTE Tamil political parties, e.g., Dravida Munnetra Kazhagam) and exhibited great strengths over the previous term of government in matters related to minority issues in Sri Lanka.  While Modi's election victory has adequately controlled the reemergence of pro-LTTE groups in India, his expectation was high that the newly elected government of Sri Lanka could do the same.
Amid the changes of the hardline politics of former Sri Lankan president, Rajapaksha, India believed that Sri Lanka couldn't heighten the chances of a better political solution to the North without its help. Because the Sri Lankan government is extending its responsibility for Tamil people in war-devastated areas, Indian support is overwhelming. Modi's central focus of taking a more direct hand in ethnic issues in Sri Lanka has become foundational to his future political involvement with Sri Lanka. During Modi's visit to Sri Lanka March 13–14, 2015, he overlooked the significance of the power devolution package through the 13th amendment or some policies that go beyond it, positing that the unity and integrity of Sri Lanka are paramount.  There is no question that Modi tries to eschew the resurgence of Tamil Nadu against the Colombo government by encouraging a more stable political solution for the Tamil minority living in Sri Lanka. Also, with the end of terrorism in Sri Lanka, issues associated with post-conflict Sri Lanka have been internationalized, compelling India to play a more significant role than merely a "big brother" role.
The regional-level ambitions of India offer great help in understanding its position in Sri Lanka's relations with China. Modi occasionally hints that he aims to integrate Sri Lanka into the sphere of Indian-led military-strategic influence, and ultimately concedes that the strategy will weaken Sri Lanka's ties with China. The containment is consistent with Modi's unexpressed need that is compatible with Obama's policy of "pivot to Asia": push China away from the Indian Ocean and the Sri Lankan sphere of influence, and include Sri Lanka in the India-sponsored maritime security cooperation in the Indian Ocean. After all, the Modi government uses Sri Lanka to further its strategic interest, showing that his government's policy for Sri Lanka is different from that of the Manmohan Singh's government, and that Modi is pragmatic enough to understand that Sri Lanka's rapprochement towards China is a result of a series of flip-flops by the Indian government during the final phase of the war in Sri Lanka.
Referring to the key criticisms of the international community in the closing phase and immediate post-conflict phase of the war, it is unclear what measures India proposes to Sri Lanka to overcome them. Even more obscure is if Modi supports to Sri Lanka at the UN Human Rights Council against council's continuous efforts in calling the international community to acquiesce tacitly with foreign interference into postwar Sri Lanka. First, the primary factor that makes sense in the present circumstances is that the Modi government has its distinct forms of strengths compared to the former Singh government. The fundamental change in policy seems to be Modi's potential in institutionalizing ethnic issues in Sri Lanka without succumbing to the Tamil Nadu's continuous pressure to support an international investigation into alleged human rights abuses by the Sri Lankan government military forces.  The second most crucial potential for strengthening postwar relationships is the signs of an increasing willingness of Sirisena to work in partnership with India in matters related to Sri Lanka. From Sri Lanka's point of view, all these prospects are still very new and offer lots of optimism. But it is still unclear whether India can engage in constructive dialogue against foreign interference and avoid Sri Lanka being dragged into the American orbit. There is no question that India considers the Tamil minority issue as dangerous, and the Chinese influence over security and economic matters in Sri Lanka, but the point seldom addressed by Modi is India's stand on the issue of international interference.
Several times in recent decades, India has appeared both unwilling and unable to emphasize that its policies regarding the Sri Lankan governments were centered on good faith and genuine partnership and that the stable democratic government system was of paramount importance. As such, it is crucial to understand that the Indian governments' actions and priorities are typically subject to change- and the Modi government is no exception. This complexity suggests that Sri Lanka not only is attentive to policies revealed by Modi, but also to intentions that are not yet revealed.