On January 15, close to 70 street vendors were removed from a stretch at Jwalanagar in Rampur. Muslim vendors have claimed that their slots have been given to new, Hindu vendors and that earlier Hindu vendors were allowed to return.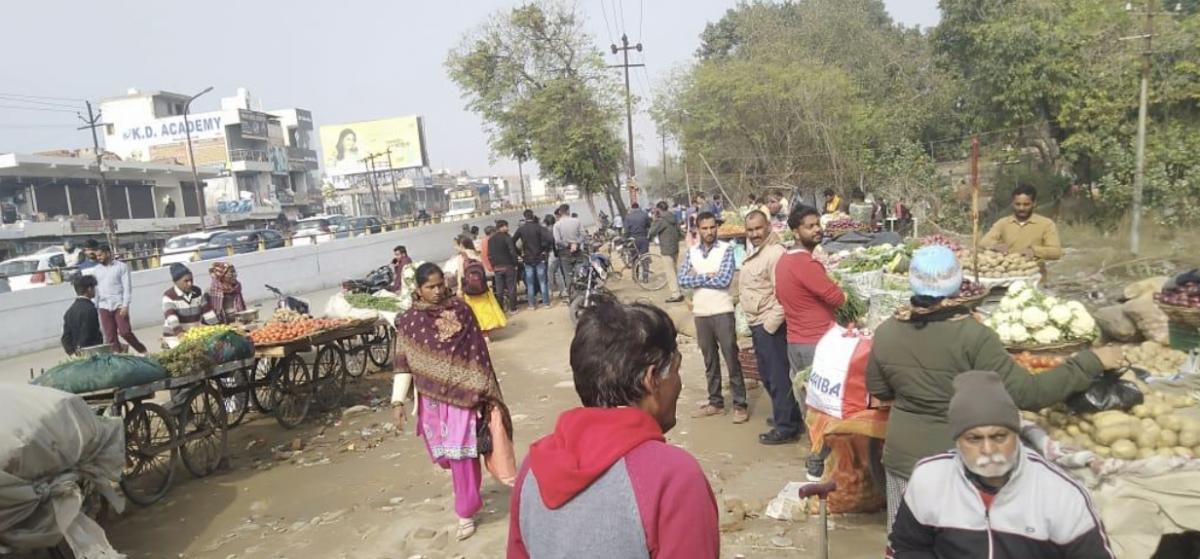 The Jwalanagar stretch from which Muslim vendors claim they have been shunted out. Photo: Yaqut Ali
Rampur (Uttar Pradesh): Muslim street vendors who have been setting up shop at the Jwalanagar area of Uttar Pradesh's Rampur city for nearly three decades have claimed they were removed by administration to make way for Hindu businesses. The local MLA has denied this.
"We have sold clothes here since 1984. These shops are our only livelihood. Now, they are gone," says Rashid*.
Rashid said that he and other street vendors like him who plied their trade from the Ram-Rahim Setu area received a notice from the municipality to fold up their shops on January 13. They had two days. Sellers like Rashid sell household items, toys and clothes.
After two days, he says, some had left in compliance with the notice. But on January 15, 12 officials from the municipal corporation and eight policemen arrived and destroyed the shops that were left, say Rashid and other vendors.
Rashid says that this sudden action took place even though he and others who had set up shop in the area had paid fees to the Municipal Corporation to run the street stalls.
A report on the Amar Ujala newspaper claims that 69 street vendors have been affected by this. However, a vendor, Hasmat* alleged that among those who were evicted, Hindu vendors were eventually allowed to sell goods on trolleys in the same area afterwards. The Muslims' spaces were allotted to new Hindu vendors, he alleged.
"Our place has been given to someone else," Hasmat says, adding that "people from Bajrang Dal" have set up trolleys where their shops used to be.
"We used to paint our shops saffron during Kawar Yatra, as we also make clothes and flags for them. But why are we being left out like this," he asks.
Cars allegedly owned by Bajrang Dal members routinely visit the area to ensure that Muslim vendors do not return, Hasmat says.
The vendors said that they have reached out to both the Rampur MLA and the District Magistrate for help, but so far, their pleas have been ignored. Some of the Muslim vendors The Wire spoke to said that the Bharatiya Janata Party lawmaker Akash Saxena refused to speak to Muslim vendors and only assured Hindu vendors that their spots would be returned.
Dilip Saxena, a vendor who was able to go back to his spot, tells The Wire that he has not faced a problem since returning and that the MLA had assured him of peace.
However, a section of Muslim vendors say MLA Saxena allegedly compared the area to Pakistan and said it is time to "clean it".
The MLA himself has denied all allegations and insisted that he has acted for everyone.
"I am working to make the city beautiful and no one is being dislocated from their place. However, if anyone feels that way, I encourage them to come to me for assistance and guarantee that their problems will be solved. In Rampur, both Ram and Rahim work together, and I see myself as a leader for everyone," MLA Saxena told The Wire.
He said that it was his estimate that of the approximately 250 street vendors in his constituency, around 100 were Muslim and 150 were Hindu.
The Wire saw that vendors are now operating out of the same area. When asked about the future of the beautification drive if vendors were still being allowed in the stretch, Saxena refused to address the query.
Shailendra Sharma, a trade union leader in Rampur, told The Wire that the street vendors did not receive any compensation or alternative spaces. He explained that the vendors had made permanent structures, but were asked to remove them by the government, which led to the demolition of their structures. However, the UP government's policy states that if a street vendor is forced to vacate their place of work, the government will provide them with an alternate space.
According to Gantavya Chandra, an advocate in the Allahabad high court, the government has the right to remove permanent structures, but it cannot evict vendors and replace them with others in the same location. This, he claims, is a violation of the law and an injustice to the vendors. Under the rules, vendors must be given a 30-day notice before they are removed from their places of work, and it is the government's responsibility to provide them with alternative means of livelihood.
*Names changed on request.
Courtesy: The Wire