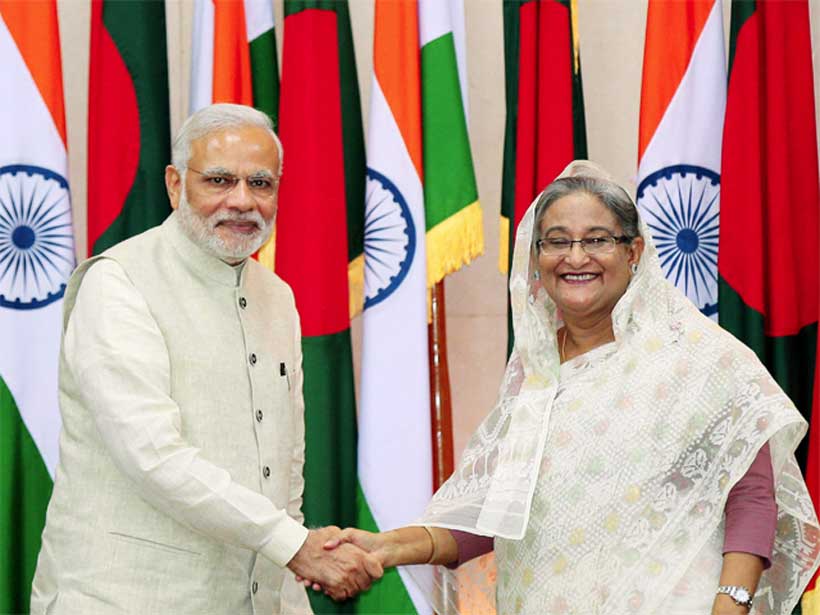 by John Rozario    9 April 2023
Uncertainty arose over their proposed power supply to Bangladesh after the Hindenburg Report imploded the Adani empire. Kolkata-based Adani Group executives, however, had always maintained that there would be no problem with power going to Bangladesh from the Godda plant in Jharkhand. In fact, this has happened, although a little delayed, 450 MW of electricity went to Bangladesh from Godda in Jharkhand last Thursday night.
Supply increased to 750 MW on Saturday. Adani kept his word. Jharkhand's Godda is busy now. The plant, which suffered from a wave of uncertainty, is now in full swing. Large turbines have been removed. The pipeline through which this electricity is passing is covered with puja vermilion.
After a 14-day feasibility test, every employee was excited when the first delivery arrived on Thursday night. Laddu is distributed. Bangladesh Power Development Board is only tied to cross-border thermal power agreement with India.
They are importing 1,160 megawatts of electricity from India. Power was entering from Baharampur via Kushtia-Bheramara and from Suryamoni in Tripura via Comilla to Bangladesh. Adani's Godda project is another crowning feather in this supply chain. Several villages of Bangladesh will s India's talked about Adani Group has claimed to supply power to Bangladesh commercially from the power plant built at Godda in Jharkhand. Adani Group has started commercial electricity production from yesterday after experimental production. Electricity has been coming to the country from this power plant since March 9. The last 14-day reliability test (reliability test) was successfully completed yesterday, and commercial production started at this power plant in India, about 100 km from the Bangladesh border. Reliability testing here refers to uninterrupted production operations at full capacity for 72 consecutive hours in the entire production facility. The test was concluded in the presence of the Technical Committee of Bangladesh Power Development Board (PDB).
However, the commercial production date (COD) has not been officially announced. It will be announced soon after some more processes are completed. According to the data of Power Grid Company of Bangladesh, since April 1, the power plant in the Godda district of Jharkhand, the eastern state of India, has been supplying an average of 750 MW of electricity. According to the information received, the power plant on 425 hectares of land in Godda produces 685 MW during peak day hours and 749 MW during peak evening hours. The power coming through a dedicated transmission line of about 106 km to the Indian border is coming from the first unit of the 1,600 MW ultra-supercritical plant. Adani Group officials said the second unit is going to start production soon. During the 25-year contract period with Adani, PDB is bound to take 34 percent of the electricity generated from the plant every year.
Adani Group said in a statement on April 2, that the price of electricity from this power plant built at an estimated cost of 14 thousand 816 crore rupees will be zero decimal 1363 dollars per kilowatt hour at the current coal rate in the international market. The fuel cost will be $0.0939 per kilowatt-hour and the capacity charge will be $0.0424 per kilowatt. The statement added, "Adani Godda wishes to state that the price of power produced (by Adani) will never be higher than that of Rampal, Matarbari and S Alam power plants."
According to the power purchase agreement between Adani Group and PDB, Godda's coal price will be determined based on the average price of the Indonesian HBA index and the Australian Global Coal Newcastle index.
After the collapse of the shares, widespread discussion and criticism began about the electricity exports of Indian industrialist Adani to Bangladesh. Finally, Adani Group is exporting electricity to Bangladesh. Adani Group has built two units of power plant of about 1600 MW in Jharkhand to export power to Bangladesh. In February, Bangladesh's Minister of State for Power, Energy and Mineral Resources Nasrul Hamid said in Dhaka that Bangladesh will receive electricity from Adani Group in March. Also, there is no problem with electricity price. Adani's power plant was scheduled to be commissioned on February 28. About 750 MW of electricity is expected to go from Adani to Bangladesh in the first unit in early March 2023. Then Bangladesh will get electricity from the second unit in April. In the first week of April, it was known that Adani's electricity has reached Bangladesh. Bangladesh Power Development Board (Bangladesh Power Development Board) has announced to get electricity from Adani Power (Adani Power) of the Indian group (Adani Group). In the last two days, Adani Power supplied Bangladesh with 720 to 750 MW of electricity every hour. Adani's coal-based power plant in Godda area of Jharkhand, India has a production capacity of about 1498 MW.
Bangladesh Power Development Board said that 450 megawatts of electricity were received from Adani Power's Godda plant on Thursday night. It has been further increased to 750 MW. The spokesperson of BPDB said that the power supply from Godda plant will gradually increase in line with the demand. Bangladesh is getting quality electricity from Godda plant. Before starting commercial supply from Thursday, the Adani Power Plant at Godda in Jharkhand was tested for 72 hours of uninterrupted supply at peak load with 14 days reliability.
Adani Power and BPDB completed the transmission line work before the test. Power Grid Company of Bangladesh (PGCB) has constructed a 134 km transmission line from Chapainawabganj border to Bogra substation to receive electricity from Adani Power's Godda plant. Bangladesh currently imports 1160 MW of electricity from India. It receives 1000 MW of power from Baharampur in West Bengal via Bheramara in Kushtia and 160 MW per day from Suryamoni in Tripura via Comilla. India is the only country with which Bangladesh has Cross Border Electricity Trade (CBET).