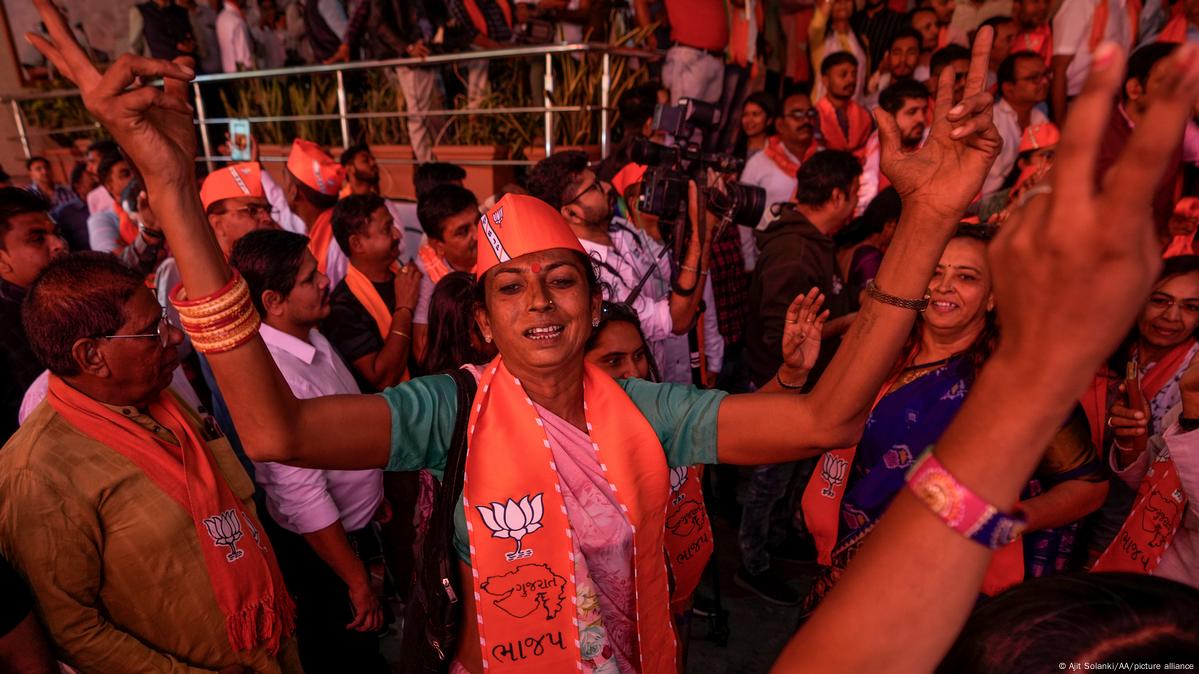 by Nilofar Suhrawardy     10 December 2022
What does Bharatiya Janata Party (BJP)'s victory in Gujarat and defeat in Himachal Pradesh Assembly suggest? Numerous speculations are being voiced about these election results. There is nothing astonishing about this. However, it is a little difficult to accept hype being raised about dismal performance of Congress and of Aam Aadmi Party (AAP) in Gujarat. BJP was expected to win Gujarat. Given the nature of Prime Minister Narendra Modi and Home Minister Amit Shah's Gujarat-campaign, it seems the two BJP-stalwarts left nothing to chance in ensuring a massive victory. Against the margin of votes, which contributed to BJP candidates' victory in most constituencies, deliberations being voiced about  AAP's entry in Gujarat having contributed to Congress winning lesser seats than it did in 2017 seem questionable.
Elementarily speaking, the number of seats and percentage of votes won together by Congress and AAP here are no match against those won by BJP in Modi's home state. Less than two dozen seats won by these parties don't add up to even 15% of 156 seats won by BJP in 182-member Assembly. Would it be fair to assume that Congress may have performed better had AAP not entered Gujarat? The margin with which most BJP candidates have won does not indicate this. If the votes of Congress and AAP are added together, in a significant number of constituencies they fall short of votes given to winning BJP candidates. This strongly indicates that irrespective of AAP choosing to enter Gujarat, BJP would have still regained its command here.
Voices raised about split in Muslim votes – because of AAP's entry – also lacks credibility. Simply speaking, Muslims in Gujarat form less than 10% of state's population. Besides, they have never been well-represented in the state Assembly. In 2017, two Muslims won, while this time only one succeeded. BJP did not field a single Muslim candidate but has won from 17 Muslim-dominated constituencies. The Congress has won from five. But BJP would have still registered victory even if all 17 seats had been bagged either by Congress, AAP or some other party. Nevertheless, the hard reality of split in Muslim votes cannot be attributed just to AAP. The role of vote-cutters such as candidates fielded by Assadudin Owaisi's party- All India Majlis-e-Ittehadul Muslimeen (AIMIM) cannot be ignored. Equally significant is that of numerous independent candidates, particularly Muslims contesting for these seats. For instance, 10 candidates contested from Bhuj. BJP candidate – Keshubhai Shivdas Patel- secured 53.59% votes from here. From Limbayat, 44 were in the fray, where Sangitaben Rajendra Patil of BJP won with 53.44% votes.
Interestingly, in Jamalpur-Khadia, BJP candidate got 35.17% votes against 45.88% of winner Imran Khedawala from Congress. Had AIMIM candidate not bagged 12.3% votes, the situation may have been different. Perhaps, Congress may have regained Dariapur as its candidate- Gyasuddin Shaikh gained 44.67% votes from here against 49.05% of winner Kausik Jain of BJP, if five others were not in the fray. But as mentioned earlier, victory in a few more constituencies would not have prevented BJP's return to power in Gujarat.
Perhaps, BJP's defeat in Himachal Pradesh needs to be given greater attention than its victory in Gujarat. Here, Muslim-vote bears lesser electoral significance than in Gujarat. Muslim-population is 2.18% of the state's population. Interestingly, it has been expressed in certain sections that BJP's defeat here may be due to the party being devoid of any minority to target. What needs greater attention is that despite Hindus constituting more than 95% of this state's population, BJP's religious-card failed to have any impact here. BJP probably was a little too confident about returning to power in Himachal Pradesh. A little more attention needs to be given to nature of defeat and victory faced by BJP and Congress, respectively.
Unlike in Gujarat, where BJP leads in seats gained by it and also in percentage of votes won by it, the picture in Himachal Pradesh is different. There isn't a major difference in the percentage of votes won by key parties with 43.9% favoring Congress and 43% -BJP. Yet, against Congress winning 58% of seats, BJP falls behind with 36%. While Congress has 40 seats, BJP – 25, three have gone to Independents in the 68-member Assembly. From one angle, failure of BJP to return to power here cannot be laid on split in votes because of any major role played by other parties as is the hype being raised regarding BJP's victory in Gujarat.
It is worth deliberately on percentage of votes won by Congress candidates exceeding by more than five percent, even ten percent against those of BJP rivals in quite a few constituencies in Himachal Pradesh. In several constituencies, more than 50% votes have been bagged by Congress. This is just an indicator of BJP having failed to give a strong fight to Congress here. This also signals that though total percentage of votes suggests a close race, the same cannot be said about all constituencies. As for instance, in Arki: Congress won 42.02% votes, BJP-18.28%; Bajinath: Congress- 50.32%, BJP-44.41%; Barsar: Congress- 48.16%, BJP-26.23%; Chamba: Congress- 53.28%, BJP-40.63%; Chintpurni: Congress-52.7%, BJP-44.87%; Dharampur: Congress- 51.9%, BJP- 46.84%; Doon: Congress- 51.89%, BJP- 40.86%; Fatehpur: Congress- 51.83%, BJP-40.36%; Gagret: Congress- 61.15%, BJP-37.62%; Ghumarwin: Congress- 51.96%, BJP-43.72%; Haroli: Congress-55.33%, BJP-42.23%; Jawalamukhi: Congress-46.48%, BJP-35.78%; Jubbal-Kotkhai: Congress-52.65%, BJP-44.15%; Kasauli: Congress-52.1%, BJP-39.6%; Kasumpti: Congress-55.43%, BJP-36.81%; Kinnaur: Congress-46.95%, BJP-31.15%; Kullu: Congress-42.56%, BJP-36-79%; Kutlehar: Congress-54.84%, BJP-43.49%; Lahaul & Spitii: Congress-52.91%, BJP-44.32%; Manali: Congress-49.46%, BJP-44.57%; Nadaun: Congress- 50.88%, BJP-46.14%; Nagrota: Congress- 59.88%, BJP-37.26%; Palampur: Congress- 53.72%, BJP-44.45%; Rohru: Congress- 61.9%, BJP- 27.03%; Shahpur: Congress- 55.39%, BJP- 36.86%; Shimla: Congress -51.35%, BJP- 41.48%; Shimla Rural: Congress- 60.19%, BJP- 36.54%; Solan: Congress – 51.54%, BJP- 44.93%; and in Theog: Congress – 29.47% & BJP- 21.49%.
Roughly 80% of the seats won by Congress in Himachal Pradesh display such leads. This is also apparently an indicator of not just defeat of BJP here but also its failure to convince the voters of the cards it has tried in Gujarat. Some importance must also be given to electoral strategies tried by Congress. Ironically, they failed to gain ample media coverage. This probably also suggests that media doesn't always give complete coverage to news. Also, irrespective of what media covers, during electoral period, the tendency of voters to give greater importance to what they perceive as correct cannot be ignored.
Besides, against this backdrop, what can be said about noise regarding Muslim votes? No political party- whatsoever be its religious credentials- can claim to representative of either all Indian Hindus or all Indian Muslims. In Gujarat, BJP's victory rests more strongly on it being Modi's home state and nature of BJP- stalwarts' campaign. Even a few seats won by its rivals defeat the rhetoric about so-called Hindu-card. Himachal Pradesh results are also a strong indicator of votes being split along political lines and not because of any religious-card. Perhaps, it is high time that division in votes along religious lines was reconsidered!