Jammu and Kashmir (often written as J&K) is bestowed with ample natural resources. The state is rich in forest resources, fresh water bodies, and medicinal plants. The state, particularly Kashmir valley, is also well known for its horticulture production of dry fruits like walnut, almond, apricot as well as fruits like pears, peaches, plums, figs and different varieties of apples. The valley is famous worldwide for its snow-clad mountain peaks, glaciers, fresh water lakes and gushing streams, green forests, meadows, pasture lands and hill stations. Being India's highest hill station Gulmarg is known for its winter sports and cable car throughout world. The other tourist destinations like Pahalgam, Sonmurg, Mughal Gardens and Dal Lake are famous throughout country. Because of natural beauty and greenery Kashmir is known as a paradise on earth. Some people used to call it Switzerland of India.
Most people in Kashmir are engaged in horticulture, agriculture and its allied sectors. Mainly, however, tourism and horticulture are two significant sources of income for the local population. These two sectors also provide their due share to the government treasuries. The government for last few years has taken significant interest in the area's horticulture and tourism industry. The Chief Minister visited Mumbai to meet Bollywood stars, celebrities and other sponsors for encouraging them to shoot films in Kashmir. The visit was very important for promoting and boosting a tourist influx in Kashmir.
In order to enhance the quality and productivity of horticultural produce Sheri Kashmir University of Agricultural Science and Technology was established in 1982. The university has made substantial contribution in research and technology by providing new varieties of agro-techniques. Since its inception the major areas of research has included crop production, crop protection, crop improvement, nutrient management, post harvest technology, forestry, sericulture, environmental sciences, agricultural engineering, veterinary science, fisheries and animal husbandry. The present paper is a humble attempt to look into the problems and losses suffered by these two vital sources of public income during the violent phase of insurgency in Kashmir.
In 2011 the number of tourists crossed a record one million in J&K—the highest figure in two decades comprised purely of tourists and did not include the one crore pilgrims who visited Mata Vaishno Devi's shrine and the 6.75 lakh devotees who visited Amarnath shrine in 2011. Significantly foreign tourist arrivals which dropped from 54,475 in 2009 to 48,099 in 2010 had picked up in Jammu and Kashmir in 2011. The upswing was due to the massive 60% dip in violence in valley (J&K Tourism Dept.). Now film makers instead of going abroad to shoot their movies have started to visit Kashmir. Many movies were filmed in Kashmir in the last few years. This obviously plays an important role in boosting tourism in Kashmir.
Another vital source of public income, horticulture is gaining momentum and its contribution to the state GDP has been around 7%-8% during the last few years. There are around six lakh families comprising 30 lakh people who are directly or indirectly associated with it. A revenue of Rs. 4100 crore has been generated from fruit production during 2011-12, which includes Rs. 495 crore from dry fruits. (Agri. Dept. J & K)
Insurgency
Kashmir as an intractable issue between India and Pakistan and has proved disastrous in terms of human lives as well as in terms of political, social and economic development. In mainland India when people were experiencing different opportunities because of India's liberalization and globalization policies during the 1990s, Kashmir was reeling under a dark phase of insurgency.
The insurgency then was rooted in the rigging of the 1987 elections in which the National Conference was declared the victorious party and the Muslim United Front (MUF) leaders as well as their workers were arrested and ruthlessly beaten. It acted as a catalyst for the insurgency when some of the state's legislative assembly members formed armed insurgent groups and reportedly went to Pakistan for training and brought back weapons to lead a freedom movement against India. This violent movement has extinguished more than one hundred thousand human lives and millions in property loss. Table 1 shows loss of human resource and property during the insurgency from 1989 to 2014 (Voice).
| | |
| --- | --- |
| Total killings | 94,180 |
| Custodial Killings | 7030 |
| Women widowed | 22,796 |
| Civilians arrested | 128,529 |
| Children orphaned | 107,520 |
| Women gang raped | 10,135 |
| Structures arsoned/destroyed | 10,6030 |
The figures shown in this table are officially revealed but the actual figures are far higher than these mainly because the Government of India has enacted and implemented many draconian and black laws in Kashmir to fight few hundreds of insurgents. The acts include Public Safety Act (PSA), Prevention of terrorist's Activities Act (POTA), Armed Forces Special Powers Act (AFSPA) and Disturbed Area Act (DAA). These Acts empowered the armed forces with unbridled powers and provided them legal impunity to fight the insurgency.
The insurgency has equally affected the government's status in Kashmir; six times governor's rule was imposed in the state since 1977 till 2015 (DNA 2012). Elected leaders are merely puppets in the hands of the central administration. Due to the heavy presence of Indian forces a large part of fertile horticulture land is occupied by them. Total land occupied by them in J & K is 570,133 kannals (Antony).
The rent paid by the army for the use of the said land is Rs. 3381 for irrigated and Rs. 4087 for double cropped, while Class 2 irrigated and unirrigated lands are compensated with Rs 3200 and 1390 respectively on an annual basis. The rent being paid by the army for uncultivable land stands at Rs. 895 and for fruit bearing orchards it is Rs. 10,000 per annum. Land falling under Jammu, Srinagar, Poonch, municipal committees and areas under Srinagar, Jammu cantonments are paid Rs. 33,750 annually.
The rent paid for the land occupied by these DEOs is far less than market rates or the revenue which would have been generated from this land either by bringing it under cultivation or construction of hotels, restaurants and shopping malls or other commercial purposes (Bashir, 2013). Srinagar city, the summer capital of the state, and other important tourist destinations have been converted into military zones as 700,000 troops are deployed in J&K for counter insurgency purposes.
Impact of insurgency on tourism
Insurgency has directly affected different sectors of the economy of Jammu and Kashmir, such as tourism, horticulture, agriculture, handlooms and handicraft, etc. which are the means of survival for the majority of the population of Kashmir. Tourism and horticulture, which are the most significant and emerging industries in J&K are the worst affected industries due to insurgency in the valley. Tourist destinations like Pahalgam, Gulmarg, Sonmurg, and Aharbal, Dal Lake are famous throughout country. Gulmarg being highest hill station of India is famous for winter sports and largest cable car lift. The Mughal gardens like Nishat Bagh, Shalimar Bagh, and Tulip Garden are other important tourist destinations in Kashmir valley. J&K also has a lot of potential for pilgrimage tourism; the state is full of religious sites and holy shrines. Most of these holy shrines are situated in and between the scenic surrounding of the Himalayas.
Every year millions of people visit these shrines, and this has led to a boom in the tourism industry of the state. Apart from this the state is notable for brotherhood and religious tolerance. Hari Parbat a religious center where a temple, a mosque and a gurudwara stand side by side is an epitome of religious brotherhood and tolerance.
The state also has great potential in adventure sports like mountaineering, trekking, water rafting, skiing, ice hockey, etc. Many of the tourist destinations have remained untapped and unreachable because of occupation by and establishment of field firing ranges (FFRs) for testing weapons by the Indian forces. Out of 51 FFRs 12 are in J&K state. This is highest number of FFRs in any state in the country.
    Table 2 shows some field firing ranges in Kashmir and land occupied by them:
| | |
| --- | --- |
| Name of FFRs | Land occupied (hectares) |
| Mahe in Leh | 67,953.97 |
| Tosa maidan in Budgam | 27,016 |
| Kulum in Leh | 24,858.50 |
| Kalith in Rajori | 15,604 |
| Chorkhud in Poonch | 10,625 |
| Tartar in Leh | 650 |
It is believed that if there had been no insurgency in Kashmir, tourism would have maintained its growth and it is estimated that tourist arrivals would have crossed the range of 18 to 24 lakh annually. Also, share of tourism to the state gross domestic product (SGDP) which was 10% in 1989-90, would have gone up to 18%- 25%. According to the Center for Monitoring the Indian Economy (CMIE) (2007-08) tourism alone contributed 8.7% to the SGDP.
An analysis of tourist numbers reveals that the influx of tourists in J&K has increased but tourist influx in the Kashmir valley has declined due to the insurgency and occupation of most tourist destinations by Indian forces, tourists preferred to visit Jammu and Ladakh instead of enjoying the greenery of Kashmir valley. The other reasons that led to the decline of tourist arrivals in Kashmir valley as cited by Sharma in 2012 are listed below:
Four tourists including a child were killed and 18 injured in June 2004 in the resort in Pahalgam. Tourists were having lunch when unknown persons hurled a grenade on the restaurant.
Militants attacked a tourist bus killing four persons and injuring seven tourists on May 25, 2006.
At Zakura militants threw a grenade on a tourist bus killing two women and a child on the spot while another died in the hospital.
In Dalgate militants hurled grenades on two tourist buses from west Bengal injuring 22 persons.
On June 1, 2006 four people were killed and six were injured in an explosion near Hazratbal in Srinagar.
In old city Srinagar six tourists were killed and forty others were injured when militants attacked tourist buses; a similar attack was carried out on May 31 injuring 21 tourists.
In an explosion 21 tourists were injured and six others were killed at Shalimar Garden in Srinagar.
Two women tourists from Maharashtra were killed and six others were injured when militants hurled a grenade on a tourist tempo in Anantnag district on July 28, 2012.
In a grenade attack in Anantnag killed a pilgrim and a cab driver and injured three other persons. Unknown persons attacked Nunwan camp near Amarnath cave when 12 persons including five pilgrims and five workers were wounded. In another attack fifteen pilgrims were injured.
According to estimates by the Chamber of Commerce and Industries J&K the state has suffered a loss of 27 million tourists from 1989 to 2002 resulting in a revenue loss of Rs. 190.8 billion which in turn caused unimaginable losses to those who were directly or indirectly related with the tourism sector in Kashmir. A study conducted by JNU reveals that at least 66% of houseboat and Shikara owners changed their occupation during the violence in the valley.
Table 3 shows the impact of turmoil in the valley on the employment of people who were directly or indirectly associated with the tourism sector.
Table 3:  Impact of insurgency on houseboat, hotel and Shikara owners 1989 to 2011
| | | | |
| --- | --- | --- | --- |
| Impact of insurgency on tourism in Kashmir valley | Houseboat owners | Hotel owners | Shikara owners |
| Average level of occupancy of tourists before insurgency | 78% | 70% | 80% |
| Average level of occupancy of tourists after insurgency | 7% | 8% | 10% |
| Change  in occupation during insurgency | 66% | 54% | 45% |
In addition, during the unrest in 2010, in Srinagar city alone, 3500 hotels with 25,000 rooms had zero occupancy, which naturally resulted in huge economic losses to the owners and forced 300 tourism businesses to close and search for alternative occupations.
As stated earlier, Indian forces have occupied many buildings in J&K which has affected not only tourism but the occupation of a large part of the population in Kashmir (Kashmir images).
Table 4: Different structures occupied by Indian forces in J&K
School buildings
Private buildings
Government

buildings

Hospitals
Hotels
Industrial units
Cinemas
179
2229
546
40
61
51
8
Impact on horticulture in Kashmir valley
Horticulture plays a significant role in the state's economy. More than 70% of the population is directly or indirectly involved in horticulture and its allied sectors in J&K. It is one of the biggest employment generating sectors in the state. Because of the climatic diversity—varying from subtropical in Jammu, temperate in Kashmir, and cold arid in Ladakh—makes it suitable for varied cultivations. The temperate fruits cultivated in Kashmir include fine quality of apples, cherries, pears, peaches, plums, apricot, strawberry, and walnuts, almonds, and saffron.
The land under horticulture cultivation in J&K is 325,134 hectares. The production of fruits and dry fruits during 2009-10 and 2010-11 was 22.22 lakh metric tons. Nearly 4.6 lakh people are directly or indirectly involved in this sector and earn Rs. 500 million per year. Over seven crore fruit boxes are exported every year. Area under fruit cultivation in the state has shown an increase of 2.94% and production has increased from 16.19 lakh metric tons in 2008-09 to 17.13 metric tons in 2009-10, an increase of 1.3% (J&K Agri. Dept).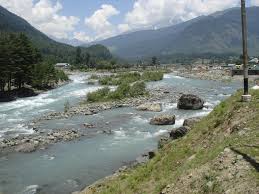 This sector was also affected by the insurgency. A major part of cultivable land is under the occupation of Indian forces which has remain unutilized for many years, as per the figures revealed by then defense minister A.K Antony. The army holds more than 1000 acres of land at Badami Bagh housing the 15 corps headquarters. In Damoder Karewa the Air Force base is spread over 2493 acres of land and people had no option other than to sell the land to the defense ministry (Bukhari 2013s).
An analysis reveals that area under horticulture cultivation, production and productivity has considerably increased from 2006 to 2011. This indicates that with peaceful environment in the valley horticulture cultivation is also flourishing and contributing to the economy of the state of J&K.
The problems and challenges faced by tourism and horticulture are summarized here:
The first and foremost problem is lack of a peaceful environment which, instead, was engulfed by insurgency during the past three decades.
Occupancy of most tourist destinations and cultivable land by the Indian Army which forced the land to remain untapped and unused for decades.
Lack of proper infrastructure in both the sectors.
Lack of coordination between the government and other stakeholders of the industries.
Unregulated and rampant sale and marketing of hazardous and substandard pesticides and fertilizers and other agro-chemicals for horticulture purpose.
Fear among tourists both domestic and foreign of sudden uprising or unrest in the valley as has happens in the past.
Natural calamities like floods, untimely heavy snowfall, rainfall, hail storms and earthquakes.
Conclusion:
Tourism and horticulture are the lifeblood of the economy of J&K and there is dire need of all possible efforts to be undertaken for retaining, maintaining and sustaining these two vital industries. Both horticulture and tourism are opening a new window for earning through investment opportunities, which will help in revenue and employment generation as well as socio-economic development of the local population of Kashmir.
The government needs to work for the development of tourism infrastructure like roads, hotels and tourist destinations. Steps must be taken to restore and reconstruct ancient monuments and holy shrines in all three regions of J&K to attract more tourists and pilgrims. Tourist destinations should be modernized and new tourist destinations should be developed—destinations which are untapped till now, and military colonies should be reduced in order to attract more foreigners to visit the valley.
As for as horticultural production is concerned new markets (mandis) should be established, cold storage facilities ought to be provided to farmers. Strong laws should be enacted to curb the menace of rampant marketing and sale of substandard pesticides and fertilizers and other agro-chemicals in the valley. Cultivable land should be vacated by the army and transferred to their owners to enhance both agricultural and horticultural production. For uncultivable land under the army, rent should be hiked to market levels. Hotels, hospitals, industrial units, schools, private buildings, government buildings and cinema halls occupied by the army should be vacated and transferred to their respective owners for their utilization for commercial purposes.