After this decision backfires, an apology was issued, the chief of the temple authorities said it was a "wrong guess" on their part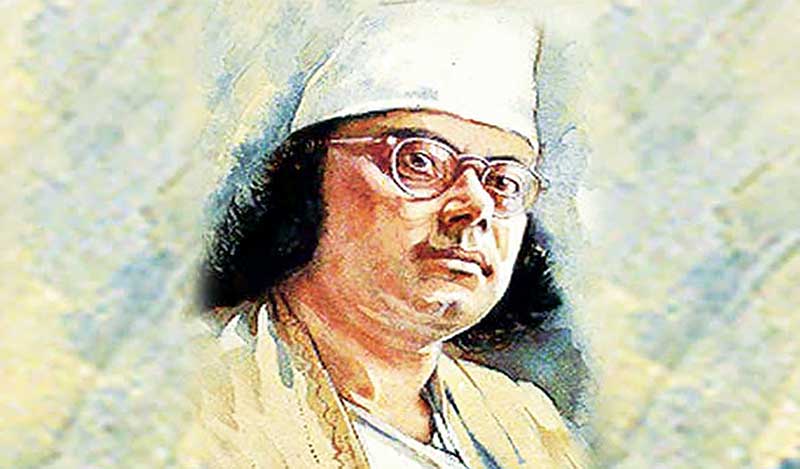 The administration of a Hindu temple in Navadwip has issued an unconditional apology after being accused of compelling a dance institute to remove a picture of poet Kazi Nazrul Islam allegedly because he was Muslim.
After a furore had risen amongst the residents of Navadwip, Mallika Dasi, the chief of the temple authorities, said it was a "wrong guess" on their part. "We thought devotees might object to the picture of Nazrul Islam. But we guessed wrong," she said.
The Radha Govinda Jiu temple authorities said it was a "mistake" that would not happen again, as reported by the Telegraph. Notably, the temple is of the Vaishnav sect.
"We have harmed the feelings of the town's residents. We realized that Kazi Nazrul Islam transcended communal boundaries. As a result, we issue an unconditional apology and assure all that an episode such as this will not be repeated," said the temple authorities in a statement on Tuesday, published by the Telegraph.
What had happened?
On Monday, the 'Navadwip Step Up Dance Academy' had rented the temple's Naat Manch for a musical soiree to honour two of the foremost icons of South Asian literature, Rabindranath Tagore, and Kazi Nazrul Islam, and had banners printed with their images for the stage.
However, just minutes before the program began, temple officials explicitly told the organisers not to use a picture of a "non-Hindu." They allegedly also directed the organisers to refrain from garlanding a photo of any such person, which they had planned to do, on the temple grounds. With no time to spare, the organisers had no choice but to follow the verbal order and proceed with the event without any banners or photos.
As had been reported by the Telegraph, the removal of the banners had piqued the interest of some in the audience, prompting them to investigate what had occurred, which resulted in social media posts. Shortly after, the incident sparked outrage in Nadia.
The dance academy's principal, Bandana Saha, said they were planning to display banners with images of the two greats as a tribute when the directives arrived as a rude shock.
"A temple official told me that any banner depicting Nazrul would be prohibited because he practiced a different religion. The official also told us not to decorate his image in the temple grounds." she stated. She also pointed out that the authorities had no objections to Tagore. Thus, even though it was underscored, it became clear to her that the issue with Nazrul's photographs was due to him being a Muslim.
Saha further explained, "We tried our hardest to persuade (the temple authorities' representative) that Nazrul was a man beyond any religious identity because of his immeasurable contribution to Bengali literature, music, and culture, which includes many devotional offerings in music for Hindu deities such as Krishna and Kali. But, unfortunately, they remained rigid, and we were forced to comply," as reported by the Telegraph.
Reactions in pursuant to this decision:
When word of the insult to Nazrul's legacy spread, it infuriated many Navadwip residents. "Nazrul Islam was born in an orthodox Sunni Muslim family. But, in reality, he was a pluralist who transcended all religious barriers," said Shyamasree Biswas Sengupta, an assistant professor in Kalyani University's Bengali department.
"It is quite shocking to learn that a person who composed thousands of songs, including Hindu religious devotional songs for Govinda (a name of Krishna, a foremost deity for Vaishnavs), was found objectionable at a Vaishnav temple," she added.
"This took place in Navadwip, which has always taken pride in its association with Chaitanya Mahaprabhu and the Bhakti movement, which dates back six centuries," said Santiranjan Dev, secretary of Navadwip Puratattva Parishad (Navadwip Antiquities Council).
Who was Kazi Nazrul Islam?
Nazrul Islam, the national poet of Bangladesh and known as the Bidrohi Kobi (Rebel Poet) by Bengalis around the world, was a 19th century literary icon and Indian freedom fighter from Asansol's Churulia. Known for his rebellious spirit and fervent patriotism, Kazi Nazrul Islam played a significant role in the Indian independence movement through his powerful writings. He composed numerous poems, songs, and essays that vividly depicted the struggles of the oppressed and advocated for social justice and equality. His poetic brilliance and evocative music earned him immense popularity among the masses. Nazrul Islam's contributions extend beyond literature and music. He was an ardent advocate for women's rights, religious harmony, and cultural diversity. His relentless pursuit of justice and freedom earned him the title of 'National Poet of Bangladesh'.
Related:
Political Power & narrow vision demonising Muslims, destroying harmony & defaming Varkari tradition says Sant Suhas Maharaj Phadtare: Trimbakeshwar row
The principles of democracy can't be scarified at altar of majoritarianism: Justice Govind Mathur
Majoritarianism doesn't enhance rights or material benefits of majority community: Prabhat Patnaik
Nehru, Ambedkar and Challenge of Majoritarianism
A pat on the back for brands that refuse to bow to right wing trolls
Who Says Holi Is Just A Hindu Festival? Muslim Scholars, Sufi Mystics, Mughal Emperors, Not To Speak Of Common Muslims, They All Celebrated Holi