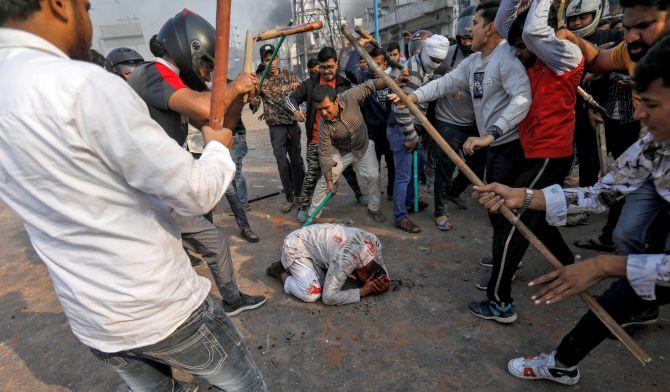 N Sathiya Moorthy, 6 March 2020
'Today, if the international community is seeking space, if not place, here, then the message is not unclear in any which way….It does not reflect well on the nation's standing in the international arena, where human rights issues go a long way in building bilateral relations and benefiting from international cooperation, more than any other aspect of politics and diplomacy,' N Sathiya Moorthy.
For a nation that implemented 'Responsibility to Protect', or 'R2P', in Bangladesh (1971) and Sri Lanka ('Operation Poomalai', 1987), long before the world and the UN (2005) recognised the concept, India now finds itself in the cross-hairs of global condemnation on the human rights front, of all issues.
It was brewing for some time, ever since the Geneva-based UN affiliate, HCHR, began mentioning India in the context of J&K before the abrogation of Article 370, and has since increased, more focussed and equally venomous, post-abrogation and more so, post-CAA.
It's easy for the government and the ruling Bharatiya Janata Party to declare they are all 'internal matters' of the nation. It is rightly so, but only up to a point.
As the experience of neighbouring Sri Lanka has shown since the successful conclusion of the 'LTTE war' in May 2009, 'internal matters' does not always remain as 'internal' as can be claimed. Whether or not anything flows out of it ultimately, and if any 'outside player', including the UN, can enforce a decision that is in violation of a domestic mandate, electoral or judicial, the global bad blood cannot be wished away for a long time to come.
It cannot be compromised or covered up through strategic partnerships, military procurements and trade pacts. There are nations beyond those that trade off strategic compromises and economic deals, for whom 'human rights' is an article of faith, though they may be choosy and selective in some cases (Sri Lanka, and now India) but can be less so when it comes to others (US in Afghanistan, Iraq and Syria).
For Sri Lanka, the 'external power' with an immediate interest going beyond the generalities of rights violation by the State was only India. The common Tamil ethnicity of a section of their populations and the southern 'Tamil Nadu factor' was an add-on element in India's generalised concerns on allegations of human rights violations in Sri Lanka.
In the case of India, the common Muslim identity of the currently affected sections of the Indian population and those of many nations across the world, including the immediate South Asian and West Asian neighbourhoods, are factors that cannot be ignored with such a one-line defence as 'internal matters'.
The nation's policy-makers will not be unaware of the processes, procedures and consequences. All of them go beyond the life and tenancy of a government and leader(s) in office.
The fact is the 'internal matter' of India does not find the same version from a section of the domestic constituency, including vociferous sections of the nation's polity and highly sensitive/sensitised sections of civil society. Their posturing and positions may not be as bad, for instance, as Tamil counterparts in Sri Lanka, but then, even their political statements of the past weeks and months, have a messaging that the world had ignored or over-looked and — yet documented for possible use in the future.
It is not about winning and losing elections nearer home, but more about hearing and listening to global opinion — and at times strictures. That may get delayed, not altered, by sweeping electoral wins of the 2014/19 LS poll victories of Prime Minister Narendra Modi and his ruling BJP-led 'Hindutva brigade' and worse.
Global 'delinquency' does not stop with CAA and J&K, not even with the 'Gujarat riots', where the Supreme Court of India has given the then state government under his leadership a 'clean chit', in form and content. This could cut either way, if and when the international community were to take a closer look now and take forward the current allegations against the Indian leadership.
In the midst of all this, they could also place violence related to 'ghar vapsi', lynchings, and allegations of 'love jihad' that happened under the Modi leadership's tenancy at the Centre, and his party's governance in the states where such incidents took place. The way the nation's police force handled them all, ending now with the 'Delhi riots', would be under international glare for once.
So could well be the mutually-contradictory observations of the nation's Supreme Court, among others.
They may not be challenged, nor may even be questioned — but their finding a mention in an international document could well add to the nation's embarrassment.
In the 'Jamia Milla case' not very long ago, a Bench under Chief Justice of India S A Bobde reportedly refused to hear the case until violence and destruction of public property did not stop. "Just because they are students, it does not mean they can take law and order into their hands. This has to be decided when things cool down. This is not the frame of mind when we can decide anything. Let rioting stop," media reports quoted CJI Bobde as observing in open court.
Only weeks later, a Bench of the Supreme Court, also chaired by Chief Justice Bobde, threw up its hands, as if in disgust, when approached for effective action to hold those responsible for the 'Delhi riots' to account. In this case, however, the Delhi police were among those alleged to have indulged in large-scale violence on the very evening US President Donald Trump was leaving after a very successful India visit.
Because they were only the CJI's oral observations and did not form a part of any order of the court, there are no legal points here, but they could all be pointers to the way the international community, starting with the international media and international human rights organisations, could begin with interpreting the effectiveness of 'institutions' in India.
Given an opportunity to present its case for being inducted as amicus curiae of sorts in the pending 'CAA case' in the Supreme Court, the UNHCHR could well list them out, however obliquely they could be.
It is becoming increasingly clear that those that are in charge of manning the nation's police seem to have experience in starting off riots as in Gujarat 2002 and Delhi 2020, but do not know how to douse the same.
For now, however, ruling BJP leaders can be expected to dub the political Opposition 'anti-nationals' even more loudly than already, but that is not going to change the fortunes for them in the international arena.
In this case, they only need to remember that unlike their Congress predecessors, they have been the ones to deliberately 'externalise' what has remained an 'internal matter' of India, if only to market themselves more than the nation, to their overseas acolytes and leaderships — and are now possibly beginning to pay the price for the same.
In the past, whenever an 'institution', be it Executive or the Legislature, 'failed' the nation, the Judiciary would step in. Under T N Seshan, the Election Commission came to uphold the nation's inherent character and underscore the people's faith in democracy. Today, if the international community is seeking space, if not place, here, then the message is not unclear in any which way.
It does not reflect well on the nation's standing in the international arena, where human rights issues go a long way in building bilateral relations and benefiting from international cooperation, more than any aspect of politics and diplomacy. If in between, anyone thought that attestation of India's position on Pakistan's terrorism at long last implied that the international community would go all the way on all issues of global concern, the shoe is not on the right foot — nothing more, nothing less.