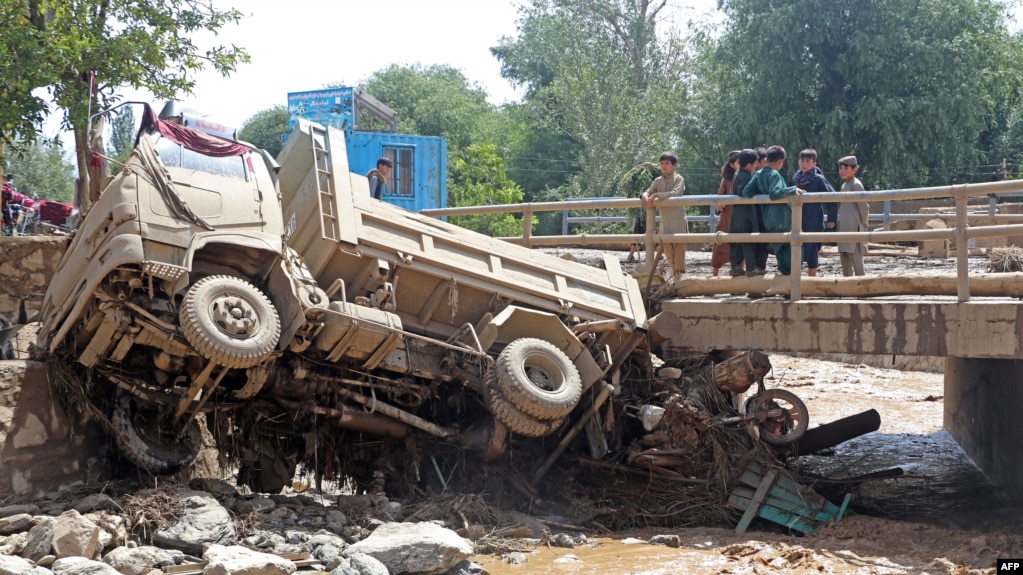 The Taliban-led government says at least 38 people have been killed and 57 injured in floods that have raged across Afghanistan in recent days.
Government spokesman Shafiullah Rahimi told RFE/RL's Radio Azadi on July 24 that the casualty figures were likely to rise and that thousands of acres of agricultural land and at least 900 houses have been destroyed.
Rahimi said the floods have affected eight of Afghanistan's 34 provinces, although he warned that heavy rains and high waters could hit a further 13 provinces in the coming days.
In a statement on July 23, the Taliban called on international aid agencies to provide emergency support to the tens of thousands of people affected by the floods.
The worst affected areas were in the central province of Maidan Wardak, where at least 12 people have been killed.
Gol Nabi, a farmer in the province's Joghtoi district, said the floods have destroyed two acres of his land.
"Our wheat yield has been completely ruined," he told Radio Azadi, adding that locals have received no help from the authorities or foreign NGOs.
Wahid Aqmal, a resident of the neighboring province of Ghazni, said the floods have destroyed the main bridge and water canals in the district of Rashidan.
"Almost all the agricultural lands in Rashidan have been flooded," the 25-year-old told Radio Azadi. "The floods have come during harvest season and destroyed all the crops."
The recent floods are likely to exacerbate the devastating economic and humanitarian crisis in Afghanistan.
The United Nations estimates that some 28 million Afghans, or more than two-thirds of the country's population of around 40 million, need humanitarian assistance. Six million Afghans are on the brink of starvation.
Hundreds of Afghans are killed every year in torrential rains, landslides, and floods, particularly in rural areas where poorly built homes are often at risk of collapse.
The UN has said that decades of war, environmental degradation, and climate change have made a growing number of Afghans vulnerable to natural disasters.