Ruling and opposition parties have chosen to appease Islamists for political expediency instead of countering them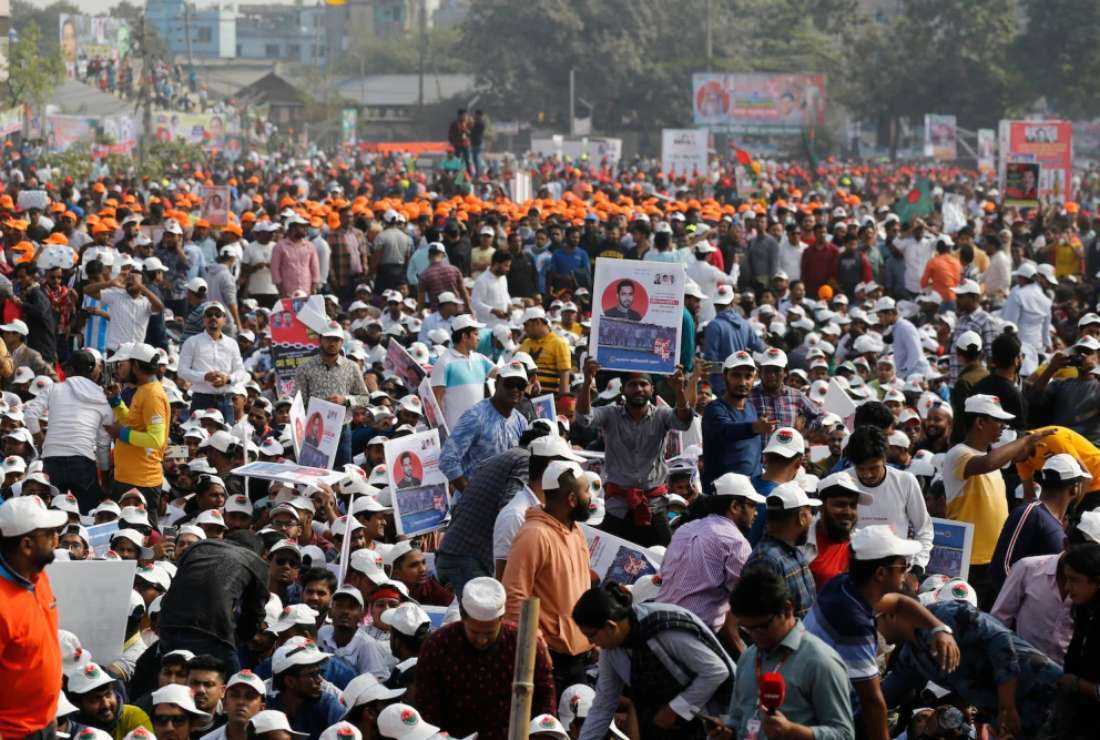 Supporters of the opposition Bangladesh Nationalist Party take part in a rally in Dhaka, Bangladesh, on Dec. 10, 2022. (Rehman Asad/AFP via Getty Images)
An election is looming in Bangladesh with the country set to go to the polls in January 2024, the 12th election since the South Asian nation gained independence from Pakistan in 1971, following a brutal war.
Bitter experience with past elections, demagogic politics, and betrayal of the poor by political parties have taught the masses to expect nothing from another election.
Most of the Muslim-majority nation's 165 million people are overburdened with a failing economy, high inflation and soaring living costs. They can barely afford to think about the election.
Bangladesh is also distracted from its liberation war spirit — democracy, socialism, secularism and nationalism — which defied Islamic Pakistan more than five decades ago. Today, the country is gradually slipping into Islamic orthodoxy.
"Elections bring luck to certain people. What is in it for us?"
The masses would appreciate a regime change to end the misrule of the Awami League (AL), which has held onto power after much-criticized and rigged elections in 2014 and 2018.
But people are also indifferent to the opposition's call to participate in an anti-government movement, apparently to avoid being used as pawns in a power game that has cost them dearly in the past. They no longer trust political promises.
The main opposition Bangladesh Nationalist Party's (BNP) nationwide rallies have drawn tens of thousands of supporters, but it is far from becoming a popular movement to overthrow a repressive government.
Rashid Mia, a roadside tea vendor in Dhaka's upscale Gulshan area, expects nothing from the election.
"Elections bring luck to certain people. What is in it for us?" he said.
illions like Mia are least worried about the AL hanging onto power, or civic space shrinking further, or whether Bangladesh slips under growing Chinese influence due to pressure from Western countries, including the US, or about elections not being free and fair.
"Big Western powers along with the rich class are desperate to hold an election, which hardly has anything to do with democracy," said Abul Quasem Fazlul Huq, a retired professor of Dhaka University, a social and political analyst.
"Democracy has been reduced to mere voting, in a planned way, resulting in the complete loss of public interest in it," he said.
The lack of democratic practice has divided people, cultivating a culture of hatred and facilitating Islamization in the Muslim-majority nation.
This has fueled a rise in Islamization since 2013 when militants started attacking and killing liberals, secularists, minorities, and foreigners.
"Minority community leaders have openly accused the AL government of discrimination and apathy"
Religious and ethnic minorities are the main victims of the dysfunctional democracy. They have been fighting for their due rights for more than five decades and have seen their numbers shrink for various reasons including ongoing oppression and discrimination.
The 2022 census found ethnic and religious minorities drop by 0.10 percent and 0.63 percent respectively while Muslim numbers increased by 0.65 percent.
Minority community leaders have openly accused the AL government of discrimination and apathy that have exposed their people to exploitation, repression and eviction.
"What is concerning for us is the fact that the two main political parties are going to use Islam in the next election," said Shahriar Kabir, a journalist and human rights activist.
In 1947, when British rule ended in the subcontinent, he said, political Islam gave birth to Pakistan, which unleashed a reign of exploitation and repression in what is now Bangladesh.
After its independence from Pakistan, Bangladesh banned religion-based politics. But the ban was lifted after Bangladesh's founding leader and first president Sheikh Mujibur Rahman was assassinated in 1975. His eldest daughter Sheikh Hasina is the current prime minister.
Fifteen years of military rule until 1991 saw the key principle of secularism erased from the constitution and replaced with Absolute Trust and Faith in Almighty Allah in 1979 by then president Ziaur Rahman, a military general and the founder of the BNP.
Religion-based politics allowed Islamist parties to reappear and reorganize. The most prominent among them is Jamaat-e-Islami, a party that opposed Bangladesh's independence and was accused of war crimes for supporting the genocidal Pakistani military by forming Islamic militia forces.
"Political Islam has nothing to do with religious Islam. The only concern of political Islam is going for power," said Kabir.
However, this political Islam is not entirely home grown. It also has elements imported from mineral-rich, Wahhabi-Salafi Gulf states such as Saudi Arabia.
"Both AL and BNP who have shared power in rotation since the 1990s, chose to appease the Islamists instead of countering them"
Bangladesh started exporting manpower to the Middle East in the mid-1970s, which generated a regular channel to receive much-needed petrodollars. And, slowly the Arabian Islamist influence gained ground in the country.
Today, more Bangladeshi women wear the burqa and hijab than at any other time. Islamic gatherings like Waz Mehfils have largely replaced traditional cultural festivals such as Jatra (folk drama) and puppet dances. Hardline clerics often use Waz Mehfils to spread hatred against liberals and religious minorities.
As Islam became a dominant force, both AL and BNP who have shared power in rotation since the 1990s, chose to appease the Islamists instead of countering them. At different times since 1991, both parties have allied with the Islamist Jamaat-e-Islami.
It has become customary for Hasina and her rival — former prime minister Khaleda Zia — to go on the hajj before an election to show who is the better Muslim.
"In that competition, Sheikh Hasina outperformed Khaleda Zia over the last one and half decades," said Fazlul Huq.
Ahead of the 2018 election, the Hasina government recognized the top degree of Qawmi madrasas, traditional Islamic schools, as equivalent to a post-graduation one. The move elated Islamist leaders so much that they accorded Hasina the title 'Mother of Qawmi.'
Qawmi madrasas, which had about 1.4 million students in 2015, are accused of being a support base for the spread of political Islam.
"AL is using political Islam to stay in power," said Kabir, citing the government plan to build 560 model mosques and Islamic cultural centers across Bangladesh. The project worth 90 billion taka (US$822 million) reportedly draws funds from the Saudi government.
The BNP also has a history of courting Islamist parties and its 2001-2006 rule with Jamaat saw a sharp rise in Islamist extremist groups.
Currently, Bangladesh has 14 registered religion-based political parties, all loosely or directly allied with both the AL and BNP. The AL won the 2008 election by forming a rather strange 14-party alliance with center-right, center-left and right-wing political parties.
"Bangladesh has slipped into the grip of a materialistic and opportunistic group of people devoid of any ideology and whose words do not match their actions," said Fazlul Huq.
The next election, therefore, offers no hope of restoring democracy in an increasingly authoritarian, Islamist Bangladesh.
* Emran Hossain is a journalist based in Dhaka, the capital city of Bangladesh. The views expressed in this article are those of the author and do not necessarily reflect the official editorial position of UCA News.