India's religious groups have so often clashed, with recent years marred by violence. But a remarkable gesture has helped foster a rare harmony in one village.
As mason Nazim "Raja" Khan toiled over the construction of a Shiva temple in a Punjab village, a thought nagged at him.
There he was, a Muslim, building a Hindu temple. Yet there was no mosque nearby where he could worship.
"We had no place where we could offer namaz (prayers)," says the 40-year-old. "It wasn't nice for our relatives when they visited."
It rankled, so he raised it with the 400-strong Muslim community in his village of Moom, in rural north India. But they were too poor to afford the land.
'Would you give us some land?'
Most Muslims in the area do unskilled jobs, such as casual construction work, while the community's 400 or so Hindus and some 4,000 Sikhs are relatively well-off.
Fast forward 18 months – with the temple nearing completion – and Raja took an unprecedented step.
Earlier this year, he approached the temple administrators and told them: "You Hindus will soon have your new temple. And you already have an older one. But we Muslims have no place to worship, nor money to buy land. Would you give us a small area of your land?"
A week later, he had an answer. The temple management had decided to hand over nearly 900 sq ft (83 sq m) of vacant land next to their temple.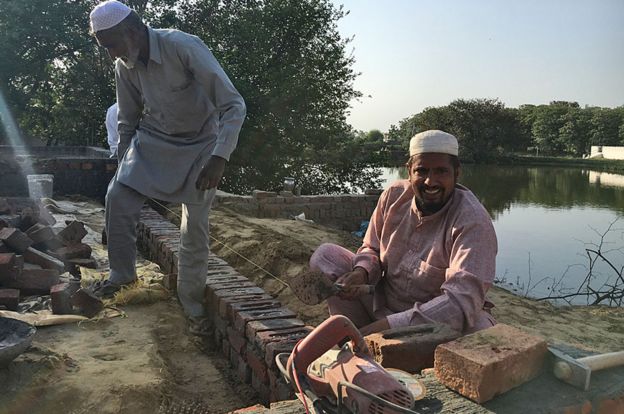 "I was ecstatic," says Raja. "I just couldn't find the words to express my gratitude."
Purshottam Lal, an ayurvedic medicine practitioner who sits on the temple management panel, explains: "It was a very genuine demand. It was unfair that while we all share our joys and sorrows together, [the Muslims] didn't have a mosque."
Two months on, Raja and a few other masons and labourers are happily building a place where Muslims can worship.
The Sikh community is contributing funds for the mosque, which shares its wall with their gurdwara, making for a rare example of communal harmony between the three religions in a land where minorities often complain about victimisation.
Limitations
In recent times, human rights groups have criticised the rise of what they see as an ultra-right Hindu nationalist government. Many say it has created an atmosphere of fear and mistrust between Hindus and Muslims.
However, in Moom, it seems the three communities live in a congenial atmosphere. There's no history of tension between them and people of all communities freely visit any place of worship.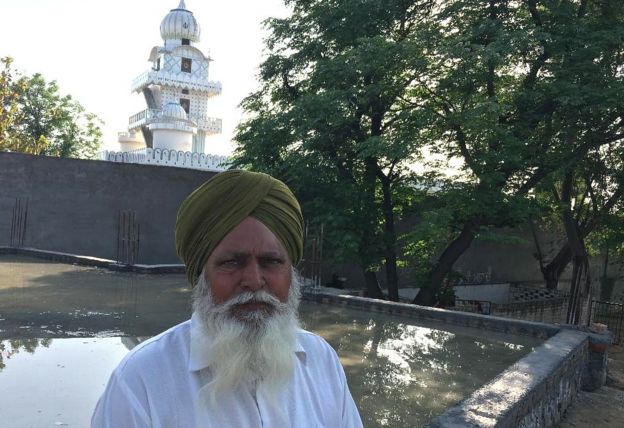 Most Hindus go to gurdwaras and some of them wear the turbans usually worn by Sikhs. They also visit homes of the other communities to attend their rituals and functions.
Gurdwara priest Giani Surjeet Singh says most functions – such as the Hindu holy recitation, geeta path – are held in the Sikh hall.
"People don't see this place just as a gurdwara but also that of a get-together point for their social functions," he adds.
Bharat Ram, a teacher who's active in temple affairs, says: "We're fortunate we haven't had political leaders who could polarise us or create the divide between communities.
"There is a brotherhood among people in this village that we have had since ancient times, and it meant we quickly decided to give land for the mosque."
The people of Pakistan and India would harbour no grudge with one another, were it not for politicians, he argues.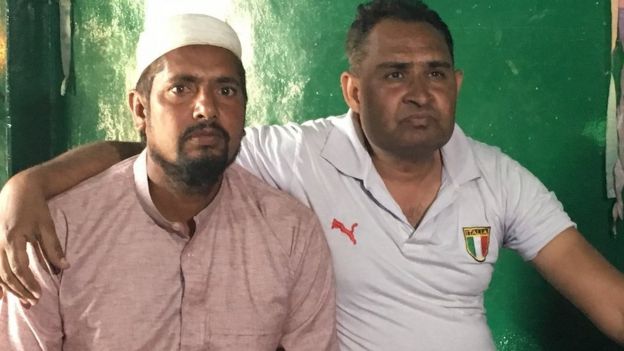 No one seems resentful of the donations of land or funds. Indeed, many Hindus and Sikhs believe the mosque won't just be for Muslims. "It's for all villagers," they say.
Yet, integration has its limitations. Ask them if they would like to see their sons and daughters marry into the other communities and the response is of shock.
"Look, brotherhood is one thing. Sikhs and Muslims are different religions," says Sikh panchayat (village council) member Chood Singh. "Such a thing can't be accepted in our village."
Bharat Sharma, a teacher and office bearer in the Hindu temple agrees: "This has neither happened in the past nor can it happen in the future."
This is a common opinion in India, where even marriage between different castes within the Hindu religion can provoke strong family opposition.
But compared with other parts of India, such as West Bengal where communal tensions are high, this village in Punjab appears like paradise.
"God is everywhere – be it a gurdwara, a mosque or a temple," says Mr Sharma.