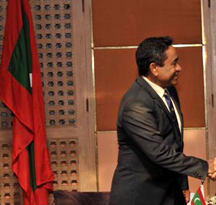 Political options seem to be narrowing down for former President Maumoon Abdul Gayoom after the Maldives High Court handed over the ruling Progressive Party of Maldives (PPM) to the charge of incumbent and half-brother, Abdulla Yameen. In doing so, the High Court upheld an equally fast-tracked civil court proceeding, and after Gayoom had publicly hoped for a fair verdict.
It's unclear if Gayoom would appeal now before the Supreme Court, and/or look at political alternatives for his camp. If nothing else, the courts thus far have cited Gayoom's reported unwillingness to call a meeting of the PPM's general council sought by Yameen's acolytes, as the only tangible reason for power-transfer within the ruling party. The question could arise that the Judiciary should have confined itself to directing Gayoom to call the council meeting, where however the numbers seem to be weighed in Yameen's favour.
If Gayoom does not move the Supreme Court, or loses the appeal there too, one option is for him to launch a new political party to call his own. Rather, it could become his only option, so to say. For someone dubbed an 'autocrat' for his 30-long year rule ending in 2008, Gayoom holds a Maldivian record for launching two political parties, one after the other. Ahead of the 2008 presidential polls, Gayoom launched the Dhivehi Rayaththunge Party (DRP), or the Maldivian People's Party. When differences arose with his chosen successor and losing running-mate from 2008 polls, Thasmeen Ali, Gayoom quit the party, to launch the PPM.
Ironically, Yameen, who had been a senior ministerial aide of Gayoom but went on to launch the People's Alliance (PA) ahead of the 2008 polls, joined the PPM before the 2013 presidential polls. He became the party's nominee in a controversial 'primaries', which was challenged in the courts but to no avail. Incidentally, Thasmeen Ali, who inherited DRP, went on to join Nasheed's MDP after losing the first round of presidential polls badly, this time as the running-mate of incumbent Mohammed Waheed Hassan Manik.
Opposition unity, but…
Ahead of the trial court verdict and as reigning PPM chair, Gayoom had invited all political parties except mainline Opposition, Maldivian Democratic Party (MDP), for an anti-Yameen conclave. Undeterred, the MDP-centric Maldives United Opposition (MUO) lost no time in inviting Gayoom to join in. In doing so, the MUO left behind MDP leader and former President Mohammed Nasheed's assertions that Gayoom was already in the Opposition camp and/or they were talking on a common front against Yameen.
While many MDP front-line leaders, including Nasheed and party chairman Ali Waheed, are overseas and are facing legal action nearer home for them to return, the party is being bugged by a new Election Commission (EC) order, reducing the registered membership by half. The MDP is acknowledged as the single largest party in the country, and Nasheed also recorded the highest single vote-share in the first round of presidential polls in 2013 – before losing to Yameen in the decisive, second run-off round.
Membership issues may not affect MDP's vote-share (until proved otherwise), but it could discourage the Gayoom camp with floating a new political party with hopes of obtaining the required 10,000 members for EC registration and State funding under the 2008 Constitution. The former is more serious an issue than the latter, as EC registration for any new political party to field a presidential candidate in the next presidential polls in 2018 may come under strain.
The MDP and the rest are already facing the stress in more ways than one — as Nasheed and some of his senior party colleagues and MUO compatriots cannot contest elections until they return home and face pending legal proceedings and/or judicial pronouncements from the past. Gayoom is over-aged under a Yameen law which Nasheed's MDP favoured in Parliament. So is Gasim Ibrahim, the second runner-up after Yameen in 2013. Gayoom was sort of instrumental in garnering Gasim's support for Yameen in the run-off polls against Nasheed, to come out victorious.
Just now, JP and possibly another ruling front ally of Yameen in 'Sun' Shiyam's Maldives Democratic Alliance (MDA) seem to be keeping their options open. The chances of either party, or both, fielding candidates for the first-round presidential polls in 2018 cannot be ruled out, but it need not automatically translate into continued support for Yameen until they are sure about the way the future politics is getting loaded. Though their second-rung too may be divided over continued support for Yameen after a point, they may have problems backing either of the other two groups, respectively under Gayoom and Mohammed Nasheed, for reasons from the past.
It's credibility in the case of Gayoom and trust for Nasheed. After all, almost every other party in Maldives is less than a decade old. All but the DRP first and the PPM later on were founded to challenge Gayoom's leadership and acceptance. Against this, Nasheed is still seen as unpredictable and unilateral, keeping allies and admirers second-guessing his next move all the time. If anything, there is a belief that since going overseas on a 'prison leave' earlier this year and obtaining 'political asylum' in the UK, he has also been keeping his international supporters nervous through his 'undiplomatic' decisions.
Just now, it looks as if it's advantage Yameen in Maldivian affairs. However, it remains to be seen how he could keep up the momentum of his own unilateral approaches to politics and political administration, including legal, judicial and electoral matters. After a point, his own luck could run out, in tactical terms nearer home, and strategic approaches on the international diplomatic front. It's then that Yameen could face problems from all sides as Gayoom faced during the long run-up to the 2008 polls, and even Nasheed could not escape during his short-term till 2012. Successor Waheed's case was in fact a non-starter, with greater legitimacy conferred more especially by Nasheed-led MDP's continuing challenges thrown at a 'minority' regime from within and without.