Some people have fled quarantine centres in India, complaining of inadequate facilities and the risk of getting the Covid-19 illness
But the Indian government says it is complying with WHO rules and improving facilities, saying old pictures are being circulated
Sonia Sarkar 25 Mar, 2020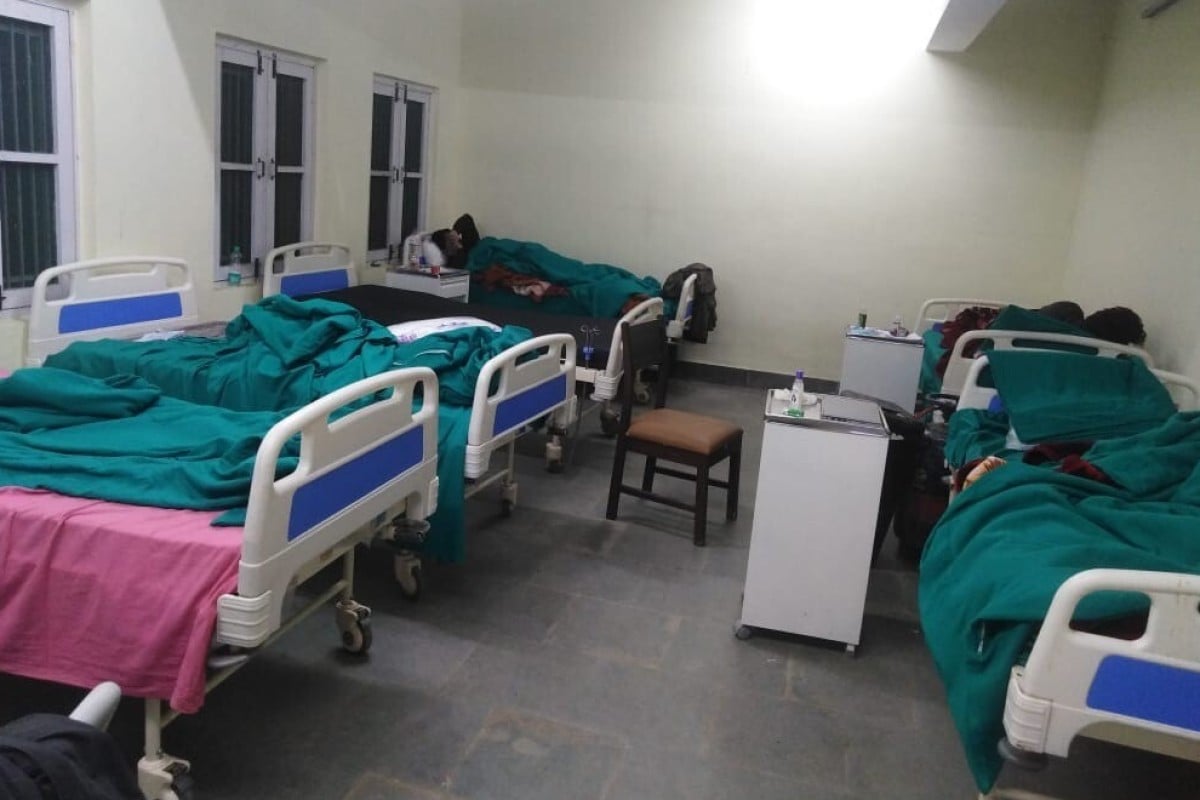 Seven hours after she arrived at New Delhi's international airport on March 16, Rhea Bhalla, a student in food business management in the US, was loaded onto a bus with 20 other people and taken to an Indian government-run coronavirus quarantine centre at Narela, 40km away.
She was asked to share a dark room with another person. There was no water in the bathroom she had to share with six others. The washbasin and the toilet carried stains from previous use. There was no drinking water.
"The water they gave us to drink was poured from a water tanker. When we refused to drink it, we were asked to drink it directly from the tap," said Bhalla, who rushed back home from an educational exchange programme in Spain that ended abruptly because of the coronavirus outbreak.
Bhalla sent pictures of the quarantine centre to her mother, who posted them on social media, leading to a public outcry. At about 3am the next day, after spending 12 hours at the centre and hours at the airport, she and many others were allowed to move to a hotel in the city.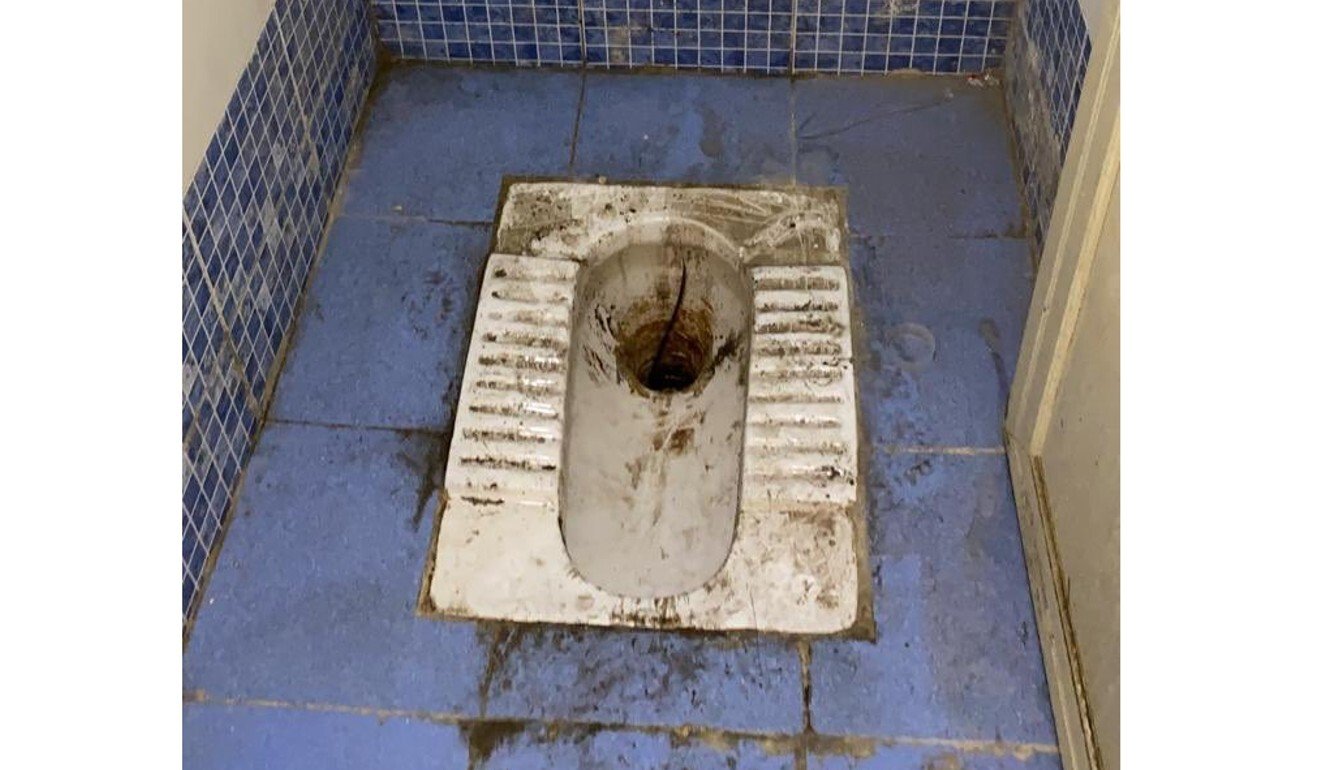 Quarantine centre in Narela, Delhi. Photo: Rhea Bhalla
"I understand the importance of quarantine but this was not even fulfilling the set conditions of quarantine," said Bhalla, who is paying US$40 per night for the hotel stay. At her quarantine centre, senior citizens with bad coughs were put into the same room that had put others "at risk of contracting the infection".
It was the same fear of cross-contamination that forced three doctoral students from Uttar Pradesh's Aligarh Muslim University (AMU) to leave a health care centre. After being self-quarantined for nine days in their respective hostel rooms following their return from Dubai, they were sent to a facility on March 18 where they were made to stay in one room.
"There were three separate iron beds with no bedsheets to cover them. There were no hand sanitisers and masks available. Nobody checked our temperature the whole day," said Rather, 28, who is pursuing postdoctoral studies in economics and asked just to use his surname.
"Later at night, when we came to know that a person who recently travelled to Iran was supposed to stay in the same ward, we informed the hospital authorities in writing that we would leave for our homes in Kashmir because we feared getting infected from the new entrant," said Rather.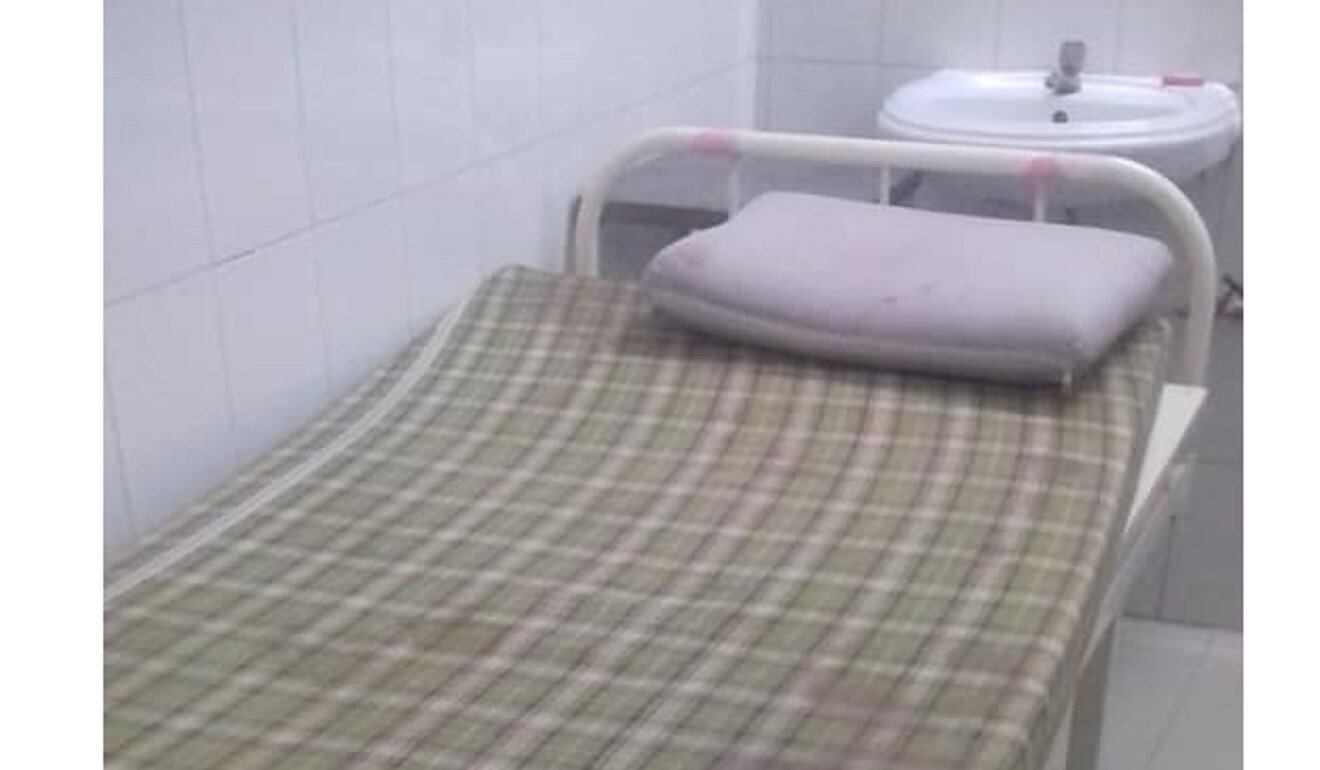 They took a train to Jammu and then a taxi to their hometown in Baramulla in Kashmir. By then, the authorities had issued a letter saying the three had left without permission. This was leaked on social media before authorities retracted it. But the administration in Kashmir started to track them.
"I had just reached home and the police arrived to arrest me," said Rather, who was taken to a district hospital in north Kashmir for quarantine along with the two others.
The facilities there were no better. They shared the room with four others. Beds were laid out next to each other. Seven people used one toilet. The dustbin in the room was overflowing with garbage.
"Nobody came to check our body temperature, we checked it on our own," said 29-year-old Bilal Ahmad Rather, no relation to the other Rather and one of the three AMU scholars in quarantine. "A local who came back from China was kept with us in the same ward. Doctors said that we are fine but we feared contracting the infection from him."
On Monday, they were moved to different hospitals, sharing an ambulance with nine others.
Vinay Kumar, who returned home with his wife to New Delhi from Frankfurt, Germany, on March 16, said he has no faith in the government system as they have not had any medical check-ups since arriving.
Kumar, who has self-quarantined himself along with his wife at home, said after their flight landed at 9.30am that day they were asked to "adjust" along with 156 other passengers in an "isolation" ward of 30 beds at a quarantine centre in Gurgaon. Their passports were seized.
"Till 10pm, there was no medical team to examine us, including two pregnant women. At 10.30pm, we were provided food – rice, lentils and vegetables. Later, we were asked to leave by signing a self- declaration form and our passports were given back. The buses dropped us off at the airport at midnight," said Kumar, a researcher.
Videos showing broken beds, stained toilet seats and wash basins filled with betel juice and waterless taps were posted on social media, mostly from Delhi, Haryana and Maharashtra. People complained that no tests were conducted and no masks, sanitisers or soaps were given out to people waiting at quarantine centres for as long as 13 hours, in some cases.
There were reports of 15 people returning from high-risk countries suspected of coronavirus infection who fled two separate hospitals in Maharashtra's Navi Mumbai and Nagpur.
According to the World Health Organisation (WHO), people in quarantine must be placed in adequately ventilated spacious single rooms with hand hygiene and toilet facilities. In the absence of single rooms, beds should be placed one metre apart.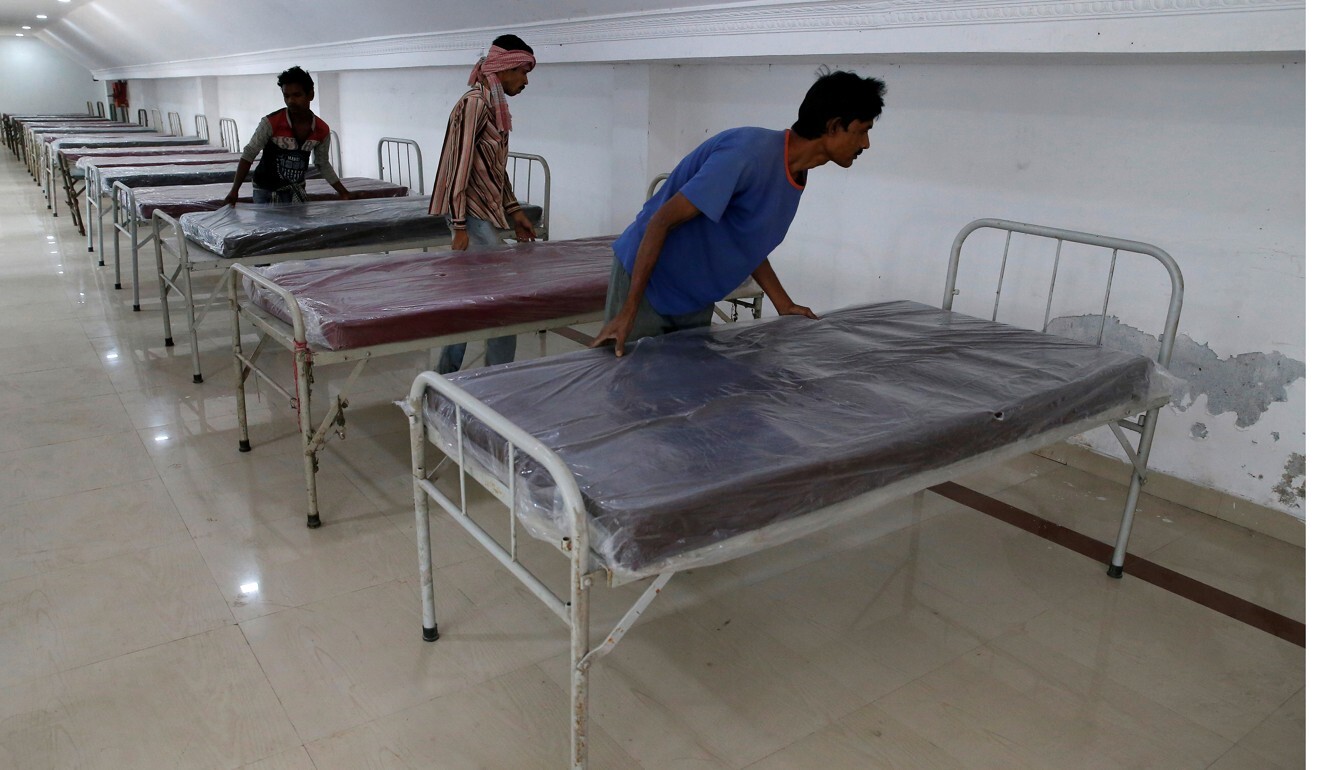 The principal spokesperson of the Indian government, K. S. Dhatwalia, said India is following these rules. "We are able to offer certain facilities to people in quarantine and we are improving by each day. Some people are circulating old pictures on social media to blame the government," said Dhatwalia.
He insisted that nobody is "escaping quarantine" and the government is bringing people back even if they do leave.
But the government is reticent in sharing the number of people quarantined and number of quarantine centres. "Data is lesser priority than saving life first," Dhatwalia said in a text message. When asked to elaborate in a phone call, he said he "cannot provide" the data.
Unconfirmed media reports on March 18 stated there were 40,000 people in quarantine.
If the people in quarantine do not maintain the required distance and if washbasins or the taps they use are not disinfected, there are chances of cross-transmission.Epidemiologist Alex Joseph
Health professionals are worried that unhygienic facilities in quarantine centres can lead to cross-contamination.
"If the people in quarantine do not maintain the required distance and if washbasins or the taps they use are not disinfected, there are chances of cross-transmission. This can lead to a disaster because they are all vulnerable," epidemiologist Alex Joseph warned. "People should make an effort to keep cleanliness at their own level as much as possible."
A paper on coronavirus in India by people's health movement Jan Swasthya Abhiyan (JSA) and All India People's Science Network (AIPSN), stated, "Before it sets in, the quarantines would work to contain the disease."
The paper, which was moderated by T. Sundaraman, the former executive director of the National Health Systems Resource Centre, an advisory body to the health ministry, also stressed that people under quarantine have "rights that must be protected" as the state "empowers itself with huge, often unnecessary powers under the epidemic".
Doctors Association of Kashmir general secretary Owais Ahmad Dar stressed that quality quarantine facilities should be provided to ensure people in quarantine do not suffer from "mental stress".
Bhalla has now filed a petition with Change.org pressing the government to improve quarantine conditions. About 50,000 people have signed it so far.
"But many trolled my mother on social media. We were told that people like us should never be allowed to come to India and we were brats asking for five-star welcome in the time of crisis," Bhalla said.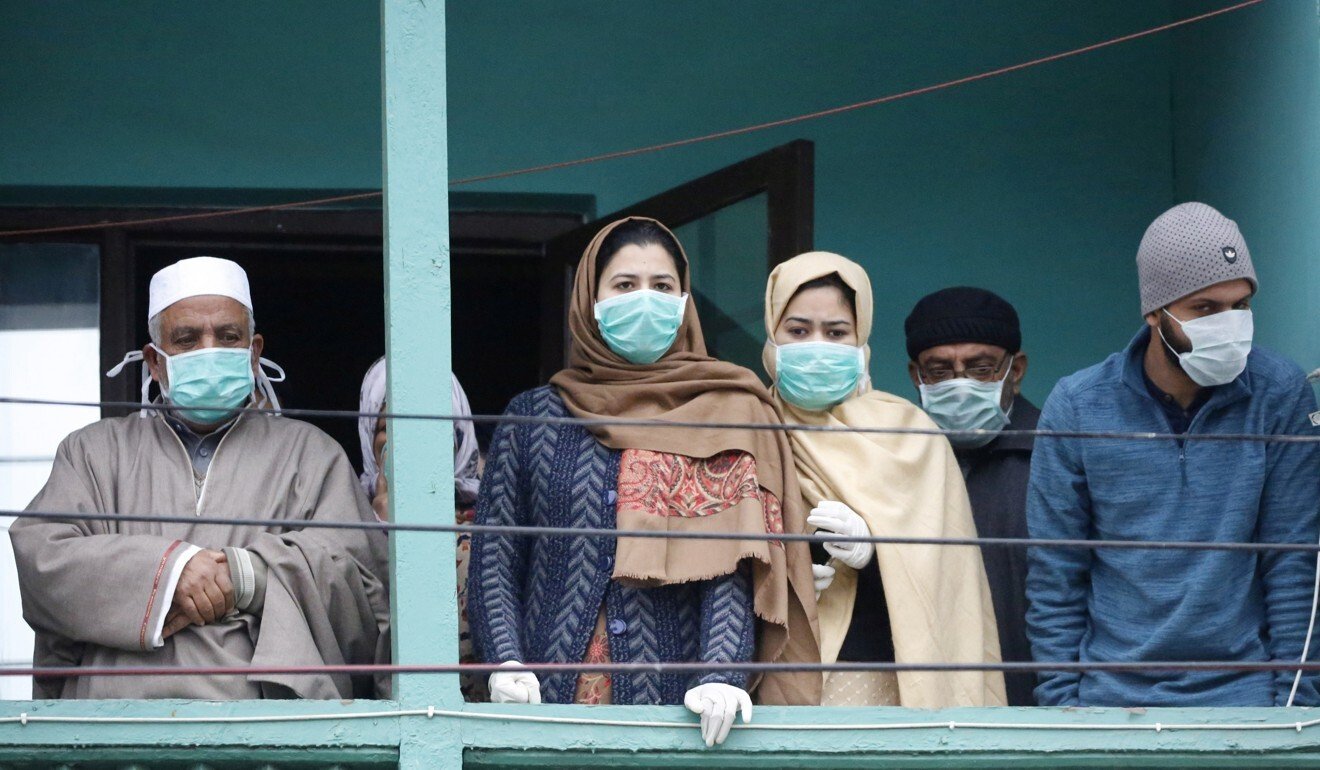 A group of people who returned to Kashmir from the Gulf look on from a hotel in Srinagar, where they have been kept in quarantine. Photo: EPA-EFE
Rather said that many locals "blamed us for spreading the infection without even knowing that we are not carrying it".
For Bhalla, it was not the pleasant homecoming she had expected. "I was horrified not only to be at the quarantine centre but also by the vicious campaign that followed thereafter against us," she said.
Purchase the China AI Report 2020 brought to you by SCMP Research and enjoy a 20% discount (original price US$400). This 60-page all new intelligence report gives you first-hand insights and analysis into the latest industry developments and intelligence about China AI. Get exclusive access to our webinars for continuous learning, and interact with China AI executives in live Q&A. Offer valid until 31 March 2020.
This article appeared in the South China Morning Post print edition as: quarantine centres fail to make grade, users complain