Jinping in his address during the delegation-level talks said that he and Modi had engaged in 'candid conversations like friends, heart-to-heart discussions on bilateral relations'.
SNS Web | New Delhi | October 12, 2019
On Day 2 of the second informal summit, Chinese President Xi Jinping thanked Prime Minister Narendra Modi for the hospitality extended towards him during his two-day stay in Chennai.
"We are really overwhelmed by your hospitality. Me and my colleagues have felt that very strongly. This will be a memorable experience for me and us," Xi Jinping said during the delegation-level talks.
Jinping further said that he and Modi had engaged in "candid conversations like friends, heart-to-heart discussions on bilateral relations".
At the delegation-level talks with China's Xi Jinping, PM Modi said that the China vision has helped in starting a "new chapter in our relationship". "Had in-depth discussions on bilateral relations. We decided not to allow disputes to be created," Modi said in a statement.
"We had decided that we will manage our differences prudently and won't allow them to turn into disputes. We will remain sensitive about our concerns and our relationship will contribute towards peace and stability in the world," he added.
Modi said that there have been deep cultural and trade relations between China and the state of Tamil Nadu. "For the most part of the last 2000 years, India and China have been the economic powers," he said.
The Prime Minister said that the first informal summit between India and China last year in Wuhan had led to fresh stability in the bilateral relations and gave a fresh momentum, adding that strategic communication between the two countries has also increased.
"The Wuhan Summit instilled a new momentum and trust in our relations and today's 'Chennai vision' is the start of a new era in India-China relations," PM Modi added.
From Wuhan Spirit to Chennai Vision

Beginning of a new era of cooperation as PM @narendramodi and President Xi discuss wide ranging issues at the delegation-level talks. .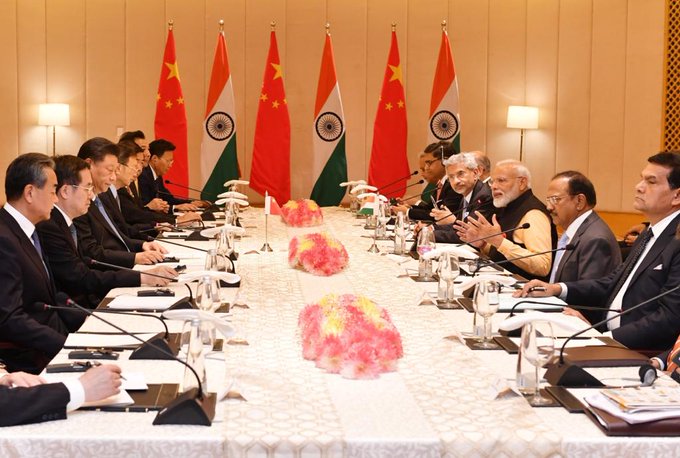 9513:31 AM – Oct 12, 2019Twitter Ads info and privacy144 people are talking about this
Earlier in the day, Prime Minister Narendra Modi and Xi Jinping held their second round of informal talks after the two leaders on Friday bonded over a tour of the temples of Mahabalipuram.
The one-on-one informal talks between the two leaders were held at the Taj Fisherman's Cove Resort & Spa beach resort.
The talks, in a room with a good view of the Bay of Bengal, went on for about an hour.
In the morning Modi received Xi at the entrance of the resort. The two leaders shook hands and then boarded a battery-operated vehicle to reach their informal meeting room.
Day 2 of the Informal Summit

PM @narendramodi received Chinese President Xi Jinping to resume their conversation. An eco-friendly ride to 'Machan' at Taj Fisherman's Cove for another round of one-on-one meeting followed by delegation-level talks and lunch. #ChennaiConnect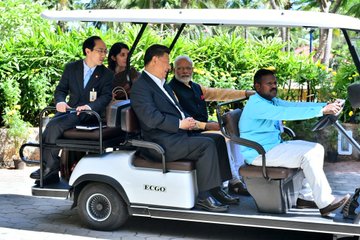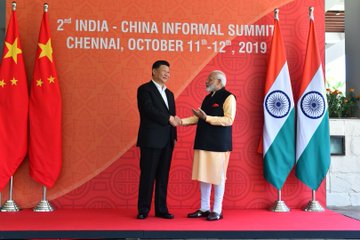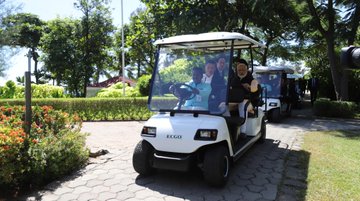 1,5241:06 AM – Oct 12, 2019Twitter Ads info and privacy239 people are talking about this
For the second day of the summit, the Prime Minister opted for a Kurta and Pajama, along with his statement Modi jacket. On Friday, he had carried out all engagements in the traditional Tamil attire of 'veshti' (white dhoti), half-sleeve white shirt and angavastram over his shoulder.
The leaders of the two most populous nations arrived here on Friday for the second Informal India-China Summit. The first one was held in Wuhan, China last year.
Briefing on the first round of talks on Friday, Foreign Secretary Vijay Gokhale said the two leaders held detailed discussions on varied issues, including terrorism, increasing radicalisation, enhancing bilateral trade between the two nations and investments, among others.
India and China also agreed that they need to work together to fight "radicalisation and terrorism as common challenges".
The one-on-one between the two leaders began at 7 pm and ended after 9.30 pm Modi and Xi spent "quality time" during the one-on-one without their aides.
Earlier on Friday, Prime Minister Narendra Modi gave Xi Jinping a tour of ancient temples in Tamil Nadu's Mahabalipuram.
The two leaders chatted animatedly as they viewed the imposing seventh-century rock-cut cave temples of Mahabalipuram, sipped coconut water and held hands and smiled for the crowds, both looking at ease and enjoying the picturesque and historic setting of the place which is a UNESCO world heritage site.
The second informal India-China Summit will end with lunch and both the sides will be issuing separate statements on Saturday.
In the afternoon Xi will fly out of India.