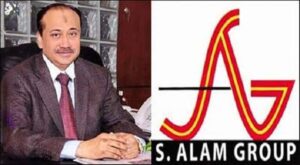 by R Chowdhury   8 August 2023 
"It's Aladdin's Magic Lamp"
"No official record of a single taka taken out of the country, yet he and his wife obtained citizenship of Cyprus through investment, go on property-buying spree in Singapore," reported Zyma Islam in the Daily Star on August 4, 2023. Investigative journalist Zyma was pointing at the business empire built by Mohammed Saiful Alam (S Alam) in three continents with Bangladesh money that had no record of legal transfer order from proper authorities. "It's Aladdin's Magic Lamp," she exclaims.
Saiful Alam and his wife Farzan Parveen, owners of the S Alam Group of Industries built an empire of companies, real and fake, in Singapore, Cyprus, British Virgin Islands and other places around the world, in addition to maintaining dozens of companies in the country, almost all of which run on loaned money. The total investment in Singapore alone is said to be more than $1 billion.
Most of his business activities seemed to have been notoriously shady. He is said to have taken huge loans from self-owned banks and a few other financial institutions where he has stakes, to the tune of $10 billion (more than Taka 1000 billion, according to the New Age of Dhaka) and laundered them out of the country. No approval was found on file in the country's Central Bank which approves all outward money transfers. It was a pure highway robbery. No wonder, Bangladesh's cash reserve hit rock bottom and the regulatory Bank had to mint Taka 108 trillion last month to maintain the cash flow, skyrocketing the inflation.
Taka 1000 billion, or 1 trillion, which is 25% of the national budget, can employ more than 100 million productive workers for a month, or can build three equivalents of Padma Bridges in the country.
Such clandestine flight of capital was only possible with connections with the ruling coterie. Indeed, S Alam is said to be a close associate of Prime Minister Sheikh Hasina and her son Sajeeb Wazed Joy. Such suckers of the country's resources are galore that put Bangladesh in dire financial troubles today. Faruk Khan and Brothers, other cronies of the PM-son duo, sliced the country with $12 billion in the failed power sector. Salman F Rahman of BEXIMCO (Bangladesh Export Import Corporation), is a known financial embezzler and loan defaulter. Popularly known as Darbesh because of his mysterious saintly outlook of a bearded white pajama-kurta, is an Adviser to the Prime Minister and said to be very close to the ruling family. He was jailed and faced many court cases but came out clean due to high connections.
(To contrast, the Hasina regime had no scruple in sending her nemesis Khaleda Zia, a three-time former Prime Minister, to a 17-year solitary prison on flimsy unfounded grounds. Recently, Hasina's loyal courts dished out Zia-son Tarek Rahman and his wife to years in jail on doubtful charges. The mother-son duo runs the opposition Bangladesh Nationalist Party (BNP). Ziaur Rahman, the patriarch of the BNP, dwarfed Sheikh Mujibur Rahman, father of Hasina, by declaring independence in March 1971 and later becoming the most successful President who bailed the county out of Mujib's "Bottomless Basket Case." In vengeance, Hasina is out to destroy the Zia family.)
"S Alam Group is perhaps the most dramatic symptom of a malaise that has brought the financial sector to its knees," reported the Daily Star on December 6, 2022. The Hasina administration didn't even wink when the media in Singapore reported S Alam Group's sensational acquisition of huge estate properties, including the 328-room Hotel Grand Chancellor, worth more than $400 million, despite the fact that the company was neck deep in debt in Bangladesh. In fact, the name of S Alam Group is missing from the Bangladesh Bank files even though other minor investors were listed. Bank insiders concurred on its underhand shady deals. Arabian Nights story indeed!
Country's Law prohibits offshore investment without clearance from the Central Bank.
There are about 50 companies that are listed under S Alam Group. They include banking (10), power and energy (7), properties (7), trading (6), food industries (6), steel (5), cement (2), media (2) shipping (1), insurance (1) manufacturing (1) and transportation (1). It acquired the Islamic Bank, earlier owned by a top member of the Jamaat-e-Islam, Social Islami Bank and Ekushe TV  through illegal manipulations. The company "violated banking rules" and overvalued the assets for "excessive borrowing," said the daily Star.
——————————————————————————————————
Writer is a decorated freedom fighter in 1971. Enjoys retired life in reading and writing. Authored five books and co-authored seven others. Regularly writes on contemporary issues concerning Bangladesh.