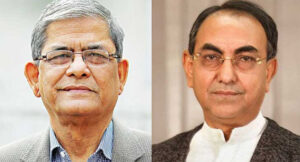 Mirza Fakhrul Islam Alamgir has been the secretary general of the Bangladesh Nationalist Party (Left),  Mirza Abbas Uddin Ahmed, known as Mirza Abbas, is a Bangladesh Nationalist Party politician and a member of the national standing committee of the party.
By Ahammad Foyez on Jan 09, 2023  Benar News
A top Bangladeshi opposition leader vowed "no retreat" in efforts to defeat the ruling Awami League upon being freed on bail Monday following a month in jail.
Mirza Fakhrul Islam Alamgir, Bangladesh Nationalist Party's secretary general, and Mirza Abbas, a member of BNP's standing committee, were arrested from their homes on Dec. 9, charged with inciting violence as police moved to clear party activists gathered outside BNP headquarters two days earlier.
The two men left Dhaka Central Jail Monday and went to the party offices in Naya Paltan, a Dhaka neighborhood, where hundreds of supporters were gathered.
"We have no retreat. We just have to move on. We will succeed in the movement we have started. We have to intensify our movement and defeat the autocratic regime," Mirza Fakhrul said.
"Let us restore democracy from the hands of this fascist Awami government. We come out of jail today with a new commitment. We pledge again, we will continue until we win."
Before his arrest, Mirza Fakhrul was to be the chief speaker at a Dec. 10 rally in Dhaka, which government officials insisted must not take place outside BNP's offices.
At least one man was killed and scores were injured on Dec. 7 as police armed with rifles, shotguns, water cannons and batons battled on the street with protesters armed with rocks. According to the police, 45 officers were injured.
The rally took place Dec. 10 at a sports field on the outskirts of Dhaka, with about 100,000 people in attendance, organizers said.
It was the final rally in a series of ten held throughout the country demanding that the ruling party make way for a neutral caretaker government during the next general election, planned for December 2023 or January 2024.
Many party supporters were arrested during the campaign, according to Mirza Fakhrul.
"Many of our activists are still in jail and sadly they are living inhumane lives. I demand their immediate release," he said.
Following at least four rejections, the High Court had on Tuesday granted bail to the two leaders, a decision upheld by the Supreme Court's Appellate Division on Sunday.
"We received the release order from Dhaka's Chief Metropolitan Magistrate Court at 4:20 p.m. today," Senior Jail Superintendent Subhash Ghosh told BenarNews. "After verifying the bail order documents, we released them from the jail at 5:40 p.m."
A leader of BNP's volunteer wing said the arrests had strengthened the party.
"The government tried to stop the voices against it and demoralize the spirit of the party people by sending our leaders to jail," Omar Faruk Kuchar told BenarNews.
"But now we are more united and our leaders and party have become more popular among the people of Bangladesh."