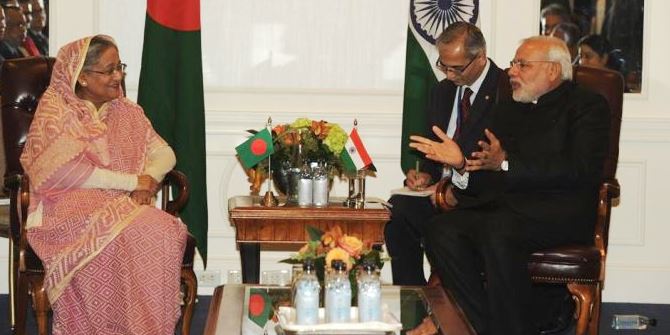 by Eshra Pratim 29 December 2019
The Indian Citizenship Amendment Bill (CAB) should come as no surprise to Bangladesh. This delegitimizes millions of Bengalis and other Muslims who have lived in India for decades without a felt need for citizenship documents. The bill would give Indian citizenship to immigrants from three neighboring countries – Bangladesh, Pakistan and Afghanistan, only if they are non-Muslims. The controversial Citizenship bill will fast-track citizenship for all other religious groups including Hindus, Sikhs, Buddhists, Jains, Parsis and Christians who had migrated from these countries. Opposition parties in India have dabbed the bill unconstitutional, as it bases citizenship on a person's religion. This threatens not only the Muslim migrants but further marginalizes India's 200-million strong Muslim community.
The Indian government, ruled by the Hindu nationalist Bharatiya Janata Party (BJP), has repeatedly claimed that Bengali Hindus are being persecuted in Bangladesh and Muslim migrants, according to a rebarbative statement by the powerful BJP Home Minister Amit Shah, are nothing but "termites". Concerned about domestic legitimacy due to tainted elections and human rights abuses, the Hasina-led Awami League government has earnestly sought continued Indian support. The Bangladeshi government has befriended the BJP and sidetracked this burning national issue. A common joke among the local diplomats in Dhaka is that the Indian High Commissioner there is less of a diplomat and more of a Governor General and they wonder how the scions of freedom struggle have jeopardized the country's hard-earned independence and freedom for myopic political expediency.
Today, millions of Indian Bengalis face the prospect of state sponsored violence and deportation to Bangladesh. Whether aware or not, the Hasina government will find her BJP allies in India a threat her regime stability. Violence has erupted all over India, especially in the northeast, protesting the bigotry communal bill and Bangladesh could soon see mass deportation of Bengalis from across the border in India. Yet, this huge national concern remains muted among the ruling circles and media in Bangladesh. Unfortunate as it is, in today's Bangladesh, there are no Fazlul Haq, Bhashani, or Sheikh Mujib sensitising and protesting the emanant national threat snowballing across the border. Mamata Banerjee in India is the only Bengali leader who has the courage and integrity to echo sentiments all Bengalis across the geopolitical divide. For the Bangladeshi ruling elites, clinging to power trumps national interests. And for the so-called civil society and media, prospects of reprisal from the state have spurred them to ditch their conscience and choose to remain silent. Interestingly, the pioneers of the war of independence and advocates of democratic governance are prepared to mortgage national interests either for power and privilege or for the overarching culture of acquiescence that ensures personal comfort and safety.
As violence breaks out in Delhi, Assam and West Bengal, protesting against this bill that marginalizes Muslims to a second-class citizen in India, the media and public discourse in Bangladesh, therefore, remains unsurprisingly muted. There is a widely shared belief that Hasina government is only an extension of broader Modi-BJP regional policy. Occupation and human rights abuses in Kashmir is a taboo for the media in Bangladesh. The Bangladeshi government can levy harsh punishment for spreading anti-BJP and anti-India sentiments. While Hasina may have succeeded in courting the Hindu right-wing BJP leaders at a personal level, the ruling BJP stalwarts remain ideologically hostile to Bangladesh. The myopia in Bangladesh's foreign policy is obvious. Concerned about the raised eyebrows from China and India, Bangladesh has continued to nourish friendly relations with Myanmar despite the genocide perpetrated on the Rohingya population. It was not Bangladesh, but a more conscientious Gambia that took Aung San Suu Kyi to the International Criminal Court, whereas the Bangladeshi Foreign Policy Advisor, in an interview with Al Jazeera, has dubbed Suu Kyi as "a personal friend"! Sheikh Hasina has been rubbing shoulders with the Indian Prime Minister Modi, when the CAB was being formulated. She remains more fixated on her arch enemy Khaleda Zia and her political party, BNP, rather than addressing the pressing national issues. After the CAB was passed in the Indian parliament, the Bangladeshi foreign minister has reassured a skeptical Bangladeshi media that relations with India remain "friendliest", no matter what the Indian government does to the migrant Bengali Muslims! Over many years now, right wing chauvinistic Indian leaders have been planning to create a citizenship register of their choosing, designed identify Muslim Bengali migrants and deport them to Bangladesh. The CAB unravels the naivety of the Bangladeshi policy makers that fails to understand the hollowness of the core dynamics of current India-Bangladesh relationship. The Bangladeshi government must wake from its slumbering foreign policy and tackle the regional ideologically driven monster it has, so far, bolstered and befriended. Bereft of any tangible regional support, the Hindutva- driven hegemonic loop may tighten around Bangladesh and destabilize Hasina's political fortunes that has, so far, remained secure and uncontested.