Many minorities are now serious about education because they want to escape repression in the Muslim-majority country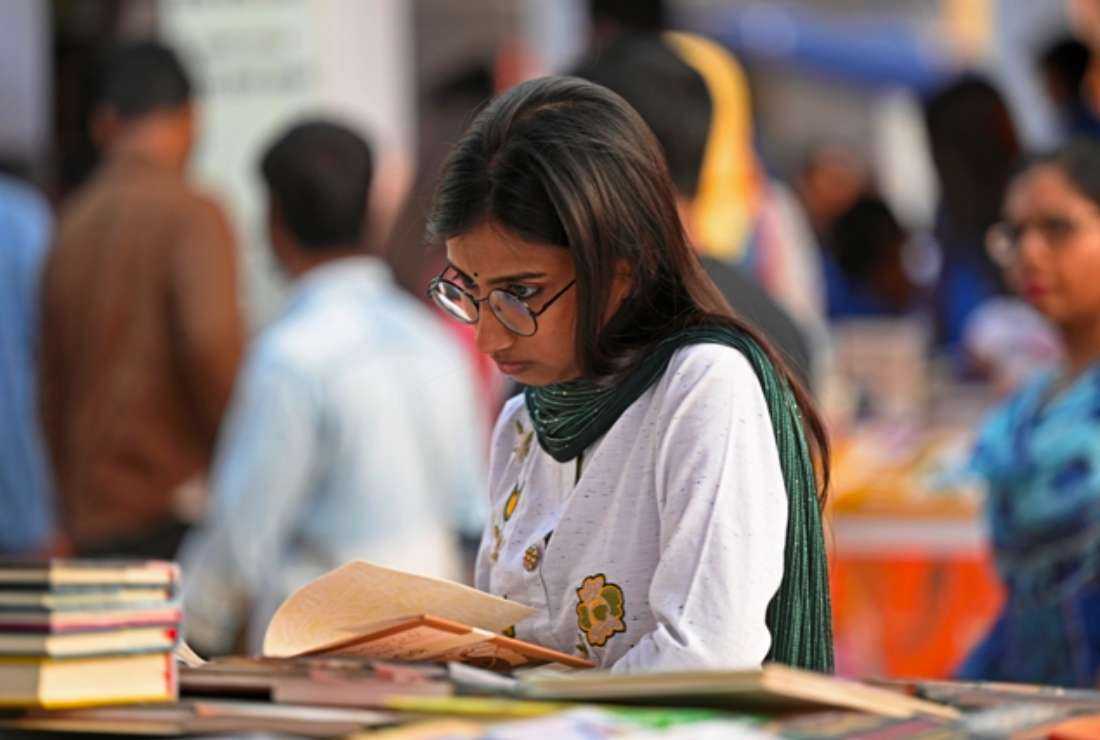 A visitor reads a book at the national book fair in Dhaka on Feb. 5. The latest Literacy Assessment Survey released by the state-run Bangladesh Bureau of Statistics says minorities are more functionally literate than the majority Muslims in the South Asian nation. (Photo: Munir uz zaman / AFP)
Minorities in Bangladesh have outperformed the majority Muslims in functional literacy despite socio-economic challenges.
Whether in rural or urban areas, minorities were found more functionally literate than Muslims, said the Literacy Assessment Survey, released by the state-run Bangladesh Bureau of Statistics.
In all four areas – reading, writing, numeracy, and perceptual skills – of functional literacy, Hindus, Buddhists, and Christians, who account for less than 9 percent of the South Asian nation's population of over 165 million, top the survey, the government agency responsible for statistics and census data said.
Educationists and minority leaders pointed out two main reasons for minorities doing better than majority Muslims despite their socioeconomic challenges, including access to education and employment and forced eviction from their land.
Their access to quality education force them to take education seriously, the educationists said.
"Christians performed better because of Churches, particularly the Catholic Church, running schools almost everywhere," said Jyoti F. Gomes, secretary of the Bangladesh Catholic Education Board of the Catholic Bishops' Conference of Bangladesh.
"There is also the community pressure that all children must go to school," he said.
There are 1,000 educational institutions across Bangladesh run by the Catholic Education Board, claimed Jyoti.
"Christian educational institutions are considered the best in any given area where many students compete to get a seat," said Shankar Dominic Gomes, principal of St. Joseph School and College, Bonpara in the northern Natore district.
At St Joseph School and College, nearly 90 percent of its 3,500 students are Muslims.
Ethnic minorities in Bangladesh's plains like Santal, Garo, and Oraon also benefited from Christian educational institutions, according to the survey
District-wise, Hindus achieved their highest 95 percent functional literacy in Sylhet, a northeastern district bordering India.
The highest functional literacy that Muslims could achieve anywhere in Bangladesh was 82 percent in the capital Dhaka division.
Buddhists and Christians in rural Barishal, a coastal division, were found to be 100 percent functionally literate.
Their counterparts in the urban areas of Dhaka, Rajshahi, and Rangpur districts were also found to be 100 percent functionally literate.
Historically, Hindus were ahead of Muslims in education in Bangladesh because of their better socio-economic conditions.
Dhaka University had a greater number of Hindu students than Muslims even during Pakistan rule after 1947, said Kajal Bandyopadhyay, who taught English at Dhaka University.
"But, the Hindus fell behind gradually as they lost land and livelihoods," said Bandyopadhyay, also a former leader of the Bangladesh Hindu Buddhist Christian Unity Council.
Hindu leaders believe many minorities are now serious about their education because they want to leave Bangladesh to escape repression.
An interesting point in the survey was the emergence of Hijras (hermaphrodites). Recognized as the third gender in Bangladesh, they possessed more ICT (information, communication, and technology) skills than females.
In nine of the 12 ICT skills, they outperformed females.
They edged out males in two ICT skills – transferring files or applications and using the Excel program.
Hijras in Bangladesh do not have access to any formal education and live in isolated clusters. Most of them live by begging.