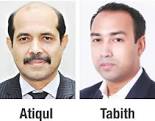 Faruque Ahmed     19.1.2018
The High Court stay of Dhaka North City Corporation (DNCC) election for three months in the wake of Prime Minister Sheikh Hasina's announcement of parliamentary election in December this year seems highly misleading. Many believe it may be art of a complex political calculation in an election year although clearly one has no direct relation with the other.
Meanwhile what comes as a big shock to the nation is that the Prime Minister has not consulted the major opposition and ignored calls from all quarters to smooth out critical controversies over election time government before the announcement. Without resolving the issue, the call for election is meaningless as far as it goes to bring the opposition to election.
Moreover her call is producing two parallel scenarios among election stakeholders. In one hand, the government has geared up party leadership to embark upon nationwide electioneering campaigns. It has already set up at least 14 committees at national level to visit districts and divisional headquarters and hold meetings asking people to vote for Awami League. The Prime Minister herself is campaigning in the sideline of official visit around the country.
In the BNP camps on the other hand, party leaders and workers are awfully busy facing cases in the courts and police chase in the streets instead of finding time and energy to prepare for the election. Over the past two weeks BNP Chairperson Begum Khaleda Zia is appearing before the Special Tribunal in the old city on daily basis when hearing in two graft cases against her, which party leaders say based on false documents, is at final stage. Meanwhile 14 other cases against her were also transferred to the same Special Tribunal last week. Party secretary general has alone over 80 cases to suggest how overloaded the party is with politically charged cases.
Charges against Begum Zia include instigation to violence, arson and to such other crimes that caused people to suffer mainly during January 2014 parliamentary election that BNP and major opposition had boycotted.
Meanwhile political observers in Dhaka sounded skeptical of a media report by Kolkata based Bengali daily Ananda Bazar quoting their sources in Dhaka that Prime Minister Sheikh Hasina has exchanged views with visiting Indian former President Pranab Mukherjee on political issues including election this year.  They said it showed she relies more on advice of the Indian leaders while avoiding consultations on such sensitive issues with opposition leaders in Bangladesh.
Pranab also visited Dhaka in 2013 facing national election. Shortly after Prime Minister Sheikh Hasina held parliament election keeping BNP and Jamaat out of electioneering. Pranab Mukherjee even failed to mention the name of former President and BNP founder Ziaur Rahman at Chittagong University when he remembered many leaders of the subcontinents including Gen Zia of Pakistan who lost lives in the hands of assassins. He may have his own reasons but its political interpretations will be highly controversial in Bangladesh politics.
Many have raised question whether the government is sincere to bring BNP and the opposition parties to election. Had it been so; it would have arranged pre-election consultations with opposition and in the first place would have stopped political harassment. Such harassment without creating peaceful situation clearly strengthen suspicion in many quarters that the government wants to hold the polls without major opposition parties.
Some also raised question why then the government is using the huge budget for the election commission if a free and fair election is apparently out of serious consideration. Election means people should be allowed to cast their votes freely for candidates of their choice from any party and it means all registered parties must get plain even field to participate.
If there is only one party or group of parties, such election exercise is not usually required. In that case selection of MPs is the best way that the Awami League widely carried out during 2014 election.
The Prime Minister's announcement that the election will be held as per constitution comes to suggest Awami League led 14-party alliance is out again to hold a unilateral election even if BNP and the 20-party opposition alliance will not take part in it.
On January 5 on completion of four years in her second term in office the Prime Minister has surely invited the opposition to election but at the same time warned people to be vigilant against those who may try to create anarchy to hold election as per constitution. In this case, as per the political blue print of the government.
She has therefore called upon people to decide what they want instead of asking political parties to hold talk how to hold the election to allow people to give their vote freely to make their choice known in peaceful election. They would surely pick up parties and people capable to continue the development that the country is now witnessing. They will deny the anarchists to derail the nation from the path of development. This is democracy. But it needs free election; instead of asking people to resist those who will put challenge to the government in electioneering process.
The Prime Minister made no secret the government wants to remain in power over many years for achieving its far reaching development targets. So the existing cabinet will hold the election and parliament will not be dissolved to allow MPs to face challenge of the opposition candidates from the seat of power. This is the new system that the Awami League government has created shelving the caretaker government to make sure power will not slip from their hand.
BNP and the 20-party opposition had boycotted the last parliamentary election for shelving the previous caretaker government that allowed cabinet and parliament to continue. They are demanding a neutral poll-time government ever since. In their view if the government continues in power it will allow party men to rig election and use police and local administration to defeat opposition candidates. Continuation of parliament will deny possibility of contest among equals.
Civil Society leaders are also routinely bringing pressure on the government to enter into a national dialogue how an election time government can be set up to hold a free and fair election acceptable to all. Only the Awami League led 14-party alliance is sticking to taking cover of the constitution of its making as a non-negotiable document saying it can't be changed to fulfill anybody's wishes. But everybody knows the government has created the new arrangement to easily win the elections.
Meanwhile, the sudden suspension of Dhaka North City Corporation (DNCC) election based on a High Court order on voter list anomalies gives different message to skeptics. They believe the government knows DNCC election may prove highly risky facing national election by the year-end.  So the writ against DNCC election is not a surprise whoever has filed it.
The fact is that if the government creates troubles in DNCC election to bring victory to its candidate, its popularity may suffer further setback. If it allows free election, a win by BNP candidate will be similarly devastating.
BNP candidate Tabith Awal was critically closer to the Awami League candidate during mayoral election in 2015. Many believe had he not withdrawn or speaking otherwise if somebody had not spread the news in mid-day of the Election Day that he had withdrawn from the race on the ground of widespread rigging, he was almost closer to success. The government is not ready to take such risks again at this stage.
The article appeared in the Weekly Holiday on 19.1.2018