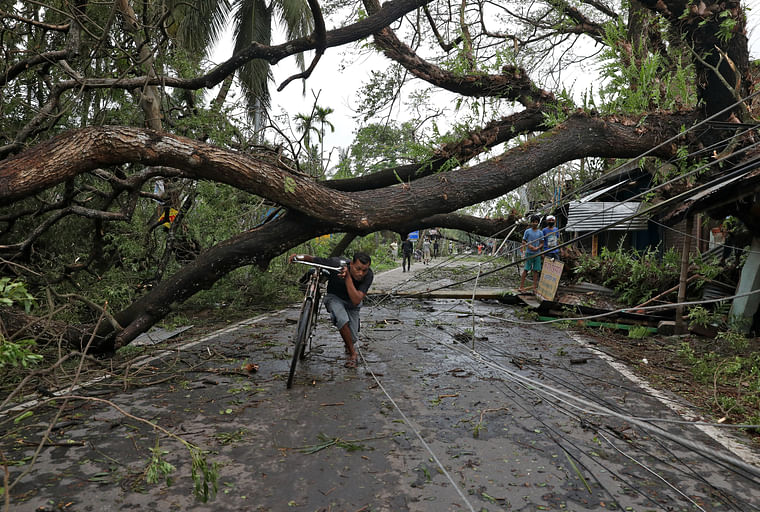 A man walks with his bicycle under an uprooted tree after Cyclone Amphan made its landfall, in South 24 Parganas district. Reuters
Cyclone Amphan left a trail of devastation when it hit Bangladesh's coastal districts with wind speed of up to 180kph and over 10 feet tidal surges on Wednesday night.
It inflicted heavy damage to lives, livelihood, agriculture, infrastructures, environment, as well as the largest mangrove forest in the world, the Sundarbans, in southwestern region of the country.
Initial estimate
State minister for disaster management and relief Md Enamur Rahman on Thursday said a rough estimate suggests that the damage has been about Tk 11 billion. The complete estimate will be available within seven days, he said.
Amphan also killed 10 people in the coastal districts, Rahman said.
According to local government ministry, 11 kilometres of roads and 200 bridges and culverts were damaged in 16 coastal districts, while damage of mango orchards worth Tk 1.50 billion left the farmers worried about their future.Advertisement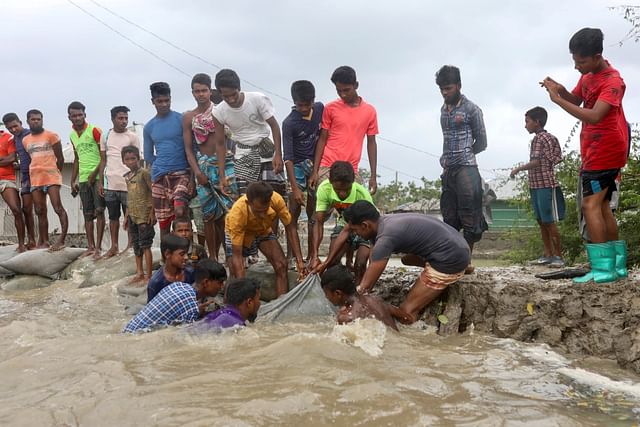 According to water resources ministry, 150km flood control embankments were damaged while another 84 embankments developed cracks causing an estimated loss of Tk 2.50-3.00 billion.
Fisheries ministry informed that the livestock and fisheries sector suffered damage worth Tk 4.90 billion – livestock Tk 1.40 billion and fisheries Tk 3.50 billion.
Meanwhile, 180,000 shrimp farms were also damaged during the cyclonic storm, Enamur said.
Agriculture sector hit
Crops on 176,000 hectares were damaged across the country, said agriculture minister Abdur Razzaque.
Meanwhile, mango orchards on 3,000 hectares out of 4,000 hectares in Satkhira were severely damaged.
Razzaque said Amphan damaged 10 per cent boro paddy of the total cultivation, five per cent maize, 15 per cent vegetable, 20 per cent peanut, 20 per cent sesame, 10 per cent mango, 5 per cent litchi, 10 per cent banana, 50 per cent papaya, 30 per cent chilli, 50 per cent soybean and mung dal crops.
He said the total loss in the sector will be clear within two to three days, Razzaque said.Advertisement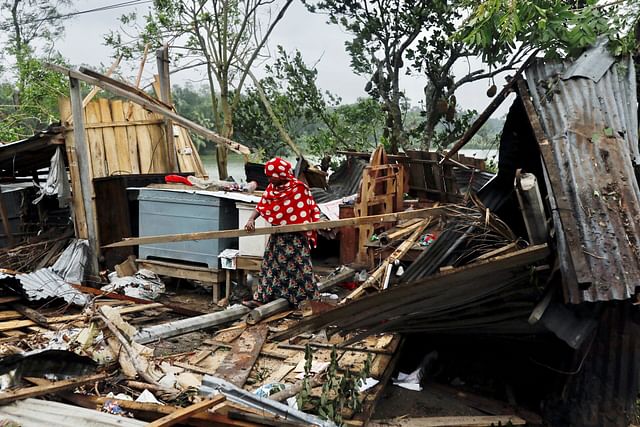 Power disruption
Around 20 million electricity connections, out of total 36.4 million across the country were cut off by cyclone Amphan.
The power utility bodies have been able to restore 50 per cent of the connections until 2:00pm, said Mohammad Hossain, director general of Power Cell.
About 80 per cent of power connections will be restored in the cyclone affected areas within by Thursday, he added.
Mainly, uprooted trees fell on electricity transmission and distribution lines that led to the colossal disruption in power supply in the cyclone-hit areas, he told UNB.
Sundarbans bear the brunt
Sundarbans has been protecting the country from natural disasters over the years.
The complete picture of damage to Sundarbans by cyclone Amphan was not possible to be estimated overnight.
Bangladesh has formed four investigation committees to investigate the damage, said Md Shahab Uddin, the minister for environment, forest and climate change.
The committees were asked to submit their reports within three working days.
According to primary reports, more than 10 wooden jetties and 30 tin-shed staff barracks were damaged. Salt water entered more than 60 ponds of the forest department, the minister said.
In the Sundarbans, Kewra trees were hit the hardest, Shahab Uddin said adding that the broken trees won't be removed as Sundarbans would recover through natural process.
"Only damaged infrastructures will be overhauled and the salinity of the ponds will be removed and new ponds will be excavated if necessary," the minister said.Advertisement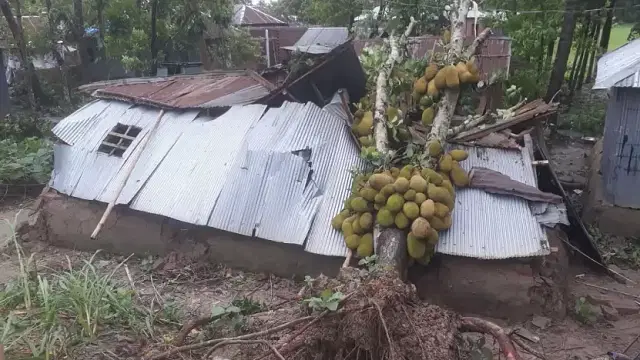 Damage reports by UNB correspondents
In Bagerhat, 4,696 houses and 4,635 fish farms were damaged.
Deputy commissioner Md Mamunur Rashid told UNB that 374 houses collapsed while 4,349 were partially damaged in nine upazilas of the district.
Meanwhile, cyclone Amphan ravaged crops on 1,673 hectares.
Over 300-meter embankment fully collapsed and 8km were partially damaged in Sharonkhola upazila. Palli Bidyut department counted a loss of Tk 1.37 crore in the district, the DC added.
Bagerhat district fisheries officer Khaled Kanak said tidal surge damaged 4,635 fish farms while some of them were totally floated.
The total damage to fisheries sector in the district is Tk 2.92 crore.
District Palli Bidyut Samity general manager Md Jakir Hossain said, 300 electric poles leaned and some of them were broken. Electric wires at 1,500 spots were torn.
In Satkhira, all upazilas were severely damaged, said deputy commissioner SM Mostafa Kamal. The accounts of overall damage are yet to be calculated. It will be available soon, he said.
Embankments under Water Development Board (WDB) at 25 points in Shyamnagar, Ashashuni, Debhata, Kaliganj and Sadar upazila collapsed.
Shyamnagar upazila nirbahi officer ANM Abujor Gifari said 25km embankment, 15km roads were damaged in his upazila while 30,000 hectares of shrimp farms were flooded.
A least 5,000 livestock were killed during the cyclone, the UNO added.
In Khulna, over 445,000 people were affected, UNB correspondent said.
Almost 83,560 houses in 68 unions under nine upazilas were damaged while the people of Koyra upazila were the worst-hit, said district relief and rehabilitation officer Azizul Haque Zoarder.
Koyra upazila project implementation officer Md Jafor Rana said 52 villages under four unions were ravaged while 24 villages in two other unions were partially damaged.
In Jashore, six people were killed during the cyclone and hundreds of houses were damaged, said DC Mohammad Shafiul Arif.
Vegetable fields, mango and litchi orchards were severely damaged, he added.
As farmers had harvested Boro paddy earlier, this sector counted less loss, he said adding that the work on estimating loss is underway.
Barguna DC Mostain Billah told UNB that 9,800 houses in 42 unions under six upazilas and four municipalities were damaged by the cyclone.
Meanwhile, over 13.5km embankments totally collapsed by tidal surge, he said adding that 131 fish farms were flooded causing an estimated loss of 20mts fish worth Tk 300,000.
Crops on 250 hectares, vegetables on 50 hectares, seven mango orchards, betel leaf orchards and chilli seed beds were damaged, the DC added.
Chicken and cattle farms counted a loss of Tk 195,000, said Md Monirul Islam, Barguna district livestock officer.
The cyclone damaged about 50 tube wells, 10 ponds and five rain water harvesting zones causing a loss of Tk 200,000, said Mirza Nazmul Hasan of district Public Health Engineering Department.
Altogether 121 fish farms on 4.84 hectares and 10 shrimp farms on 4.05 hectares were damaged, said Abul Kalam Azad, district fisheries officer.
Agriculture, infrastructures, forest on over 40,000 acres were damaged, said Md Aminul Islam, divisional forest officer.
"A deer was found dead in Baleshwar river," he said adding that it might have been killed during the cyclone.