Prime Minister Sheikh Hasina's most powerful cabinet colleague, Salman Fazlur Rahman, was not part of her large entourage to the US; and now speculation is rife on why he chose to stay back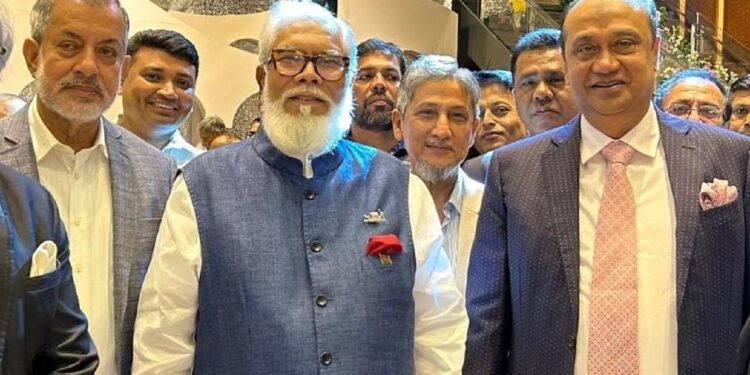 When Bangladesh Prime Minister Sheikh Hasina, followed by a 165-strong contingent of political and business dignitaries, senior government officials, besides others, boarded a Biman Bangladesh flight, the one person who was conspicuous by his absence was Salman Fazlur Rahman.
Rahman is the economy and industrial advisor to Sheikh Hasina and enjoys the position and perks of a cabinet minister. But he is more than that. He virtually controls the government in Dhaka and his powers are said to be wide and far-reaching. He is therefore also a much-feared man.
But his absence from Sheikh Hasina's entourage this time (to attend the 78th session of the United Nations General Assembly) was more than glaring, especially because he was part of the Bangladeshi delegation that attended the 77th session of the UNGA in September last year. He had visited the US towards the end of June this year, less than a month after the United States imposed visa restrictions on some categories of Bangladeshi individuals.
Two months later, his attempt to visit the US was aborted when he could proceed no further than Dubai from where he returned home. Till the other day, mystery surrounded Rahman's whereabouts in Dhaka as it was speculated that he could not accompany Sheikh Hasina since he fell under the category of select persons against whom the US' new visa restriction regime applied.
A day after Sheikh Hasina left for the US, Rahman, who is pejoratively called 'Dorbesh' by much of Bangladesh, was seen in attendance at the gala wedding reception of the eldest son of Alhajj Abdus Samad Labu, the vice chairman of the controversial S Alam Group which is at the centre of a high-voltage criminal case involving the siphoning and money laundering of Taka 11,000 crore from several key banks. Labu's son is Atiqul Alam Chowdhury.
Suffice it to say that recently the Northeast News brought to light the revelations made by a former Bangladeshi bank's managing director Proshanta Kumar Halder, alias Shib Shankar Halder, to the Indian Enforcement Directorate following his arrest in May 2022 at Ashoknagar in North 24 Parganas, West Bengal. Halder had disclosed to his ED interrogators that his former boss Mohammad Saiful Alam, who is a resident of Singapore, had paid kickbacks to the tune of Tk 1,500 crore to Sheikh Hasina's son Sajeeb Wazed Joy.
Rahman was photographed standing between Labu (on his left) and Fazle Karim Chowdhury, a Member of Parliament, but better known as a cousin of alleged Pakistani ISI kingpin and liberation war criminal Salauddin Quader Chowdhury. The wedding reception was held at the Sena Kunjo, Station Headquarters, within the precincts of the Bangladesh army's cantonment in Dhaka.
This story is certainly not about the lavish wedding. A day after attending the extravagant wedding reception – who dares say that Bangladesh's economy could soon go into a tailspin even as the country's foreign exchange reserves have plummeted to slightly over $18 billion? – Rahman is said to have confided to some of his businessmen friends that he would be join Sheikh Hasina in New York the following day.
Now this is where the mystery of the missing 'Dorbesh' deepened. Since that claim to his industrialist friends, Rahman has disappeared from the Bangladeshi capital. He may well be in Dhaka, ensconced in his expansive home. But the grapevine has it that he quietly took a flight out to Saudi Arabia to cool his heels.
The question is not that he has not been seen in Dhaka since attending Atiqul Alam Chowdhury's wedding reception. The question that is now on many Bangladeshis' lips is whether enforced cancellation of his visit to the US in the grand company of Sheikh Hasina has more to do with the American punitive action on visa restrictions.
Rahman, along with a troika of other Bangladeshi banking magnets, including Mohammad Saiful Alam, Summit Group chairman Mohammad Aziz Khan and Nasa Group and Bangladesh Exim Bank Chairman Nazrul Islam Mazumder, command undue power and influence over the government. Top Bangladeshi government sources revealed that the US visas of at least of three of this quartet of heavyweight businessmen already stands revoked.
Rahman is also in the crosshairs of the Indians who now find him to be a liability for the Awami League in general and Sheikh Hasina in particular since his business interests are closely entwined with Chinese capital and businesses.
There are a host of other Bangladeshi cabinet ministers who are, directly or indirectly linked to Chinese interests in and outside the country. There is speculation that till before her departure for New York, the Awami League power elite was strongly opposed to dropping these ministers as party candidates for the forthcoming general elections. However, it could be a different scenario altogether when Sheikh Hasina returns.