To some, Modi represents the face of a new, better India. To others, his human rights violations are ushering in an era of Hindu nationalism — and it's rapidly spreading in the U.S.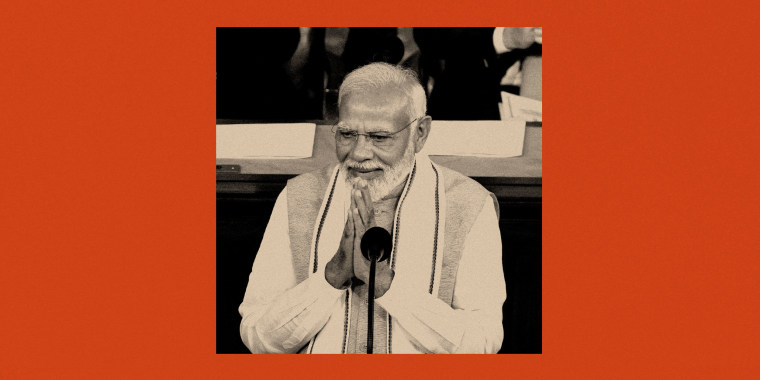 NBC News; Sipa USA via AP
WASHINGTON — Prime Minister Narendra Modi's official state visit turned the nation's capital into a microcosm of Indian politics on Thursday. Thousands of South Asians of every creed and community flooded the city's landmarks — some to support the controversial leader, others to protest his visit, while many attended to simply take in the historic moment.
Chants of  "Go Modi" and "Jai Hind" ("Long live India"), juxtaposed against "Killer Modi" and "no justice, no peace," echoed through the streets and buildings. The South Asian American diaspora cares about Indian politics like never before, experts say, and the common denominator is Modi.
After nearly a decade in office, Modi, 72, is cited as the most popular leader in the world, according to a Morning Consult poll. But the diaspora has mixed feelings.
While his supporters credit him with making India a presence on the global stage, his critics accuse him of fanning the flames of Hindu nationalism in India and abroad. At its most extreme, the nationalist movement seeks to create a Hindu India, perpetuating the narrative that Hindus are oppressed in the country, and abetting violence and discrimination against Muslims and other minority groups, experts told NBC News.
In the U.S., Hindu nationalism can take the form of cultural youth groups, but also online doxxing and harassment campaigns against dissenters. Charity work might operate parallel to lobbies against bills aimed at protecting those born into lower castes in India's caste system, according to experts.
"There is something that is very distinct about what's happening now," said Sangay Mishra, an associate professor at Drew University in New Jersey and author of "Desis Divided: The Political Lives of South Asian Americans." "There's something very specific about Narendra Modi: He wants to be liked in the Western world."
"There's something very specific about Narendra Modi: He wants to be liked in the Western world."
SANGAY MISHRA, ASSOCIATE PROFESSOR
Modi's government and those that surround it — like his ruling Bharatiya Janata Party (BJP) and the right-wing Hindu nationalist organization the Rashtriya Swayamsevak Sangh (RSS) — have focused specifically on Indian Americans as the new frontier of political mobilization, Mishra, who teaches political science and international relations, said. And they've invested resources into spreading the word in schools, government offices and on social media.
India is now the most populous country in the world, with 1.43 billion people, and it also has the world's largest diaspora, with 32 million living abroad. Modi's government is trying to get the world on board in making India a global player, Mishra said.
Leading Hindu nationalists "always thought that Hindus anywhere are a part of India," he said.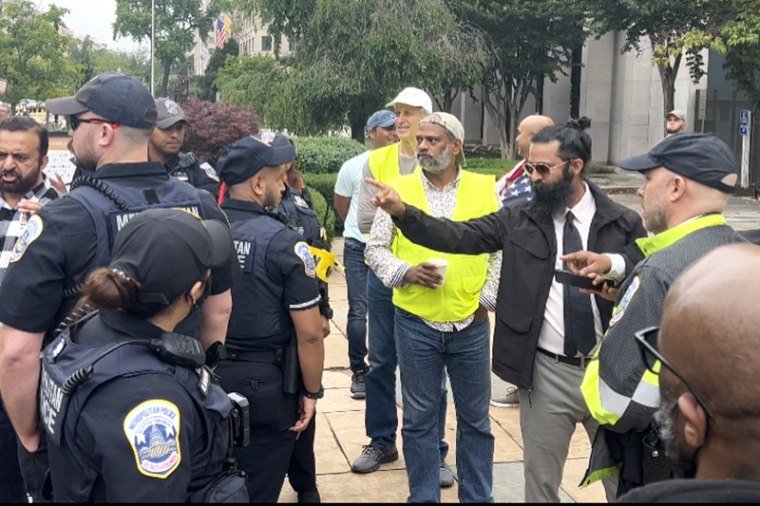 And the government's efforts seem to be effective, he said. Those who came to Washington to see Modi told NBC News that they simply love his energy and positivity. While many feel tied to the BJP, others lining the streets were less politically motivated, dressed in their best to witness the prime minister like they would any other celebrity.
But to those concerned about India's direction, the historical significance of Modi's visit isn't the growing U.S.-India ties, but rather the human rights violations they say has defined his time both as chief minister of the state of Gujarat and now as prime minister. It's an agenda supporting upper-caste Hindu supremacy, they say, and it's seeping into Indians around the world.
"We claim as a diaspora we're very connected to our heritage and we want to celebrate our culture," said Harita Iswara, 23, who works with Hindus for Human Rights and protested during Modi's visit. "But when people's identities are under attack in India, we have to do as much, if not more, to speak up to protect them."
"We claim as a diaspora we're very connected to our heritage and we want to celebrate our culture. But when people's identities are under attack in India, we have to do as much, if not more, to speak up to protect them."
HARITA ISWARA, 23
At a rare news conference given jointly with President Joe Biden on Thursday, the prime minister was asked about the claims that his government discriminates against religious minorities and silences critics.
"I'm actually really surprised that people say so," he said, through an interpreter. "Indeed, India is a democracy. … We have always proved that democracy can deliver. And when I say deliver, this is regardless of caste, creed, religion, gender. There's absolutely no space for discrimination."
But the U.S. State Department disagrees, expressing concern about India's treatment of religious minorities. In recent years, the Economist Intelligence Unit, a research and analysis company based in London, and the Washington-based nonprofit group Freedom House have begun describing India as a "flawed Democracy" and "partly free."
But Karthik Nayak, who traveled from Florida to watch Modi speak in Washington last week and in 2019 went to Houston to attend then-President Donald Trump's "Howdy Modi!" rally, says that is far from true. The Modi he knows loves all people, Nayak said, and his improvement of Indian infrastructure has been a boon to all.
"When he builds the roads, the hospitals, everybody uses it," he said. "They don't have policies saying only one community can use it. His policies benefit everyone."
At a briefing last month, White House press secretary Karine Jean-Pierre addressed some of the human rights concerns.
"This is an important relationship that we need to continue and build on as it relates to human rights," she said.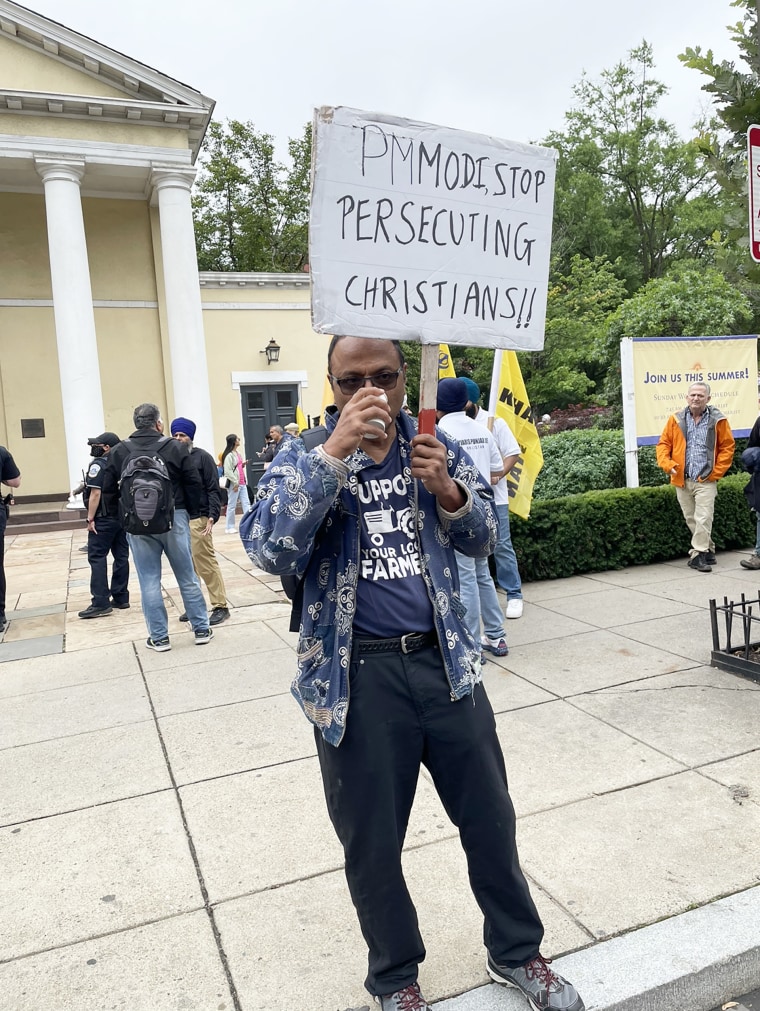 Hindu nationalism, digitized 
Working in South Asian American civil rights spaces, activists say they've grown accustomed to waking up to slurs, doxxing and threats on their social media accounts.
Dalit activists like the Equality Labs' Thenmozhi Soundararajan report being harassed daily, receiving Twitter replies like, "if you are a hindu dalit then repeat jesus is not god" and that civil rights for the caste oppressed are "an excuse to discriminate against those who are smarter and more talented."
California state Sen. Aisha Wahab, an Afghan American who introduced legislation for caste protections in California, has been called a "foreign agent" on Twitter. Groups like Hindus for Human Rights who ally with Muslims and Dalits have been accused of being "prostitutes" and supporting the rape of Hindu girls.
"The claim is that any attack on Hindu nationalism or any attempt to critique the treatment of Muslims in India is Hinduphobia … is an attack on the Hindu faith."
SANGAY MISHRA, ASSOCIATE PROFESSOR
Muslim American activists are also often conflated with extremist groups.
"It's basically re-employing the same rhetoric you saw the far-right employ here during the post-9/11 era," said Imraan Siddiqi, executive director of the Council on Islamic Relations' Washington chapter. "It devolves very quickly into attacks on the religion … calling Muslims terrorists and rapists. It's something you have to become immune to over time."
Sabrina Siddiqui, a Muslim American and a reporter for The Wall Street Journal,  was swiftly attacked on social media by Modi supporters after she questioned him about discrimination claims against his government at Thursday's news conference. "A Pakistani trying very hard to be Indian," one person tweeted at her.
While their parents and grandparents might be susceptible to the WhatsApp forwards and overt-nationalist messaging, misinformation is packaged differently for millennials and Gen Zers who grew up in the U.S., Iswara said.
Instagram posts with clever wording and graphic design bring the same messages to a new generation. Images and text plastered on colorful backgrounds say things like Hindus are the "native people of Kashmir" or call the 1971 massacre of Bangladeshis by Pakistan an exclusively "Hindu genocide," which is untrue.
It's a movement that sometimes feeds off white supremacist sentiment, said Mishra, but also employs language fit for an overwhelmingly Democratic Indian American base. Terms like "Hinduphobia," which have been used by a tech-savvy generation of Hindu nationalists in the last five years, are an example, he said.
"The claim is that any attack on Hindu nationalism or any attempt to critique the treatment of Muslims in India is Hinduphobia … is an attack on the Hindu faith," Mishra said.
A majority of both Indian American Democrats (55%) and Republicans (71%) express support for Modi, according to a 2021 survey. The two groups also largely approve of the Rashtriya Swayamsevak Sangh (RSS), an openly Hindu nationalist conservative volunteer organization.
The prime minister's bipartisan support is one of the reasons he's been so successful, his supporters said.
"Modiji has good camaraderie with Republicans and also Democrats," Nayak said. At the "Howdy Modi" rally in Houston, "he had very good chemistry with President Trump. Today he has great chemistry with President Biden, and that's what India needs."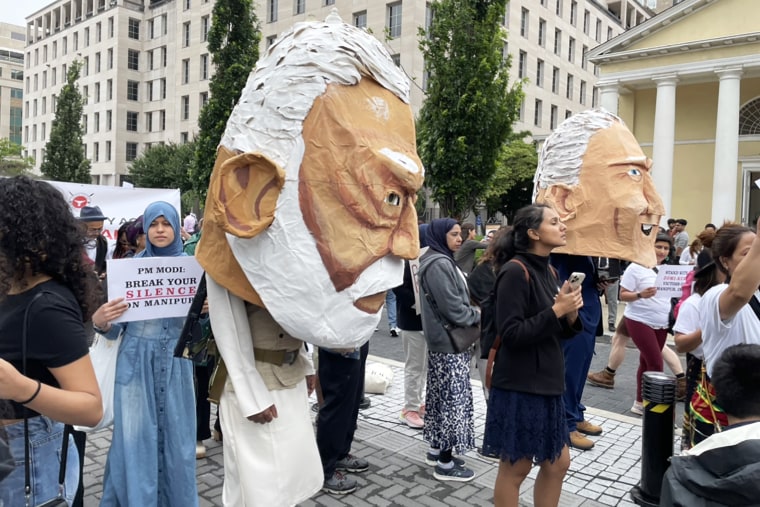 What makes Modi so popular 
Modi is often credited as being the most popular leader in the world, solidified by a Morning Consult poll from last week showing that his approval rating in India is 76%. Supporters who gathered in Washington came from all over the country to get a glimpse of him and to hear him speak. The White House lawn and the House of Representatives were packed, with Modi's name seemingly chanted on a loop.
"It was both spiritual and public-oriented," said Netra Chavan, who flew in from California. "I really feel the energy that goes on along with him and the positive vibes that he sends to everyone. The heart-to-heart connection really helps."
Modi is known for his personable nature and deep connection with the public, his supporters say. He has navigated the media with ease, starting a radio show called "Mann Ki Baat," which roughly translates to "heart to heart talk," on which he brings issues and ideas to everyday people once a month.
The show is largely credited with helping Modi repair his image after he was banned from the U.S. and accused of human rights violations over his alleged inaction and encouragement of extremists during the religious riots in 2002, in which 1,000 people died, most of them Muslims, in Gujarat when he was chief minister.
Modi has denied the claims and was exonerated in 2012 by an Indian court.
Supporters also deny his involvement and say Modi is far from Islamophobic. He encourages diversity, they said, pointing to his welcoming Hindu and Christian refugees from neighboring Bangladesh and Pakistan.
His approachability as leader of the country is paired with decisiveness, they said, and he has taken India and its economy strides beyond where it was when he took office. The state visit solidified India's growing role as the largest democracy in the world, they said.
"It was a momentous occasion for us," said Jyotsna Sharma, who traveled from New Jersey to see Modi, the first prime minister from India to have a state visit in Washington since 2009. "It's history in the making."
What Hindu nationalism looks like in the diaspora
Hindu nationalist sentiment existed on the subcontinent and in the diaspora long before Modi became prime minister in 2014. But with his rise to power and increasing global prominence in the last decade, he has brought a charismatic, smiling face to the movement, experts say.
But behind the positive energy lies deeply controversial legislation. He passed laws stripping autonomy from the region of Kashmir, the only majority-Muslim state, and denying citizenship to Muslim migrants from Pakistan and Bangladesh while granting it to Hindus, Buddhists, Jains and Christians, which the United Nations described as "fundamentally discriminatory" in 2019.
Under his government, India has seen a surge in violence against Muslims and Christians.
None of that is surprising to experts who know his roots, Mishra said. Modi started his career working with the RSS.
"At the core of RSS is this idea that India is a Hindu nation and we are persecuted historically by Muslims," Mishra said. "And even today, that Muslims are trying to take over India with the help of Pakistan, which is completely false."
They don't hide that mission. Quoted on the official RSS website is the phrase: "It is therefore the duty of every Hindu to do his best to consolidate the Hindu society."
RSS leaders have described modern Hindu society as being "at war."
The RSS has roots everywhere, including in Modi's BJP and dozens of nonprofits in the U.S. and India, Mishra said. But Modi and some RSS leaders deny discriminating against religious and ethnic minorities.
Affiliates and offshoots of the RSS have used nonprofit work and education as vehicles to spread a Hindu supremacist message, Mishra said. It sometimes takes the form of cultural camps or classes that slip in messages about Hindu persecution at the hands of Muslims, while leaving out the oppression of Muslims on the subcontinent.
Some Hindu organizations that run youth programs report holding seminars on "Hinduphobia and Hindu persecution."
To community members, it may seem innocuous, but there is often an underlying goal, Mishra said.
"A lot of people move here and want their kids to be exposed to Indian culture and traditions and Hinduism, and some of them unknowingly become a part of this," he said. "The face of it is volunteer, charity, educational, yoga, but it's not only about acknowledging Hinduism, or teaching people about Hinduism. It's also about spreading the idea of Hindu supremacy."