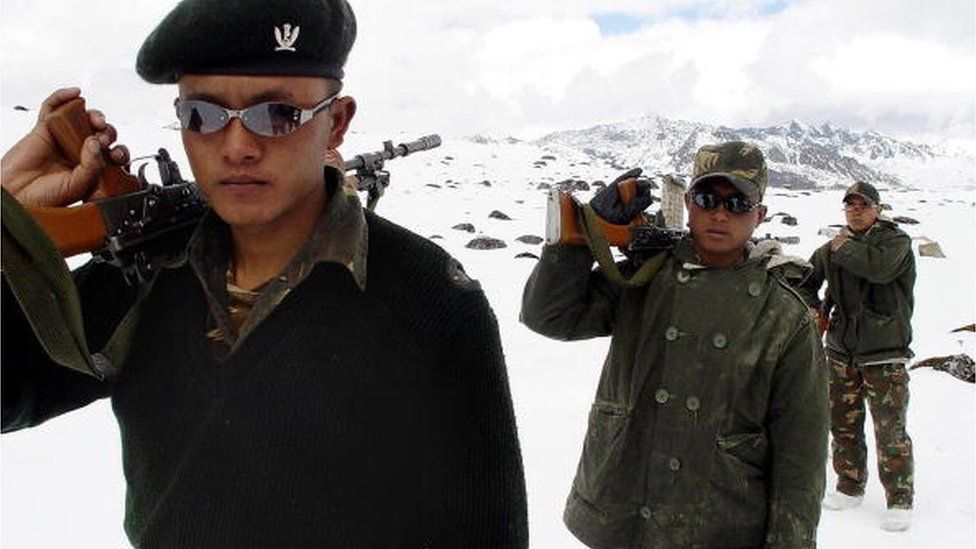 India has reacted sharply to China's attempts to rename places in the north-eastern state of Arunachal Pradesh and said it "outright rejects" the move.
The state has been and will always be an "integral and inalienable part of India," foreign ministry spokesperson Arindam Bagchi said on Tuesday.
His comments came after reports said that China had renamed 11 places along a disputed Himalayan border region in the state.
Beijing has not yet commented.
China and India share a disputed 3,440km (2,100 mile) long de facto border – called the Line of Actual Control, or LAC – which is poorly demarcated. The presence of rivers, lakes and snowcaps means the line can shift.
China continues to stake claim on the whole of Arunachal Pradesh, calling it "South Tibet".
This is also not the first time that Beijing has renamed places in the state, triggering angry reactions from India.
This included mountain peaks, residential areas, rivers and a town close to the state's capital Itanagar.
India said Beijing could not alter the status of places in the north-eastern state.
"This is not first time China has made such an attempt. We reject this outright," Mr Bagchi said in a statement.
"Arunachal Pradesh is an integral, inalienable part of India. And attempts to assign invented names will not alter this reality," he added.
Beijing first sought to rename six districts in Arunachal Pradesh in 2017 in a move that was seen as "retaliation" for a visit by the Dalai Lama. The Tibetan spiritual leader had visited the region earlier that year in April.
It released a second list in December last year, this time renaming 15 places in the region. India reacted strongly and said it rejected the changes.