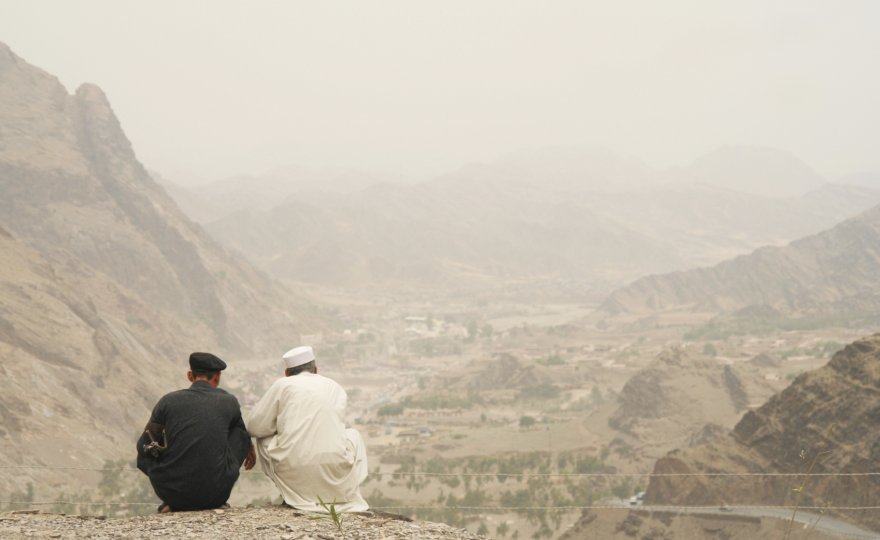 Almost three months later, Afghans in the country's more remote regions have seen increased military operations against militants, that often catches civilians in the crossfire: case in point, the alleged U.S.-led coalition strike over the weekend in northern Kunduz that locals say killed more than a dozen civilians.
The rising tempo of operations come as the top U.S. watchdog in Afghanistan says the Taliban and other the armed groups seem to be winning, expanding their control over the population over the last six months.
"The situation is bad," said Mohammad, a truck driver in Jalalabad in the eastern province of Nangarhar – an oft-contested area for militants, who crisscross the nearby border with Pakistan. "We can't go out at night anymore. That's when the fighting starts."
Afghans like him living near Pakistan's border are also concerned that Trump's tough talk accusing Islamabad of turning a blind eye to terrorists could trigger Pakistan to retaliate indirectly — encouraging its Taliban contacts to up the fighting in Afghanistan.
Those fears coupled with the rising violence raise questions about whether the increased U.S. military assistance is arriving fast enough, in great enough numbers –  an extra 3,000 that should bring U.S. numbers to north of 14,000 troops — and whether the new Trump strategy risks alienating the very people it's trying to protect.
The fears come as new reports emerge from Chardara district in the northern province of Kunduz, where airstrikes carried out late Friday evening and into early morning Saturday left at least 13 civilians dead, according to local reports.
Mawlawi Dost Mohammad Nasratyar, a member of the Kunduz provincial council, said at least 14 civilians, including women and children, were killed and another 13 injured.
"There were 14 graves dug yesterday," Nasratyar told The Cipher Brief.
Since the district has long been under Taliban control, the exact toll of the strikes has yet to be determined.  U.S. and Afghan officials say they have launched investigations into the reports of civilian casualties.
The Taliban has been gaining territory throughout the country, along with at least 19 other armed groups. The latest quarterly report to Congress from the Special Investigator General for Afghanistan Reconstruction finds that 11.4 percent of the population, more than 3.7 million Afghans, live in areas under the control or influence of the armed opposition. That's an increase of more than 700,000 people under Taliban rule from six months prior.
When the Afghan government and backed by coalition air power fights back, civilians get caught in the crosshairs.
In their October report on civilian casualties, the United Nations Assistance Mission in Afghanistan, found a 52% increase in civilian casualties from pro-government (foreign and Afghan) air operations in the first nine months of 2017. UNAMA attributed 177 or 38% of all civilian casualties from airstrikes to international military forces. The U.S. military only confirm 43 civilian casualties from international airstrikes during that period.
Trolling Pakistan
Direct hostilities aren't the only worry for Afghans living in contested areas. Those near the border with Pakistan worry that Trump's tough talk will upset trade or worse – in contrast to the reaction of the Afghan government and influential Afghans in urban areas. Many of them saw Trump's Aug. 21 announcement as Washington siding with Kabul against a country Afghans have long accused of aiding and abetting the armed opposition, including the Taliban. For years, the Kabul government has accused Pakistan and other regional neighbors of conducting an "imposed war" in Afghanistan.
"Pakistan often gives safe haven to agents of chaos, violence, and terror," Trump said during his speech on his new Afghan strategy at Fort Myer, Virginia.
During his visit to Pakistan last month, Secretary of State Rex Tillerson reportedly presented Islamabad with a list of 20 armed groups believed to be operating in Pakistan, including those that conduct attacks on Afghan soil.
On Friday, Omid Maisam, a spokesman for the chief executive Abdullah Abdullah, said failure to act on the list — which includes the Haqqani Network, a Taliban-allied group that has been accused of carrying out some of the deadliest attacks in Afghanistan — will mean only mean further troubles for the region as a whole.
"An honest cooperation should be established in the region to improve the situation," Maisam said.
But near the border with Pakistan in Nangarhar province, Afghans worry that Trump's tough talk on Pakistan could spur wider conflict between the two countries, especially his promise that Washington "will not say when we are going to attack, but attack we will."
That's being interpreted as Trump threatening to launch U.S. strikes against militants in Pakistan, perhaps returning to the tempo of drone strikes under the Obama administration aimed at militants in Pakistan's frontier region.
Afghans fear that could push Islamabad to retaliate indirectly by stoking violence among armed groups in Afghanistan; or by shutting down its borders to damage Afghan trade — and coalition military supply routes.
In the past, when the main Torkham and Chaman crossings between Afghanistan and Pakistan have been closed, it strangled the Afghan economy and stranded thousands of trucks full of perishable goods stuck at crossings on both sides.
"In the end, Pakistan will do what they see as good for themselves, not anyone else," said Anar Gul, a truck driver who has been driving from Pakistan across the Durand Line to Afghanistan for more than a decade.
"They are our neighbor, but they haven't acted in good faith with us before, why start now," he said.
Pakistan's military chief, General Qamar Javed Bajwa, echoed that sentiment in an August meeting with the US envoy to Pakistan.
"We have done a lot … and shall keep on doing our best, not to appease anyone but in line with our national interest and national policy," Bajwa said in publicly reported remarks.
Afghan officials believe the fear of increased anti-Afghan sentiments in Pakistan is not unfounded. In September, Afghan officials said 1,500 rockets landed in the eastern Afghan province of Kunar from Pakistan. Afghanistan lodged an official complaint to the United Nations about the cross-border shelling, accusing Pakistani military forces of a "consistent breach of Afghanistan's territorial integrity."
Last month, Islamabad started fencing the border between Afghanistan and Pakistan. The Pakistani military described the planned 2,500 kilometer barbed-wired fence as "an epoch shift in the border control management system of Pakistan and Afghanistan."
Gulab Mangal, governor Nangarhar fears that the fence will only increase resentment and separate families.
"The fence will definitely create a lot of trouble for the people along the border on both sides but no wall or fence can separate these tribes … I urge the tribes to stand against this action," Mangal told Reuters last month.
Sikandar Shah, a Nangarhar resident who has been driving between the two nations for 30 years, agrees.
"There are Muslims and Pashtuns on both sides of the line," he said. "Why isn't Trump working to try and bring us together rather than further driving us apart?"
Ali M. Latifi is a Kabul-based freelance correspondent. He has reported for the Los Angeles Times, The New York times and Al Jazeera English, with a particular focus on Afghan refugees in Greece and Turkey.
The article appeared in the Cipher Brief on 5/11/2017